Assessing your drive way when moving home
Moving to a new property with driveway issues? Do you need to enhance the curb side appeal of your investment? We chat driveway options in our blog.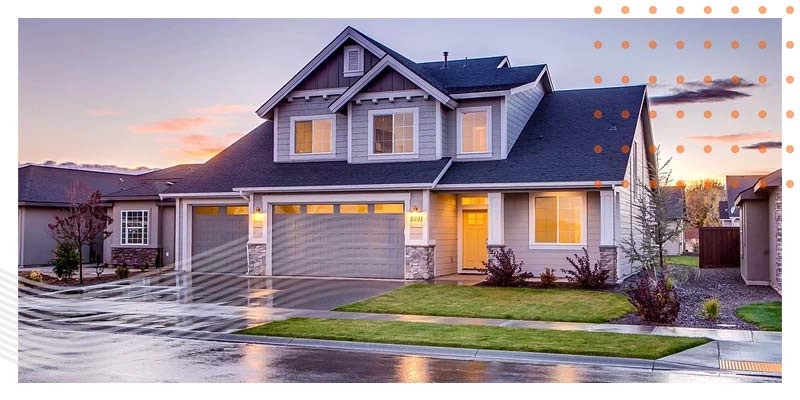 Long ones, short ones, rough ones and smooth ones, even concealed ones.
The first test of your new driveway's functionality will be as your removalists are accessing the property and unloading your things. Driveways and pathways are the way into a property but can draw people in, or it can repel them. Much like a fence, the driveway can be an individual expression of your own style and taste, but if the neighbourhood decide they don't like it they could be talking about it for all the wrong reasons.
When you move into a new property, you may not have any control over the state of the driveway or what it looks like (or how the neighbours like it), but now it's yours you can make the driveway your mark, or your secret passage way!
Whether you are a driveway extrovert or introvert, there are plenty of things you can do to improve the entrance of the property, but there are a few legalities you may need to check into before doing anything too drastic.
Council approval
for driveways
Generally, a driveway will cross council easements leading from the road to the property in which you reside, therefore there will be legislation and council regulations that you may need to be aware of:
if you are

building a new driveway

in the same place an old driveway was;

adding a second driveway

;

or

suggesting any major change to an existing driveway.
In this sense, because the asset you are creating crosses public land, the asset can be altered by the council or the government if required, with or without your approval.
You may also need to consider:
T

he safety of the public that use the public land

;

W

hether there are any hidden public assets below the surface

;

H

ow it affects

local traffic

visibility

, particularly near busy intersections;

How close the driveway will be to an existing street tree;

How wide the proposed driveway is to be;

How it affects other existing

infrastructure

assets

owned by the council or another

organisation

(such as stormwater drains, traffic

lights; light or power poles; street signs; parking meters

; communication wiring; hydrants; manholes; utility pits; water metres;

rubbish

receptacles

etc.)

;

Proximity to bus stops or other traffic controls on the street where the driveway exits

.
The local council regulates and governs easements, footpaths and sidewalks so you should be familiar with the regulations that are stipulated for the type of property you haveand how it has been zoned for that area.
There are many great blogs and resources about how to do things the right way. Check out resources like Everlast Services who have a heap of information to help your project.
The road to your paradise
You moved to this place for a reason! It's going to be your sanctuary, your respite and your main residence. If you have invested in the property, you also may be concerned with the "curb appeal" of your home as a value adding asset so an aesthetic driveway may be important to you.
Whatever your motivation, there are lots of different types of driveways and materials that you can consider in line with your neighbourhood, property, aesthetic, function and personal taste.
We've outlined some below. Of course, the cost ultimately will depend on how long, wide and elaborate your driveway needs are. You should think about your personal driveway requirements when choosing your driveway material, other than appearance. How much traffic it will take will determine its functional requirements as this will more or less be the balance when it comes to maintenance in the future. As usual, the bottom line will be your budget!
Gravel: good for uneven land due to the tumbling nature of loose stones, ideal for rural properties and is low-cost. Can end up in other places in the yard.
Asphalt: lays well on uneven land, is better for colder climates than some other materials.
Concrete: generally considered the most durable and affordable.
Brick: is customisable and can be built with character, can require skill to install and maintenance later. Can also be difficult to clean depending on the brick texture.
Paving: much like brick in its appeal and character, can be layered in a mosaic or patterned effect, require skill to install and maintenance later, may shift, sink and/or lift over time. Come in small and larger dimensions.
Tar & Chip: these driveways are the "hard-core" of them all, they are meant for extra traction and are ideal for steep inclines. Not considered overly aesthetic.
Crushed Stone or Shell: good for uneven land due to the tumbling nature of loose stones,high visual appeal. Can end up in other places in the yard unless well contained. Considered mid-range budget.
Pebbles: good for uneven land due to the tumbling nature of loose stones, high visual appeal. Can end up in other places in the yard unless well contained. Considered to be cost-effective.
Tumbled Glass Stones: good for uneven land due to the tumbling nature of loose stones, high visual appeal. Can end up in other places in the yard unless well contained. The tumbled glass is sealed in a resin and can be a unique addition.
Grass (Eco-Friendly): Geo-grid driveways are designed out of concrete or plastic. The solid materials are spaced in a grid specifically to incorporate grass growing in-between each block. They look great and allow a natural entrance that incorporates the lawn. They just need to be trimmed and mowed regularly.
Be bold or be beautiful
Whatever material you choose, when you move into a new home with a driveway that just won't do, you have an opportunity to express yourself!
A qualified driveway designer can help you realise visions you may never have thought of. You can use geometric patterns, incorporate gardens and greenery, maximise borders, experiment with shapes, surfaces and lighting. You can even incorporate lifestyle functionality for sports or hobbies.
Whichever direction you move with your driveway, let it be visible enough for your new visitors to find your house for the party!
Share this page on Facebook
Moving house starts here
View pricing, read reviews and book professional interstate and local removalists online.
35,000+ customers
4.8 rating
Instant pricing