Removals Insurance - What is covered when you move?
Muval Cover now has move sure premiums starting at $129, and offer the ability to choose exactly what items are covered and what aren't, so you can protect what is most valuable, or most fragile, while saving on cost.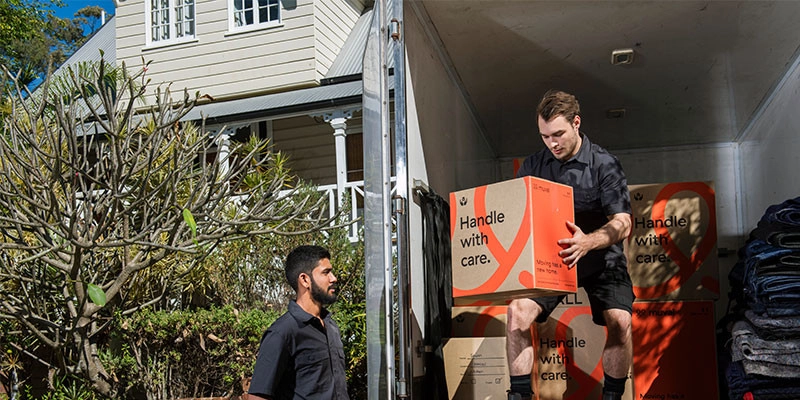 Moving Safely This Moving Season
As Australians head into peak spring house-moving season, an insurance lawyer has warned of the pitfalls around the coverage of furniture and other items being handled by removalists.
According to the latest report from the Australian Bureau of Statistics, COVID-19 was not expected to influence plans of most Australians (94%) to move house over the next year.
The survey, released at the beginning of July, asked whether people intended to move residences in the next 12 months and found that one in six people (12%) expected to move within the next year, with the majority planning to relocate within the same state or territory (91%).
Lawyer Olla Kutieleh, a senior associate at Tindall Gask Bentley, says no matter if a person is moving down the road or across the country it is wise to take out insurance that covers the entire move.
Kutieleh says that when considering which insurance to purchase it's essential to understand what is, or more importantly, what is not covered.
She says many companies will have Goods in Transit Insurance, which covers goods in the event a truck is stolen or damaged due to an accident, as well as Public Liability Insurance, which covers any damage the removalist causes to your house when loading or unloading items.
"However, generally neither Goods in Transit Insurance and Public Liability Insurance will cover you in circumstances where your goods are broken or damaged while being loaded or unloaded onto the truck, or (while they are) in transit," Kutieleh says.
"To be covered in such circumstances, you must ensure that the removalist company has a variation of Removals Insurance."
According to Kutieleh, a grey area exists in the event goods are broken or damaged by a removalist.
She suggests taking "before" photos of items so they can be used as evidence and provided to the removalist if a request for replacement is made, but that this still requires the cooperation of the company.
"If the request is refused, it may result in proceedings being issued in court, which will add time and cost to the process."
Kutieleh says she has seen many examples of goods or property being damaged in the house-moving process in situations where the removalist had limited or no insurance.
If a removal company has insurance, the policy they have is in their name and it's at their discretion on whether they make a claim or not if something goes wrong. If you want the ultimate peace of mind that you can make a claim in the unfortunate event of something being damaged or broken, you should get a policy in your own name (with your own certificate of cover!)
"Unfortunately, if there is no insurance there is likely nothing further that can be done," she says.
When you want more than just Goods in Transit Insurance
David Hillier, the operations manager of online removalist booking platform Muval, agrees.
"People typically assume their goods are protected," Hillier says.
"It just doesn't work like that in the removalist space. If a removalist or two is carrying a TV up some stairs and slips or bumps their arm on the bannister and the TV is dropped or broken, then that's an accident, no one's done anything wrong, it's just occurred and that's when you want some kind of cover to be able to kick in."
"As standard, removalists will have their own protections and insurances, but in many cases they don't automatically extend to customers."
Hillier says that some removalists might make marketing claims that broken items will be replaced or repaired, but that this doesn't represent formal insurance.
He says after recognising that a majority of customers using Muval to book a removalist were not insured for damage to their goods, the company decided to launch a new "end to end" removals cover exclusively for moves booked on Muval that protects customers goods and gives them peace of mind.
It's about providing Peace of Mind in 3 Easy Steps
Muval Cover premiums start at $129*, and offer the ability to choose exactly what items are covered and what aren't, so you can protect what is most valuable, or most fragile, while saving on cost.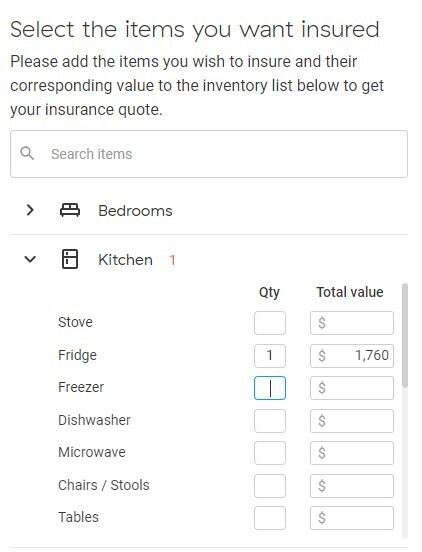 "Customers don't have to insure everything if they don't want to," says Hillier.
"For a whole house to replace everything might be $30,000, but (you) might only want to cover some white goods and a TV.
"For people booking via Muval.com.au, you can just choose or elect to cover those items which then reflects in the premium and can be a cheaper way to get that peace of mind.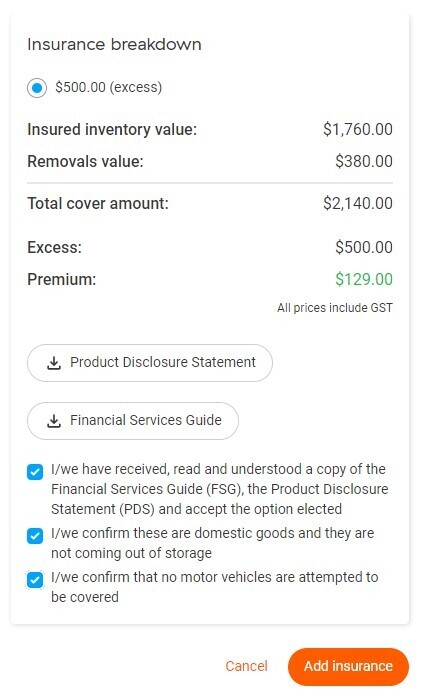 "Your furniture goes through just as much as you do when you move – so why not insure it?"

Before making a decision on purchasing insurance for your move on Muval.com.au - please review the full Product Disclosure Statement here and the Financial Services Guide here.

IMPORTANT: This is not a QBE/ARA summary and/or document and is a Muval written article. Please refer to the Policy Schedule and Product Disclosure Statement/ Policy wording for full terms and conditions of the policy.
*$129 inc GST for $5,000 worth of coverage is based on $500 excess option being chosen and all goods were itemized specifically as part of the quote.
Share this page on Facebook
Moving house starts here
View pricing, read reviews and book professional interstate and local removalists online.
35,000+ customers
4.8 rating
Instant pricing