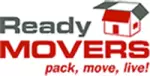 Ready Movers
4.80 · 1310 reviews
Muval verified for quality & service
Reviews summary
| | | |
| --- | --- | --- |
| | | 82 reviews |
| | | 4 reviews |
| | | 2 reviews |
| | | 3 reviews |
| | | 9 reviews |
Communication 6Service 22Quality 3Professional 31Care 21Happy 10Efficient 26Affordable 1
The company began its life in 2004, expanding to where we find ourselves today, a highly successful business employing a total of 30 staff and operating 15 Furniture Removal Trucks of all sizes, we also have 120 x 20-foot Storage Containers and forklifts capable of handling heavy 40-foot Containers (36-ton forklift), and 20-foot Containers (12-ton forklift).
All our staff are professional Furniture Removalists and trained in such a way to conduct their work with a clear focus on Work Place Health & Safety and with a great attitude towards each other and all customers - creating an exceptionally happy customer!
Local areas serviced
Removalists Townsville
Removalists Brisbane
Removalists Cairns
Removalists Mackay
Removalists Rockhampton
Removalists Bundaberg
Mat Bishop
WOW these guys took the pain of moving away for us. These guys worked tirelessly to ensure that everything was taken care of. They made sure that everything was handled with care. I'm a working artist and have a lot of very odd and delicate contents that were moved with professionalism and care. Couldn't thank Ready Movers and Stevo and his team enough.
---
Hollie Evans
---
Lisa McGavin
Absolutely recommend Ready Movers, from the quote all the way through to the move, friendly and efficient, I had a large amount to move, and I would say my move from my end was highly disorganized but the guys just pushed through with a smile!
---
Alex Milanese
Fabian and Sebastian did an excellent job of moving all our homes and would highly recommended them in the future
---
Gaby Fisher-Smith
David and Rurik were amazing! Very professional and took so much care of everything. ❤️❤️ Thank you both!
---
Walter Wilkinson
Fabian and Sebastian
---
Blaineeb
---
Paul Brunyee
David and Gabriel and Murilo, great team, wry happy with their work ethic and friendly
---
Michael Ewald
Mike, K1 and K2 were great and so were the office team. It was easy to organise and on the day, they made it very easy. Hopefully I don't need to do another interstate in a hurry but if I have to, I will use Ready Movers again.
---
Lyn Peters
The team who helped us move did an amazing job! Batgerel & Lee were Super careful and quick with everything! Even Natasha who I was talking to regarding quotes etc was super helpful and accomodating. These guys were worth every dollar giving us assurance that everything would be covered if damaged etc.
---
Kirk McVean
Ready Movers have helped us with at least four moves. Highly recommended. Our recent move involved a very steep and long driveway and Josh, Ralph, Adam and Alex were outstanding. Thanks gents. Always friendly, careful, efficient and experienced crews.
---
Meredith Sneddon
Fast, affordable and reliable service.
---
Beverley Graham
Highly recommend Ready Movers. The move was handled exceptionally well. The day was hot and the boys Joshua Couper and Liam Robinson worked hard and constantly, did not make a mark on any walls and were a pleasure to have in the house. Delivery at the other end went just as smoothly. Good quality local movers. Great job.
---
Sankar Subramanian
Theodore Prince and Robert Heit were the removalists who moved my stuff from my old to a new house. They did an excellent job and they were very friendly, efficient, and provided assistance voluntarily. I highly recommend them to anyone.
---
Jason Davis
I have used the services of Ready Movers twice and on both occasions exceptional. Punctual and professional crew and they handled my property with absolute care. Great job well done Theodore & Robert.
---
Elise Trapp
Positive: Professionalism, Quality, Responsiveness, Value
---
Tez
Needed help asap, and they were awaiting and ready for us at such short notice with awesome and helpful Removalist, and reception were also so amazing. Did a fantastic job and highly recommend them
---
Mark Mahoney
I've used them in the past and recommended them to my friends who also were impressed. We didn't use them this time however they responded quickly and kept communication open.
---
Kellie Woolley
Fantastic service, answered all questions and worked on a Sunday!
---
Rhonda G
These guys moved me from Brisbane to Tin Can Bay and are amazing. After I was let down by another removal company, I contact Shaun from Ready and he was amazing. Understood my situation & well and truly went out of his way to help me. He kept in contact with me until the move date and the guys who turned up were just as amazing. They are definitely a put customers first business and were extremely professional in every way. The day I moved one of my pets passed away and Josh and Mike who moved me were the sweetest guys. Couldn't believe how caring they were and stayed a little bit longer after they unloaded my furniture to make sure I was ok. Josh even rang me the next day to see if I was ok. Their rates are great as well. I will definitely be using Ready Removals again and would not consider any other company. If anyone is looking for a removalist then I definitely recommend Ready Movers as not only do you get great customer service & rates, they care about your furniture as well.
---
Annie Sutherland
Our movers were Theodore, Robert and their driver. The were fast, efficient and looked for the best way to get the job done. They knew what they were doing and it showed. We were on time and budget for what we had allocated to the job. They were super friendly and were happy to answer any questions. This company saved us in the middle of the floods when no one could! A sincere thank you from our family to Ready Movers for their awesome support. We are very grateful.🙏
---
Kikami San
Two great efficient men. Worked quickly and efficiently. Couldn't be happier and would definitely use them again
---
Emma P
We had a 4 bedroom move to another suburb in Brisbane and they were able to accomodate even though we'd left it a bit late to book. From the start, the company had great communication around scheduled arrival times. Ben and Taniora showed up and were so nice from start to finish. No damage to anything. I would definitely recommend this company!
---
Jake Kilby
Positive: Professionalism, Responsiveness
---
Brent Nash
Stacey and Shannon came out today to complete my pre-pack and were wonderful. Everything was completed quickly and efficiently and the ladies were very professional and friendly. Karl, Clint and Josh did the removal and were really efficient but still careful. Overall excellent experience and took a lot of the pain out of moving.
---
TorstonDND
From the quotation through booking and then actually moving the service received was excellent! The team at ready movers were always quick to respond and answer any questions, and work within a pretty short timeline. Their prices are highly competitive against other movers, but the service is no less. Theo and Robbie were our movers on the day. They were super friendly and highly capable. They helped make the process of moving enjoyable with their easy going manner and efficient work! Also I loved their packing skill, great tetris-ing in the truck! Can most definitely recommend Ready Movers for anyone! P.S. Bring back employee of the month! and the Toolbox meetings! super important
---
Peter Messenger
I used ready movers to move most of our families stuff. Ralph, Isaac and Ryan were made our move go smoothly and couldnt be more helpfull. Moved all that i asked and went out of their way to help move my massive fishtank to my trailer and then offload it as well. They had energetic spirits and a very positive attitude to doing all they could do to help. Nothing was too hard. Even all the awkward items like mountain bikes, bbq and trampoline went in the truck. So impressed with their attitude and care for our goods. And their friggin strong and fit. Punched out a hard days labour and were still smiling and joking at the end. Couldnt have had a better experience
---
Alex Ngatia
Ready movers were excellent! Karl, Clint and Phe were punctual and efficient. I will definitely ring them up for my next move and would highly recommend that you do.
---
Maribeth Trautmann
Sebastian and Bruno are two of the most hardest workers I know. Their kind personality, combined with the commitment of the hard work makes them an unstoppable force. I recommend Ready Movers. Kind staff and hard workers. I'm grateful for the reasonable price and service.
---
Graham Parsons
They deserves 10 out of 10 the staff were marvellous, credit to the company I have no hesitation in recommending these people for your next move.
---
Tanya Mason
Ian and Robert you absolute legends. Totally professional and thanks for the bit of fun we had also....you totally took the stress out of my move....thanks guys very much...
---
Katherine Auchterlonie
Clinton and the team were fantastic and went above and beyond for our move from Townsville to Brisbane. Easily the best we've ever used in the whole of Aus. Professional, so quick and efficient, and would absolutely recommend.
---
Laurie & Karen
Fantastic team. Andrew and Shane were punctual, organised and efficient. They went above and beyond especially with a very heavy aquarium that required an extra 2 people to move to our new premises. We could not be any happier with their services.
---
Peter Gatt
The guys were awesome today. It was a MASSIVE job with 3 containers and interstate move. The guys managed the whole day, I didn't have to touch a thing and they were just awesome. Use these guys. Big thanks to Revor, Dan, Tim and Joey! (and Bumpa).
---
Melanie Morris
Service was fabulous from the moment Andrew and Shane showed up to unloading. Nothing but efficient, professional and diligent in ensuring all our belongings arrive safely at our new house. Highly recommended!
---
Helen Bowers
The guys that came were really friendly and professional. They got everything on the truck quickly. Would use again.
---
Gavin Crosbie
Booked Ready Movers to pick up a dining table and six chairs to be sent from Brisbane to Sydney.Big shout out to driver Lee and offsider Theo for the professional way they came in and quickly and efficiently did the job.Thanks Guys and Ready Movers for the service we would definitely recommend them to others in our community.
---
Jenni Vogel
I was extremely happy with Ready Movers for my recent move in Cairns. Mike and his offsider Cio were efficient, on time and super friendly. They took extreme care but got the lot done in one load which saved me heaps of $$!! Would highly recommend.
---
Martin Hanson
Ready Movers were great to deal with. Moving the furniture including fridge and piano across newly polished floors was done without a hitch or scratch. Theodore Prince and Robert Heit were terrific to work with. Thanks so much for your professional and friendly service.
---
Julie Crothers
Ready Movers were fantastic. My stress levels dropped as soon as I spoke to the representative. Nothing was a problem. Their price was very reasonable. Happy team. I would definitely use Ready Movers again.
---
Rianna Schuh
My removalists Rurik and Vinicius were literally the loveliest, most amazing guys. They worked like crazy on the longest, hardest day in the rain and they were absolutely amazing. Anyone would be so lucky to have these guys do their move.
---
Anke Lawes
The boys did my removal, they were excellent, punctual and hard working. Thanks Simon, Max and Mikee
---
Simon Jackson
Three man team were diligent, organised and operated in a very efficient and polite manner. Recommend and will use again.
---
AL lally
Sebastian and Fabian did an amazing job thanks. Prompt, friendly and professional - highly recommend their services.
---
Netty
We strongly recommend using Ready Movers to relocate your contents. Theo and Robbie were highly efficient, skilled, hard working and genuinely lovely chaps. They displayed tenacity and resolve by ensuring that all tricky items made it in to our new premises. We are so grateful. It is great customer service in what is usually a very stressful experience. Thank you!
---
Andressa Ferreira Cunha
The boys from Ready Movers are absolute legends!! They're quick, professional, polite and very easy to get along with.. I've moved a couple of times already and have never met such professionalism and quality, would definitely recommend them without hesitation!
---
Corey Lynds
Ready Movers recently assisted us in moving, they also stored our contents for a few nights in a couple of containers while we waited for our new house to be available. The team that assisted us were fantastic, and took good care of our belongings, I will be relocating again in a couple of years and I'll certainly use their services again. I wouldn't hesitate in recommending Ready Movers.
---
Gleniss Walters
Had two young guys Theo and Robbie who was lovely and friendly come and a collect my stuff ,went thru all paper work with me ensuring my goods would be well looked after ,then in a flash all my parcels was on the truck all blanket up .so nice to see young guys take pride in there jobs .thankyou Robbie and Theo
---
Alan Beirne
Recent local move in Brisbane northside at very short notice and was not my first choice but we're only company I rang that were available at last minute. First crew Steve and Darren unfortunately suffered a back injury and were swapped out by Ralph and Tommy. Was not charged for the down time during the swap over. Can't fault either of crews. Both took care of my belongings and were nice blokes to chat to and had a some laughs. Would be first choice movers from now on. Couldn't fault. Good fair price. Also used there pre packing service the day before and the Packer was very quick and packed the boxes very professionally. Made the move a lot less hectic as I had to work from home and couldn't get anymore time off to pack beforehand. Tip: I used them on a Friday and I would say that is the best day to move as the rate is cheaper and you have both Saturday and Sunday to unpack and relax before getting up for work on Monday. Saturday moves don't allow enough time to have a cold beer and watch the footy.
---
Shellie Trinder
Sebastian and Fabian were amazing... So professional and helpful. Great young guys
---
Matt "defekt" Hughes
Wade and Richard did an amazing job. They had a very big job before us but they powered through all our gear into the truck in record time. They were very friendly professional and helpful.
---
Beverley Cosgrove
Our movers were Wade and Lee. They were polite and professional and managed to get the contents of a large house loaded and delivered in a quicker time than I thought possible.
---
Cheryl Parsons
Fabians and Sebastian have done fantastic job of moving this piano plus other items.
---
Carlo Paul
These guys packed our entire 4 bedroom house, stored and returned all in a professional form. Couldn't fault the boys... Tom, Trevor and Jamie. They worked hard, were polite and took care of our belongings. Exactly what we needed. Legends
---
J. T.
I had 2 trucks and 3 men from Ready Movers. Ralph, Isaac and Clint were professional, friendly, fast and caring. They did the whole job in just a few hours. I'd highly recommend Ready Movers. These guys are awesome!
---
Luka S (deltron)
Pheonix, Clint and Karl done a excellent Job. Highly Recommend Ready Movers.
---
Christopher Blinco
Hi team, We wanted to say a big thanks to Theo and Robbie from Banyo for there help in moving our house into storage for flood repairs. (something that is unplesent) They turned up when they said, and nothing was an issue it was a six long hour hard slog for them and not once was there an issue. Two big truck loads you made my wife so happy with your help. - 5 stars all the way. Thanks so much for your help we hope things go well. We hope to see you when we move it all out again. Kind regards Chris and Niki
---
Zara Hallett
Felipe & Giovanni did an amazing job with my move today! They were incredibly efficient and handled my belongings with care. They were both really lovely, and even got out of their truck after the move was done to help us safely navigate traffic. This was the nicest and easiest move I have been through. I would definitely recommend their services and will be using them for future moves.
---
Rhiannon Kemp
Second time using Ready Movers to help prepare for a renovation in our home. Very happy, Karl and Clint were on time, polite and helpful. Got the job done quickly and in an organised manner. Can thoroughly recommend!
---
Michael Shepherd
Another Removal company cancelled on day of settlement and scheduled removal. Ready Movers mobilised a large truck and 4 staff within 4 hours. The crew worked non stop to have the contents of our 4 Bedroom 2 storey house offsite with 1 hour of arrival and half an hour prior to settlement. I can not thank enough the Ready Movers team for their prompt, professional, efficient, service in coming to our rescue.
---
Ali Mirali
Dani and Joey were professional, friendly and experienced. Worked quickly and efficiently. Highly recommend!
---
Lauren Adams
Shannon, Bre and Stace came out to pack up our house before Christmas. They were on time, efficient and so friendly! They worked well past the standard knock off time and didn't stop until everything was done. I hope these ladies get overtime, they were amazing! The guys who moved our furniture in Brisbane and also the crew who moved us into our new house in Townsville were fantastic as well.
---
Nicky Jay
Huge shout out to Linden and Sean for thier hard work moving us from Brisbane to Kingaroy. The guys had to pack the truck in the rain and move furniture from a 2 story house. It was hard work! Will differently be calling on them again for our next move.
---
Good Golly, Miss Lolly
Fabian and Sebastian did an amazing job, they fit everything on the storage, thanks a lot
---
Mason Gismondi
Fantastic service and speed from Fabian and Sebastian! Highly recommend and will be using Ready Movers again!
---
Kath B
Fantastic group of people, Stacey and Shannon were such hard workers, carefully wrapping and pre packing everything the day before. Carl, Clint and Kahu worked very carefully and quickly, making sure all our things were secure in the container. Both groups arrived on time and helped make a stressful time way less stressful. I have no problem recommending this company and if needed again we will be using them for sure!
---
Jager Parigi
We had Fabian and Sebastian, they did a great job and took furniture from all over the house and were extremely friendly and helpful. :)
---
A duu
Mick, Jake and Mikee were great. They moved really quickly compared to other companies we have used. Also the administration team were really helpful in fitting us in during a busy time. I wouldn't hesitate to use Ready Movers again.
---
Jeb Walton
Fabian and Daniel were exceptional in our local move today, they were efficient and careful with our belongings. Could not recommend this removalist team any higher. Thanks for an easy move!
---
Gary Hill
I got the guys to move my furniture from Brisbane to Townsville. Even though I was on a top floor unit, nothing was a hassle for them. They were so professional and friendly it made it so easy.
---
Ashleigh Hopper
Mike and his crew were fantastic. They were fast and professional, they communicated with us the whole morning. They even took the time to talk to our young son, who was super interested in what they were doing. Would use that crew again, they made the move a lot less stressful.
---
Thee "DragonXR" Gamer
OFFSIDER - Theodore Prince OFFSIDER - Robert Heit These gentlemen made the process of moving easy, relaxed and no fuss, Without any damage to my items during the move. The gents were a real pleasure to meet and i highly recomend their services.
---
Lucie B
Excellent, clear communication on arrival day & time. Friendly,efficient & easy to deal with. Would highly recommend & use in the future. Thank you Pheonix,Clint & Karl. L. Brand
---
Ian Lindsay
Ready Movers have moved, and sometimes stored numerous items of furniture for me over the past 2 years. Their removalists are always on time and have a helpful attitude. Excellent service.
---
Nina Foster
Liam and Batgerel were fantastic helping with our move. In particular, some of the furniture pieces were quite delicate and tricky to navigate out of the apartment, but they handled this with absolute care and expertise ensuring no marks or damage was done to walls or floors. I will definitely be booking them again for future moves.
---
Stephen
Amazing team. Mike, Kahll and Max were a pleasure to deal with. Multiple challenges didn't phase them during the job with my apartment down to one lift, works on site and difficult furniture to move. They had a positive and friendly attitute the whole time and did the job in great time. An excellent group of professionals who knew their stuff and handled every item with care. I can't thank them enough.
---
Tulsi Vana
Update on my review: Second time I used them, just as good as the first_ Great communication about pick up and delivery times, fast and helpful crew. They packed a huge and fragile painting brilliantly. On delivery, one small item was missing and they'd tracked, fetched and delivered it by the end of the same day, which was super given that I'm in a rural area. Will always use and recommend this company in future On delivery, Used them for moving a small amount of furniture and pre-packed belongings from Bris to Atherton Tablelands. The base rate pays for up to 5 cub metres which meant I could put in lots of small items I might otherwise have left behind. Super happy with the experience. Taniora and Robert arrived exactly on time, and were really helpful and fast loading the goods which were put on a train the same afternoon. The goods arrived a few days later to my door and the guys who unloaded were also super friendly and efficient. Everything arrived intact I'd certainly use this company again.
---
Elle Green
Highly recommend ready movers. We had a defence move through Toll which ready movers were subbed in for. The whole process went so smooth. The boys worked so hard and were very careful with all our furniture. Fully packed and unpacked. So happy with how it went. Thanks again!
---
Sara Pengelly
This is the second time we have used Ready Movers and cannot fault their service from start to finish. Chris & Mikey were amazing. They achieved the impossible with what we thought was a tricky move. Nothing phased them and they remained upbeat and courteous all day. We could not recommend them enough. Thanks guys you exceeded expectations!
---
Nieve Dee
Sebastian and Fabian
---
Tahlia Lait
Was recommended these guys by a work colleague and was very happy we went with them. They were efficient and looked after stuff, we would use them again.
---
Jess Hannan
Sebastian and Mateus were fantastic today - super quick, extremely professional and very careful. Really happy with our move and their service!
---
Chris Zeylmans
Moved from Kewarra Beach to Palm Cove a distance of 6kms. Would have liked to have given they guys 5 stars but unfortunately we had three large rubber based carpet tiles go missing. Thinking that the lads had more than likely just missed them when unloading, I asked the company to check and received them one week later. Would definitely use them again. DRIVER - Michael Entrop DRIVER - Junior Aukuso
---
Liam O'Connell
The guys showed up on time and were very quick, efficient,careful and friendly. Would definitely recommend and use again
---
Josh Partridge
Theo and Calen worked incredibly hard at the end of a very long day for them, even running back and forth to the truck (we didn't finish until nearly 10pm on Friday night). Everything was safe and secure, and I would definitely recommend their services. 5 stars to the boys. The reason I am giving 4 stars is that they had been booked on too many jobs that day and couldn't arrive inside the time window, but that was not their fault. The company should seriously consider booking the guys on less jobs per day to ensure they can meet time-frames and don't have to pull a 15 hour day.
---
Tibo Torche
It all started pretty bad... Operations only sent 2 guys when we requested 4 to pack & move a large home. Wade and Mikee did really well packing along with me, then operations eventually managed to get us an additional truck & team and we got everything done with Taniora & Theodore. Overall, I'd give a 5 starts to the guys on the ground but operations wouldn't get more than 2 stars due to the mix up and final discount vs. the 13 hours of work we put in to get our house packed and relocated from Brissy to the Sunny Coast.
---
Jann Osborne
The guys were great, however not enough information was requested from us up front when we got a quote and booked. I tried to tell the lady we had heavy furniture but it was dismissed. The move took 10.5 hrs and the guys were absolutely exhausted. It shouldn't have taken anymore than 6-8hrs and we only moved 300m up the road and it wasn't a full house. They did not have the right equipment for the job. Some fresh guys had to come the next day to finish the job. Our fridge also hasn't worked since the move so believe it was damaged. Wouldn't go with Ready Movers again unless they changed a few things.
---
Ashley Thaw
All 4 drivers/movers for pick up & drop off were fast friendly efficient & knew exactly what they were doing, we had Shaun Kann, Jamie Sommerville, James Ryan, Junior Aukuso all helping out & they made the process easy. We did although have issues with our initial quote & booking not being accurate to our listing sent through & also very important details of our move not discussed. There was no information given to us in regards to our belongings coming on RAIL rather than truck & this is also not outlined on their webpage. As this was now a rail delivery my plants could not come with us & had to be taken elsewhere last minute, even though I had plants on my listing to receive a quotation no information was given after this as to why they could not travel as at this stage we were still under the impression this would be coming same day delivery on truck. The time frame was not discussed prior to quotation (my information given over the phone before quoting was disregarded) and this resulted in us having to make other arrangements for our everyday items which had to come with us. Upon drop off we were then told my information of property type for the drivers to drop off was also not noted on our drop off paperwork (leaving the drivers without this information).
---
Alan Milne
We found our moving experience with Ready Movers to be very stressful. The timing was scheduled for between 11am and 2pm. We were up early to be ready and packed for a possible 11am arrival. However the removalist truck had not arrived by 2pm. We were advised that their previous job was running late and a possible 2.30pm arrival. At 4.40pm the truck finally arrived. Therefore we had a 4 hour move mostly in the dark. I would not recommend Ready Movers and neither would our real estate agent.
---
Andressa Ferreira
Really hate to do this but I'm highly frustrated, I have previously posted a review saying how efficient the Brisbane crew were, and indeed it's true, but the company has proven to be very unorganised, my items were delayed due to the floods (not their fault) but even so, communication was complicated as they don't answer emails and txt messages. Then it arrived with missing items and damaged items due to their stacking when clearly my things were fragile, the missing items were not found. Then 10 days in they sent me an email saying if they don't find it they'd replace them, when I sent how much they were within 5 minutes they located it. I was informed it was in Cairns (my final destination) and it would take longer to deliver but it was booked for the 1st of Feb. Yesterday 30/01 ONE DAY prior to the delivery I get a call from a person saying they're taking longer to deliver because my things were actually in Brisbane ?????? and again due to flooding it was delayed. I just think it shouldn't take almost a full month to finish having All my belongings with me!!!
---
Jenny Nash
While my two delivery men were extremely courteous and professional, a package containing my most treasured antique prints of huge sentimental value was lost somewhere between pick-up in NSW and delivery in Qld. Unfortunately it took several phone calls, and a month before I received any response, and my package so far never found. In hindsight should not have entrusted my treasures.
---
Sharon Hamlin
Will never use this company again. Found removalist staff that did the latest shift very rude and unfriendly. Was also extremely disappointed that some of my furniture was also damaged whilst in storage. The company took responsibility however the whole experience was disappointing and unfavourable. NEVER AGAIN.
---
Jason Oberleuter
Young guys were very inexperienced and slow. Our property manager even commented that they looked like they were on holidays whilst moving us from one apartment to another in the same complex 50 metres away. Make sure you check the travel time rate they charge as it is very expensive. Will not be using them again.
---
Julie MacKenzie
Never ever use this company. I was left without a removalist as they declined my job on the day, after confirmation by email 3 weeks before and a phone call the day before. Extremely unprofessional company.
---
Andrew Hounsell
Truck was a no show. Called the office numerous times with no answer………. absolute crickets. No call what so ever to let us know we were high and dry. 10/10 wouldn't recommend.
---
Marisa McElroy
I used this company because I had previously used them 2 years ago and had a great experience. This experience was the complete opposite and an absolute nightmare. I am currently 6 months pregnant and am also considered high risk so I was looking forward to having a company help me during this stressful time. We had an appointment for the mover to arrive at 9:00am Saturday morning. The time came around and we had zero communication from the company. We called and they told us that the movers wouldn't be at our property until 12:30pm. We understood things happen even though it was a bit frustrating and I also had a big event on that night for a friends moving back to UK going away party. Lunchtime came and again no communication. I had to call 3 times before I was able to get ahold of someone. By this time it was 1:00pm and they told me the truck was broken down at the Gold Coast! This meaning they would also be an additional hour late at least. I was so upset because I knew this meant I would miss my friends going away and now this move was being dragged out so late and being pregnant is already tough as it is. I was also shocked I didn't hear from the company ONCE to keep me updated with what was going on. The movers didn't arrive until 4:00pm. They were rude, no apology, and were so slow at moving. At this point my partner and I tried helping as much as possible which my partner got frustrated because I wasn't supposed to be lifting or moving heavy objects. We caught the movers on their phones multiple times and they were careless with our property. Due to them being this late, we lost out time slot to use the lift at our new property and I also had hired help to assist with setting up our new apartment. Both were cancelled due to them being so late. There was an event at the GABBA and my new apartment is blocks away. The lift was so busy and all of my belongings were being stacked near the elevator and it was so disorganized and stressful. The movers didn't complete the job until 10:00pm! They were ordering me to pay them the full amount which I refused. At this point I completely lost trust or respect for this company. I was spoken to very rudely on the phone and throughout the day received barely any communication unless it was me that called someone. They told me I must pay and that Support line would call me on Monday to discuss the experience and to refund me my money. At this point I only paid them for half the amount because I lost my trust for this company to do anything professionally or properly. Monday came around and NO COMMUNICATION AGAIN. Eventually it was me calling multiple times. Eventually I someone answered and they refused to give me any more of my money back. After the call, I checked my emails and my prior apartment had emailed me photos of damage to my apartment and also a neighboring units damage. My partner and I had left the apartment and had the movers complete the task because I was upset and we needed to try and sort out the lift etc. at the new property. They had damaged the outside of the neighbors apartment and the front door and wall to my apartment. I sent this information to the company because the bill to fix the damage was $250 and the payment fell back onto me. I have emailed support and still to this day haven't received a response. I will NEVER USE THIS COMPANY AGAIN!!! Movers are there to help you have an easier experience moving. Im a high risk pregnant woman and I can't even begin to tell you how frustrated and upset I was throughout the day. I also missed my friends event and didn't get to say goodbye to her. ***** update: "owner" has replied to my review below. Have called and emailed MULTIPLE times and yet again NO communication back. Not surprised from this company.
---
Phil Conboy
Had one of their drivers parked across my driveway whilst delivering next door, asked him to move and he got all shirty. He was rude, arrogant and obnoxious. I sent an email to the company and it was ignored, hence me posting this review.
---
Mihiri Ekanayake
The moving was Brisbane to Adelaide, The staff came to pick up and drop off the stuff were very nice. But, they gave me someone elses box and some of my stuff was missing, which I realized later after signing the document. I called both Adelaide and Brisbane for several times but never got my stuff back.
---
Dayle Silcock
Hi Heather I really don't appreciate your email at such a late stage in the process, nor do I appreciate you hanging up in my ear during our phone call. Your actions just now and the lack of action from your so called 'General Manager' are simply unacceptable and outrages. To be honest it is extremely unprofessional, I don't understand how a company can conduct themselves this way. Ready Movers claim to be 'Reliable and to provide customers peace of mind', far from the truth if you ask me. The Below from your own website, I guess meaningless; I think you guys even claim to be 'Fast & safe, every time, No-Stress' - I guess not this time……… Rest assured, through my many contacts, I will let as many people as I can know of how Ready Mover let me down (1) week out from the proposed move Dayle
---
Katie
While the three workers were polite and early, they only had one half-empty roll of tape between them and did not bring any packing/butchers paper for breakables. Once they had run out of blankets/linen to wrap my belongings with (dinnerware, for example), they just put them in boxes together with no protection. When their tape ran out (in less than an hour) they were only able to continue because I happened to have a roll, but it wasn't proper packing tape either. None of them wore masks or offered to wear masks, despite being 10k cases in one day. Instead of feeling a stressful weight lifted off my shoulders, I actually feel worse about my move than I would have had I needed to pack my own belongings. Have reached out to ready movers by email and I hope to receive a reply in the next coming days about how this can be rectified. Unfortunately, I was not able to pick moving company as it was organised through my employer, but I would definitely not be using them in the future had I know this.
---
Moving house starts here
View pricing, read reviews and book professional interstate and local removalists online.
35,000+ customers
4.8 rating
Instant pricing