Best places to live in Brisbane
Planning on moving to the capital of the Sunshine State? Brisbane/Meanjin is a great destination for families, professionals and students - but where are the best places to consider laying down your new roots?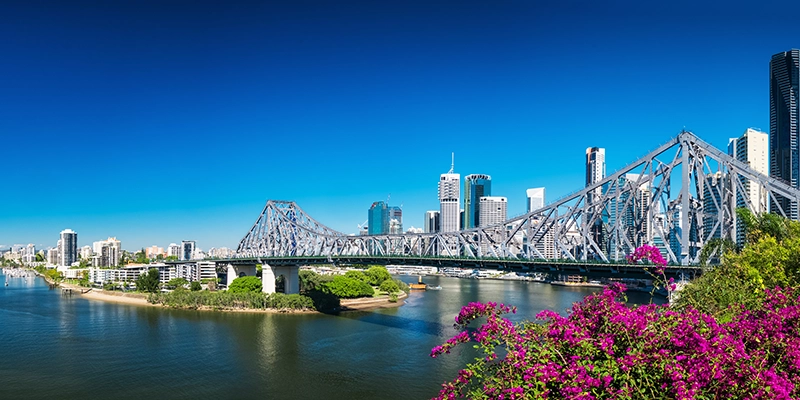 Brisbane is the third largest populous metropolis in Australia with quality employment opportunities. Increasingly referred to by the Indigenous name Meanjin, Queensland's capital is famous for the river life and green balance, it's ports and beaches, night-life, and unique attitude to lifestyle. If you are planning a move to the Sunshine State in the near future, here are some safe suburb choices to help you choose a place to live in Brisbane.
The best suburbs for affordable property
According to research, in 2020 Brisbane property prices rose by 3.6 per cent due to increased migration to the city. Which is good news for property owners but harder if you are hoping to buy or rent in the suburbs of Brisbane. Though it is still not nearly as expensive as the southern capital cities, Brisbane city is fast becoming the place to live. The Real Estate Institute of Queensland reports that the median rent for a 3 bedroom Brisbane home has increased by $15 over the last year alone with vacancy rates dropping across all postcodes.
Here is our take on some of the up and coming suburbs in Brisbane/Meanjin tipped for the best affordability for investment according to the Australian Property Market.
Narangba - Technically considered in the Greater Brisbane area and deep in the northern suburbs, Narangba is a completely different experience if you are not at all interested in the inner city hustle bustle vibe. A little under an hour north on the M1 Narangba is situated in the north western suburbs of the Moreton Bay Local Government Area (LGA), the fastest growing LGA in the region. On the edge of country, there are hills and valleys and plenty of forestry green, but it's only a short trip to the coastal bays that are famous in the area for affordable beach-side living, good fishing and a great day out!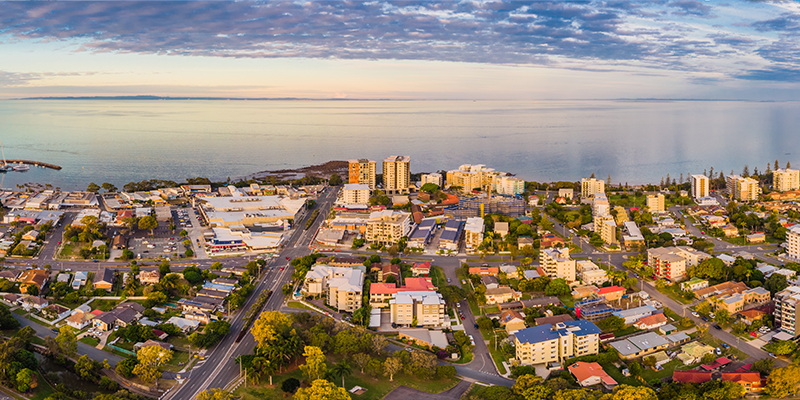 Narangba is a short drive to the coastal suburbs of northern Moreton Bay.
Due to a massive growth in housing development and local infrastructure planning this area has all the facilities families need with schools, shops and a train connection. Although there is a newly renovated train station, you will need a car out this far as the buses are not great, and there are fair distances between suburban centres, but that just makes the feeling of escape that much extra! You can buy in Narangba at the median unit price of around $505,000 for a house and $327,000 for a unit. The median rent is $420 per week for a modern house.
Scarborough - Staying on the north-side and still within the Moreton Bay LGA the entire Redcliffe Peninsular is a way of life of its own! It really does seem to have a lifestyle that isn't really replicated anywhere else in Brisbane as it virtually is just beach after beautiful bay side beach in nearly all directions.
35kms north of the city centre along the Gateway motorway onto one of the longest bridges in the country, the jewel of the peninsular is on the opposite side on the northern edge of the headland. Typically Scarborough is known as the "rich" side of Redcliffe because of the vast ocean views of both Moreton and Deception Bays and the incredibly grand historical homes that characterise the suburb. Its main claim to fame is that it was where the Bee Gees lived as children in a humble worker's cottage (check out Bee Gees Way). The median house price in Scarborough is $513,282 but that could encompass properties of all states of repair as it is a suburb where there is mix of affluence and working class. A unit will cost around $500,000 to buy at the median unit price.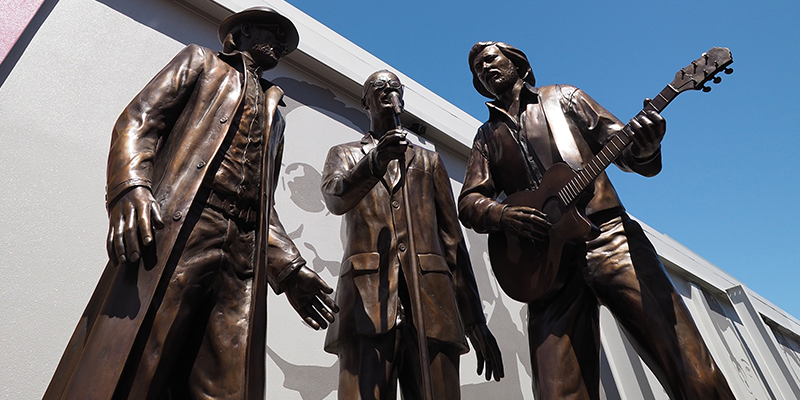 The Bee Gees are immortalised in bronze to celebrate their roots.
Wynnum - From one side of Moreton Bay to the other, the suburb of Wynnum is almost a mirror of the old bay-side suburbs on the north of the river like Sandgate and Brighton. With the sleepy coastal lifestyle of old and plenty of estuaries around, the area is littered with cafes and parks that are great to picnic with the family or grab some fish and chips from the local. 20 km east of the city centre there are three train stations at Wynnum, Wynnum Central and Wynnum North as well as a regular city bus service. Median house prices are up around the high $600,000 mark and the average rent is $475 per week.
Yeronga - Literally only 8 km from the CBD Yeronga is an inner-city suburb that is a little gem with riverside parkland not far, is close to everything and has an abundance of public transport with a direct train line, high frequency city buses and close proximity to a city cat terminus. It's got heaps of green space, community infrastructure and has relatively few main roads running through it, but is still close to all the major arterial systems.
You can be looking at an average of $616 per week to rent in Yeronga but there is traditionally not a lot of high density apartment style living so it's likely this is for a larger dwelling per dollar. If you want to buy you can be looking at a median price of just over or under the 1 million mark depending on whether you are after a 3 or 4 bedroom home.
Holland Park - Nestled in the inner-south 9 km from Brisbane City, Holland Park is one of those forgotten suburbs that seems to be "in-between the other suburbs" but now it's rising to standard as a green suburb that is close to University and TAFE campuses and is ideal for families who work in the inner areas of the city. In the shadow of Mount Gravatt everything you need for shopping, dining and lifestyle are within 10 minutes in any direction. Median unit price of a house may be around the low $700,500's while buying a unit could cost up in the high $300,000's.
Ripley - Part of the city of Ipswich, Ripley is a fast growing suburb in the south-western region but is still within the 50 km radius from Brisbane city. The suburb encompasses a master-planned community. Housing affordability is the number one reason for growth with the median price for a house under $400,000.
The best suburbs to live for families
This is a really tough one, because Brisbane paints itself as a family friendly place no matter where you reside, and there are many postcodes that could easily claim to be the best suburb for families. However, there are extra things to consider with children involved, like primary school traffic and worst still - school parking!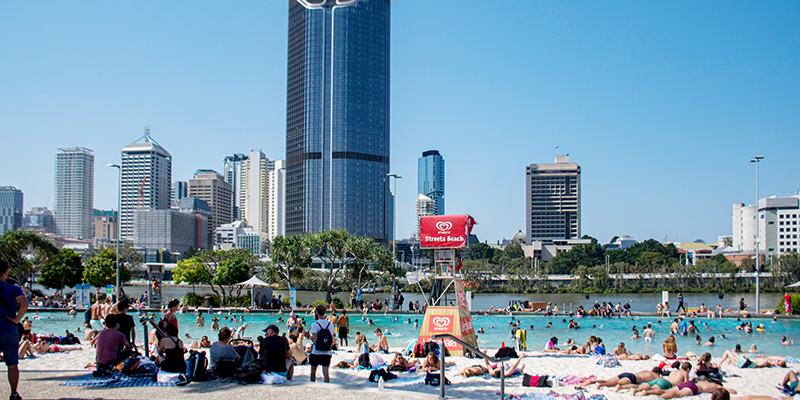 Southbank beach is always a great place for families in the heart of Brisbane city.
Here are some quick picks:
Victoria Point - with easy access to high ranking public and private primary schools and secondary schools, a nearby beach, neighbourhood retail precincts and major grocery chains, medical facilities, local library, movie theater, plus a variety of independent stores and lake-frontage - and 30 km from BNE - this suburb is a family hub!
Sandgate - rich in the history of being one of Brisbane's first seaside resort towns, Sandgate is punctuated by a unique history with beautiful architecture dating back to the late 1800s and early 1900s. The view from the foreshore is phenomenal with a 180 degree view from Redcliffe to the Port of Brisbane, with the sand dunes of Moreton Island clearly visible on the horizon. Kids can ride their bikes along the foreshore, find trails in the mangroves or visit the newly upgraded aquatic complex. With cafes, bespoke artisan experiences, a historical train station, and heaps of public and private primary schools and high schools in the area - it's a great place to grow up!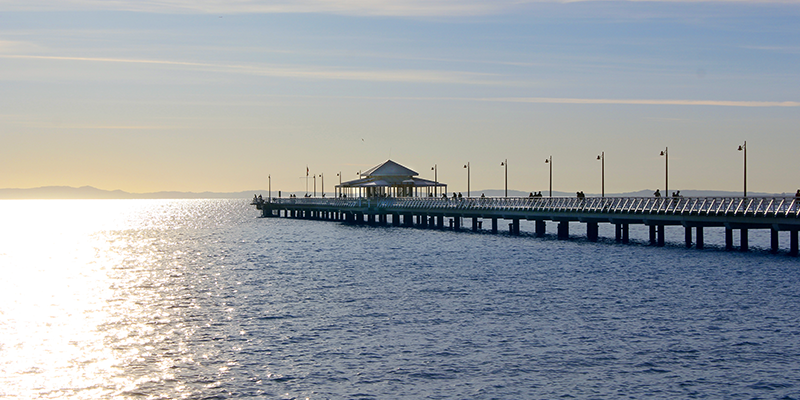 The Shorncliffe Pier is in close proximity to Sandgate.
Upper Kedron - 12 km from the CBD has a lush, hilly landscape with good schools nearby, parks, cafes, recreational facilities, and shops. It has a village feel with a large proportion of families in the neighbourhood.
Brisbane's eastern suburbs
Heading east you are following the river on the north and south sides and because of this there are a few very pretty and prestigious suburbs of note if you have the funds to afford them.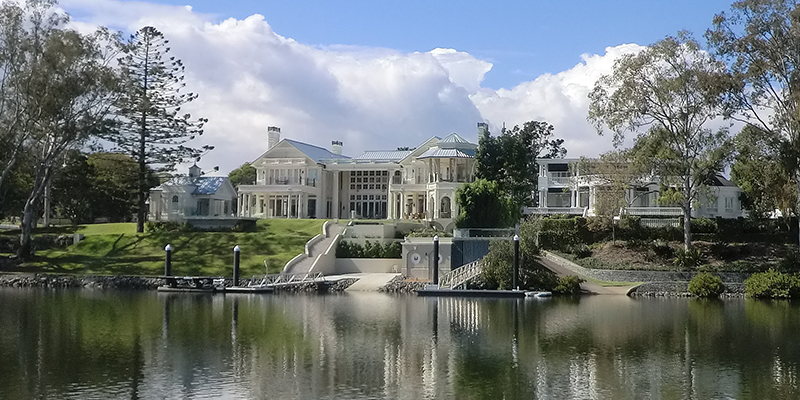 Riverfront mansions line the banks of the Brisbane River.
On the southern bank you may like a riverside suburb such as East Brisbane, Hawthorne, or the neighbouring suburb of Bulimba, which all sit along the river passageway and have easy access to incredible city views. Eastern suburbs that have been well established and developed are the beautiful Morningside, Seven Hills, Carina, Carindale and Norman Park. Going as far east as you can from the Brisbane City Council area you hit the Moreton Bay coastline with suburbs like Lota, Manly, Wellington Point and Cleveland.
On the northern bank of the river heading east the famous Breakfast Creek (it's even mentioned in a Midnight Oil song) introduces the inner-city suburbs of Albion, Hamilton (characterised by the iconic Kingsford Smith Drive riverside clearway), Clayfield, Ascot and Hendra. Famous for rich estate mansions and horseracing, this is where all the specialist doctors and dentists tend to live on the Northside. Heading further north east you hit a lot of port suburbs but quickly you find more of the sleepy bay-side suburbs like Nudgee, Nudgee Beach and Banyo. In the furthest north east corner of Brisbane's LGA, the little historical gems of Shorncliffe at the mouth of Cabbage Tree Creek, Sandgate and Brighton open up to the grandeur of the entrance to the Pine River and are a bridge away from the Redcliffe peninsula.
West Brisbane suburbs
Go WEST! The inner west is technically on the northern bank of the Brisbane River, but on the bend that faces westward. Like Sydney, Brisbane is close to the east coast so heading west there are a lot more suburbs and they become more affordable as you move outward. Brisbane is nestled between the coastline and the Great Dividing Range, so once you hit mountains you are in the bush and all thoughts of city life completely diminish.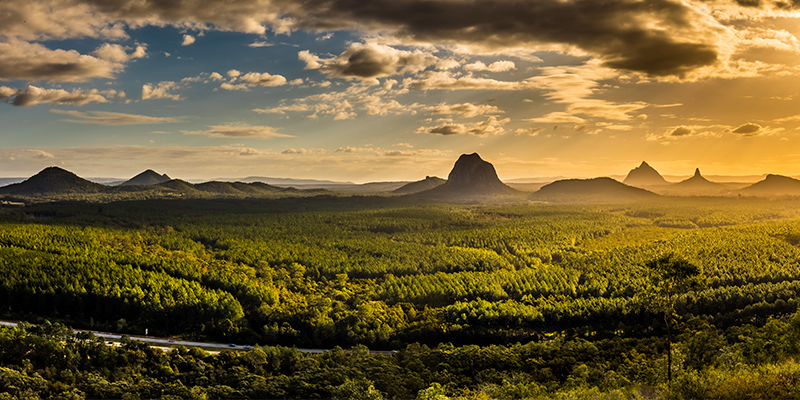 The Glasshouse Mountains are part of the Great Dividing Range.
High density inner western suburbs with particular appeal are Milton, Auchenflower, Toowong, Taringa, Paddington, Petrie Terrace out to Indooroopilly on the south and spanning north the Ashgrove and The Gap. North west suburbs encompass the mountain communities of Mount Nebo and Mount Glorious as well as the "Hills District" (Everton Hills, Ferny Hills, and Arana Hills) with Samford Valley north on to Dayboro and Petrie.
In the southwest popular suburbs are the extra leafy suburbs of Bardon, Kenmore and Chapel Hill as well as the tree-lined streets of Graceful, Chelmer, Sherwood to Oxley and Jindalee. Further west acreage suburbs of Pullenvale, Anstead, Moggil and Brookfield are known for their greenery and family friendly lifestyle. Going further looking for a southwest suburb you head toward Ipswich with very affordable suburbs to find like Darra, Richlands out to Goodna, Redbank and the Ipswich suburbs of Karana Downs, Bundamba, and Riverview.
Look at a map here.
North Brisbane suburbs
Finding the northern suburbs of Brisbane is pretty easy, you just follow Gympie Road, the main arterial road north that once upon a time could take you all the way to Gympie on a Cobb & Co. Coach. Once you pass the inner-city suburbs of Spring Hill, Windsor and Lutwyche, you head through liveable suburb Kedron to Chermside which is a major hub on the north-side with lots of high-density living mixed with the old suburban feel of working-class suburbia. The Chermside Shopping Centre is one of Brisbane's biggest shopping centres with easy access to public transport bus networks.
Suburbs to either side are hilly and have some incredible city views such as Wavell Heights, Kelvin Grove and Everton Park. These suburbs used to be considered the northern outskirts but are now the edge of a bursting and growing metropolis.
Continuing along you will next encounter the northern suburbs of Aspley and Carseldine which are only about 15 mins from the CBD. Just beyond here is where the boundary of Brisbane becomes Moreton Bay where the farms of old (actually there's still a farm or two) have become Bald Hills and Strathpine and life on the Pine River takes over with this region becoming one of the fastest areas for recent booming population growth. Keep northward and you will find Kallangur moving through to the huge, planned communities of North Lakes and Mango Hill. This region moving north to Caboolture and the Sunshine coast are massive growth areas for young families and first home buyers and still are not that far to travel to Brisbane for work with highways and public transport networks operating all the way up and down the coast.
South Brisbane suburbs
The suburbs of south Brisbane are characterised by their working-class past. Many houses, though renovated and refreshed, still carry the character of working cottages and Queenslander style architecture amongst the ever-increasing high-rise encroachments. Keeping the historical character of Brisbane's inner city suburbs is always a topic of discussion and often contention with the city council and would-be developers. We list some of the well-known suburbs that are still popular for all the right reasons.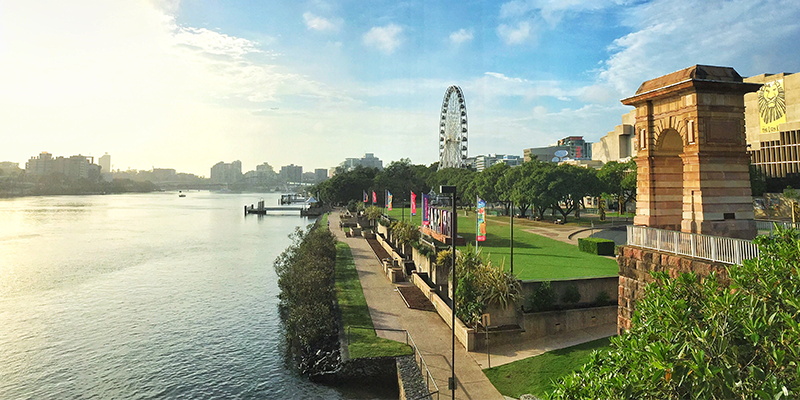 The southside of the Brisbane River is where you will find the cultural precinct.
Inner south suburbs to live that are popular are Woolloongabba, West End (a very walkable suburb), Kangaroo Point and South Brisbane. Moving a little further south there is Fairfield, Coorparoo, Camp Hill, Cannon Hill, Mount Gravatt and the evergreen Holland Park, Tarrigindi, and the southern suburb of Greenslopes.
Green space living
Well ... there really isn't anywhere in Brisbane that doesn't have green space. Brisbane is known for having a sensational balance between urban living and the natural environment. The river presents a diverse range of ecosystems moving from up in the mountains, winding through the valley out to the Pacific Ocean. Bushland reserves are in almost every suburb and in some cases are a large petition of environmentally managed land buffering some of the inner suburbs, there literally is a National Park near you anywhere you are. Even the dense CBD has beautiful gardens and parklands that provide shade and recreation.
If you have to choose though, go for these particularly extra leafy suburb locations:
Mount Glorious, Mount Nebo, The Gap, Tarragindi, Daisy Hill, Figtree Pocket, Chelmer, Saint Lucia, Petrie, Cashmere, Chapel Hill, Samford, Mount Cotton, Seven Hills, Pinjarra Hills, Mount Crosby, Brookfield.
The best suburbs for food and drink
If all you want is food and drink, and a wide variety at that, then you can't beat Hamilton for the sheer fact that you can go to Eat Street Markets, a riverside venue lined with shipping containers and all the street food you could ever dream of! The surrounding Hamilton wharf provides fine dining and cafe culture while prestigious suburb Ascot's Racecourse Road is renowned for high class à la carte experiences.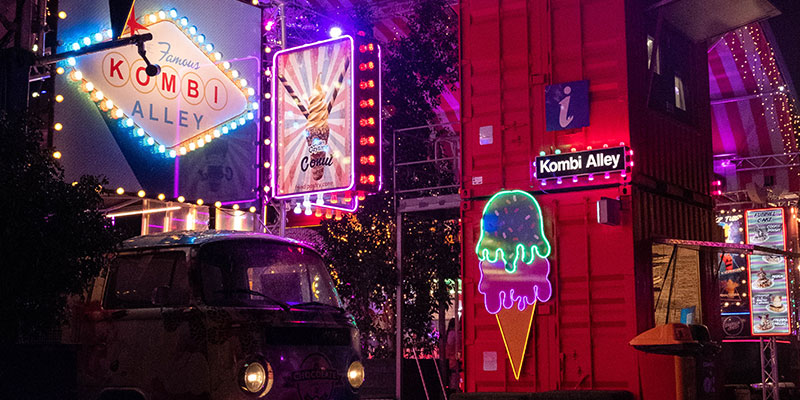 Eat street markets in Hamilton.
The up and down and winding streets of the Brisbane suburb of Paddington in the inner north and offers unique Brisbane charm that is not surpassed but also has a fantastic array of eclectic cafes and great restaurants. In close proximity is Caxton Street Hotel has a reputation for holding their annual Seafood festival. Newfarm is also big on cafe culture.
King Street in Bowen Hills is a dedicated inner-city dining precinct that was part of the commercialisation of a portion of the iconic RNA showgrounds and is walking distance to Fortitude Valley which is full of flavours and includes Brisbane's Chinatown mall.
The best suburbs for nightlife - Brisbane's CBD
The magnificent Brisbane River is at the heart of all life in the "River City", it defines every inner-city suburb along its banks. It's no surprise that at night the city centre, with its many colourfully lit bridges and riverside walkways, truly is a sight to behold! There are many riverfront hubs along the snaking and bending river that carves a path between the suburbs of north, south, east, and west.
Brisbane CBD - There has been so much construction happening in the Brisbane CBD over the last few years that it has to be a sign of things to come as rapid population growth is driving CBD creep. In the city centre, the Queen Street Mall is one of Brisbane's must do's and is a hub of dining with a few bars along the retail strip too. From the "bottom" Edward Street end to the "top of the Mall" and the Treasury Casino the entire strip is for shopping and entertainment. Move a few streets in either direction of Queen Street and you are treated to historical pub venues, fancy new wharves, laneways, and night clubs that extend to every corner. You can pretty much do everything you want to do within walking distance or a short Uber ride.
The Treasury Casino is at the top of the Queen Street Mall.
Fortitude Valley / New Farm / Newstead - Just a little north of the CBD the famous (or depending on your era, the infamous) Fortitude Valley is always a vibrant and lively entertainment precinct to visit on any night of the week. It may have originally been known as the red-light district but over the last 30 years "The Valley" has become an arts and cultural centre with some of the best music venues in town. As you move up Brunswick Street the party continues to New Farm and down to New Farm park on the river which is a grand greenspace that borders on the "Powerhouse" arts centre, has gorgeous riverside picnic space and city cat access. Adjacent to Newfarm is the completely repurposed dockside suburb of Newstead which is lined with old, converted warehouse apartments along the bend in the River.
The Gasworks, which literally was the old gasworks, has been turned into a fantastical nighttime sculpture lighting up the dining and cafe precinct. Newstead is also home to the iconic "Triffid", a fantastic venue that is a living tribute to Brisbane's music scene with a great beer garden to suit. You'll also find a ton of craft beer breweries scattered all around these suburbs.
West End to South Bank - skip over the Melbourne Street Bridge, the Goodwill Bridge, the Go Between Bridge, or the Kurilpa Bridge and you are on the southern side of the river but also in one of the best corners of Brisbane's cultural nightlife experiences. Brisbane's Southbank is home to the iconic parklands that were re-developed after Expo 88, but also the Lyric Theatre, Queensland Museum, Queensland Art Gallery, the Gallery of Modern Art, State Library, and the Griffith University campuses of the Conservatorium of Music and the Queensland College of Art. If it's culture you are looking to absorb, this is where it's at! West End still holds a bit of the "old Brisbane" culture where worker's cottages and cafes live side by side op-shops and eclectic culture. It's always been the inner-city place of cultural blends with a strong Greek community as well as amazing Turkish and Asian cuisine.
"Brisvegas" is brimming with options for every lifestyle, and all within a stones-throw from the incredible surf beaches of the Gold and Sunshine coasts, the hinterlands and mountains are only a backdrop to the river that runs powerfully through the centre of a breathtaking and thriving city.
Muval can help you find the right removalists to help you get from 'A' to 'Brisbane', get a quote from our friendly team now.
Share this page on Facebook
Moving house starts here
View pricing, read reviews and book professional interstate and local removalists online.
35,000+ customers
4.8 rating
Instant pricing