Cost of living in Adelaide
Adelaide has a reputation for festivals, food, and formula one. If a move to the city of churches is on the cards, with its reputation for affordability, it won't weigh heavily on the credit cards. We try to help you uncover the cost of living in Adelaide.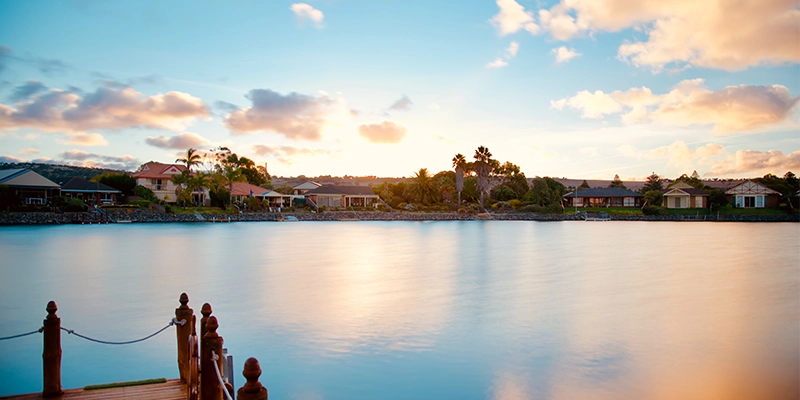 Consistently ranked one of Australia's affordable and liveable cities compared to most major Australian cities, Adelaide has a reputation for festivals, food, and formula one. We try to help you uncover the cost of living in Adelaide with an estimated overview of what the general weekly expenses of regularly purchased items will be if you are heading for the wonderful lifestyle that Adelaide offers over other cities. The average monthly cost of living for a single (excluding accommodation) is $1,826.40 and $6,392.80.
Overview of living expenses in Adelaide
Living Expense

Avg. cost OR Avg. cost per month


Rent for 1-bedroom inner-city Adelaide apartment
$2,071.18
Rent for 3-bedroom inner-city Adelaide apartment
$3,945.84
Rent for 1-bedroom suburban/regional Adelaide apartment
$1,526.15
Rent for 3-bedroom suburban/regional Adelaide apartment
$2,499.67
Electricity/water/garbage (85 m2 apartment)
approx. $437.24
Internet (60Mbps or more, unlimited data, Cable/ADSL)

$87.28

Mobile phone data (one-minute local prepaid mobile tariff call with no plan or discount)
$0.54
Transport One-Way Ticket (across all transport options)
$4.50
Transport 28-Day Ticket (across all transport options)
$108.50
Fuel (per litre)
$2.03
Buying a new car
Volkswagen Golf 1.4 90KW Trendline (or equivalent)
Toyota Corolla Sedan 1.6L 97kW Comfort (or equivalent)

$33,882.50
$28,283.33
Adelaide is more affordable than other Australian cities.
The average salary in Adelaide
The average net salary (after tax) per month in Adelaide is comparably less than in the eastern states' capital cities and generally everything else is cheaper there too, and by a good margin. The average earning per month in South Australia is around $4,482.01 (after tax).
Housing and rent
Prices rise incrementally the closer the property is located to the city centre, so you can expect the cost of living to gradually get more affordable as you move out from the CBD, and particularly North Adelaide. The exception being when you hit a beach suburb – coastal suburbs are sought-after lifestyles and the demand for sea change drives up the housing costs considerably per week rental wise.
We have some rough averages, as reflected in the guide below:
| | |
| --- | --- |
| Type of accommodation | Avg. cost/month |
| Rent for 1-bedroom inner-city Adelaide apartment | $2,071.18 |
| Rent for 3-bedroom inner-city Adelaide apartment | $3,945.84 |
| Rent for 1-bedroom suburban/regional Adelaide apartment | $1,526.15 |
| Rent for 3-bedroom suburban/regional Adelaide apartment | $2,499.67 |
It's more expensive to live in the inner city. (pictured: East Adelaide)
Cost of buying an apartment
| | |
| --- | --- |
| Location | Median Cost per metre squared |
| Adelaide CBD | $9,406.74 |
| Suburban/Regional | $5,233.56 |
Utility bills
Adelaide is close to central Australia and therefore close to the desert. It is prone to very hot summers and the occasional flooding rains … but very HOT summers. Perhaps that is why the people of Adelaide (including the State Government) have embraced solar technology like no other Australian state. Recently claiming to set a world record for negative consumption off the back of an incredibly impressive gigawatt-scale solar power grid, if you want to live in green space that is also green ideologically – than this is the only place to be! Especially as this success is tipped to bring energy prices down even further. You can expect a combined electricity, water, and refuse to approximately average $437.24 per month for an 85m2 apartment.
Transport
From the city centre to nearby cities, Adelaide's Public transport system is run by Adelaide Metro and you have the efficient travel options of trains, trams, and buses to cart you around anywhere you need to go. Costs will depend on the time of day you're traveling, any South Australian government concessions you are entitled to, and the type of ticket you are traveling on. Young children (under 5) are free.
Trams are one of the many forms of public transport in Adelaide.
Passengers that are older than 15 and do not hold a student or concession card pay the regular rate per zone when using Adelaide Metro public transport system, the price is higher in peak times. Without a metroCARD fares are nearly double.
Here is the breakdown of public transport costs in Adelaide:
Regular metroCARD
Peak travel times - $4.05
Off-Peak travel times - $2.25
Single trip MetroTicket
Peak travel times - $5.90
Off-Peak travel times - $4.00
Day trip MetroTicket
$11.20
14-Day Pass (two week public transport)
Unlimited trips - $64.50
28-Day Pass (four week public transport)
Unlimited trips - $107.00
Concession holders receive significant discounts with an eligible and valid card, student's also get their own special cheaper rates with a valid student card. You can find more information about concession travel rates at: https://www.adelaidemetro.com.au/tickets-and-fares/fares.
Buying a brand-new luxury car you can expect to pay around:
$30,630 for a Volkswagen Golf 1.4L 90kW Trendline (or equivalent)
$28,283.33 for a Toyolta Corolla Sedan 1.6L 97kW Comfort (or equivalent)
Filling the tank will cost around $2.03 per litre.
If you need a taxi, you can expect similar to the following rates for the normal tariff:
Start - $5.00
1km - $3.00
1 hr Waiting - $60.00
Groceries are cheaper in Adelaide compared to other Australian cities.
Groceries
While meal prices may vary, if you are on a basic food budget, you can get away with eating from home for around $95-$140 per week.
| | |
| --- | --- |
| Common Grocery Items | Avg. Cost |
| White Bread (500 g) | $3.52 |
| Eggs (12) | $6.06 |
| Milk (1 L) | $2.30 |
| White Rice (1 kg) | $3.93 |
| Chicken Fillets (1 kg) | $12.75 |
| Round Beef (1 kg) | $27.59 |
| Local Cheese (1 kg) | $20.25 |
| Potatoes (1 kg) | $4.49 |
| Lettuce (x 1) | $4.13 |
| Tomatoes (1 kg) | $7.42 |
| Apples (1 kg) | $4.51 |
| Oranges (1 kg) | $5.62 |
| Bananas (1 kg) | $4.47 |
| Onion (1 kg) | $3.34 |
| Domestic Beer (0.5 L) | $7.32 |
| Imported Beer (0.33 L) | $8.16 |
| Bottle of Mid-Range Wine | $20.00 |
| Bottle of Water (1.5 L) | $2.77 |
Restaurants
Adelaide offers a diverse range of dining options for those looking to eat out. From traditional pubs serving local cuisine, to trendy cafes and contemporary restaurants offering innovative menus, there is something for everyone in Adelaide. The city also features a thriving food and wine culture, with many restaurants highlighting South Australia's renowned produce, such as seafood and Barossa Valley wine. Whether you're looking for a casual bite or a fine dining experience, Adelaide's dining scene is sure to impress.
The cost of wine is different from a liquor store compared to a restaurant.
The average cost of dining out in Adelaide is:
| | |
| --- | --- |
| Inexpensive Restaurant (each) | $25.00 |
| Mid-Range Restaurant (3 course meal for 2 people) | $185.00 |
| McDonalds Combo Meal | $14.00 |
| Domestic Beer from a licensed venue (500 ml draught) | $11.00 |
| Imported Beer from a licensed venue (0.33 L bottle) | $11.50 |
| Softdrink (0.33 L bottle) | $4.13 |
| Water (0.33 L bottle) | $3.28 |
| Cuppuccino (regular) | $5.76 |
Clothes
Clothes are a particularly personal expense, let's face it too, there are those among us who would spend our whole budget on clothes if we could but these essentials in Adelaide will cost you:
| | |
| --- | --- |
| Running Shoes (Nike or comparable) | $190.50 (avg.) |
| Men's leather shoes | $199.62 (avg.) |
| Jeans (1 pair Levis 501 or comparable) | $126.17 (avg.) |
| Summer Dress (from a chain store) | $105.55 (avg.) |
Buying leather shoes in Adelaide will cost you less on average.
Entertainment
The "other" thing Adelaide is named for besides churches is festivals, as illustrated on their vehicle registration plates. Here are a few of the big ones to look out for over the year that you may want to factor into your yearly recreation costs:
The Adelaide Festival – Adelaide and South Australia's premier arts festival for over 60 years, the Adelaide Festival's annual program will leave your jaw dropping if you love to indulge in any or all genres of artistic expression. Heavily funded, the program will include well known musicians, theatre shows, dance productions, art exhibitions, and an entire week dedicated to writers.
WOMADelaide – With a 30-year history of cultural exposure to all facets of the arts, this festival is an Australian household name. The festival spans 4 days and brings together the best music across several stages, cultural activities, workshops, and dance that celebrates the world we live in.
Adelaide Fringe – Claiming to be the biggest arts festival in the Southern Hemisphere, the Adelaide Fringe Festival will bring the party for an entire month. Celebrating arts culture across a broad swathe of South Australia, you can catch events for the Fringe festival in many places outside the CBD. The festival's focus is to produce vibrant and eclectic events across genres and mediums that include cabaret, theatre, comedy, circus, music, visual arts, workshops, and more!
FEAST Festival – If you like colour. If you like glamour. If you like watching drag shows. This is the festival you want to catch and support the local LGBTIQ+ community with your enthusiastic patronage. You will experience vibrant expression through fashion, art, music, theatre, comedy, dance, and discussion. There are workshops, sports, readings - and even some subjects that are a little on the naughty side – but this event is so important and enriching to the festival circuit that you simply can't NOT go one year!
You can also check out the IndoFest, celebrating Indonesian culture, and the OzAsia festival.
Catch a live show in Adelaide at a festival.
Live shows
If you like the buzz of a live performance a well-known local act in a smaller venue will cost at least $55. If it's a larger act or a venue like a stadium is required, it will be typically over $110 per ticket. Other stage performances such as theatre or dance concerts are around the $50 mark for a local act or over $105 if it is a touring act.
Movie tickets
A one week entertainment option could be heading out to a movie, which in Adelaide will cost you an average of $22.00 for an international release in a chain cinema. You can join membership programs sometimes that will get you extra movie offers and discounts.
Independent theatres often cost less than the major chains.
Catch a movie at the Capri Theatre in Adelaide.
Health and fitness
Locally Adelaideans spend an average of $85.26 per month. A cheaper alternative to a gym membership that will still have you serving up sweat could be hiring a tennis court with the average cost of hire in Adelaide around $30.42 per hour on the weekend.
Child-care, primary, and secondary school
The cost of sending one child to child-care in Adelaide for a full day (private) can cost up to $2,075.78 per month on average, before any rebates or discounts. For an upmarket private international primary school up to $21,675.44.
University students
Just about all of the Universities in Adelaide are positioned within the unique grid pattern of the CBD, with the University of Adelaide campus on North Terrace. Apart from the cost of study materials, affordable living for a student depends largely on finding the lowest average rent for a single student (unless you're wealthy and heading for a boarding schools that is). The average student budget might be small, but with some extra insight the single student (or the single international student) can draw from our sample student budget based ideas.
Tertiary students (this may not include international students) in Adelaide are entitled to a student metroCARD which provides for a 50% fare discount on public transport when you have an up-to-date student card. You can also use the free bikes that the city offers which are parked around the places you most need them.
Average sample student accommodation costs
| | |
| --- | --- |
| Type of Accommodation | Avg. cost/week |
| Hostels and Guesthouses | $90.00 - $150.00 |
| Shared accommodation (depending on location) | $85.00 - $215.00 |
| On campus accommodation | $90.00 - $280.00 |
| (Week) Homestay accommodation | $235.00 - $325.00 |
| Week Shared Rental prices | $165.00 - $440.00 |
Adelaide by night.
Adelaide consistently tops the cost of living affordability list of Australian cities to live in, but with a liveability factor that well surpasses any monetary value. Green space, beaches, hills, vineyards, and valleys are characteries in the unique and meticulous planning that went into the layout of the streets and roads that lead out to the suburbs. Everything is close by, and nothing is out of range if you live to your means.
Get advice on how Muval can help you move your roots to Adelaide and talk to our friendly customer service team for more information or check out our list of Adelaide removalists here.
Disclaimer: The prices listed in this article are listed in AUD$ and are intended as a guide and are indicative only. We highly recommend you investigate costs specific to your own personal circumstances.
Share this page on Facebook
Moving house starts here
View pricing, read reviews and book professional interstate and local removalists online.
35,000+ customers
4.8 rating
Instant pricing