Fencing Rules When Moving House
Moving to a new property you may want to repair your fence, or build a new one? What is involved when it comes to your neighbourly responsibilities, legislation and … fence etiquette? Our blog flushes out the facts about fencing.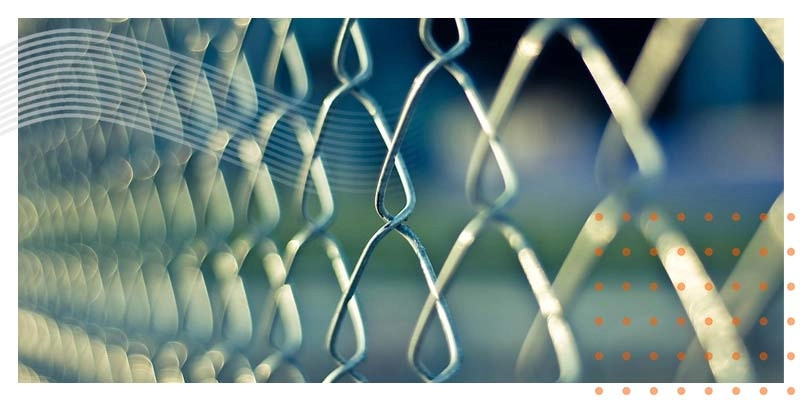 Securing the
perimeter
:
fencing your new home when you move
When you move to a new property, the first thing you cross is the threshold of the land boundary. The invisible line that demarks what piece of land you are responsible for, legally separating it from the property next door and what land is public.
The idea of protecting your "castle" with a fence or wall is age old, you may not need to dig a moat and install a drawbridge, but to secure your property with a boundary fence is a way that humans very clearly signal to the outside world that you should enter by invitation only or even, "at your own risk".
This article addresses perimeter fencing, pool fencing is a completely different set of rules and standards, you can read about that in our article about pool inspections here.
Fencing
legislation
and standards
Ever heard an urban myth (or borne witness to it in reality) where there has been a monumental "falling-out" between neighbours because of a dispute over a fence? It happens more than we hear about and that is why there are laws to guide homeowners about what is acceptable conduct and what you are responsible for when you, or your neighbour, want to construct a fence on a joint boundary. Technically the boundary line of property does not belong to one party or another, so legislation is in place to ensure mutual accord when it comes to building a fence. Each state and territory will have legislation available to the public for helping navigate the do's and don'ts.
Fencing legislation links state by state:
Fence
Etiquette
Believe it or not, fence etiquette is a thing! Even when you are planning on creating a boundary around your place within the guidelines of legislation, there are still things that aren't necessarily written in law that could still upset your neighbours if you choose to go ahead without their consultation. Depending on your neighbourhood and the tone of where you live you may need to consider influences such as history, aesthetic, environment, corporate neighbourhood management,or design.
Ultimately, if the fence is built within the boundary of your property and you are fitting the bill for it, you have a right to build whatever type of fence you like. It's all about consultation and being prepared to compromise your ideas if someone really doesn't like the plan– otherwise it could get nasty!
Some considerations that are considered 'fence etiquette':
Take an inch

and

you take a mile … do not assume you can encroach on ANY of your neighbour's property. They own every inch of it and to

assume that it's okay is akin to stealing. When building a fence, DIY or with a contractor, ensure that you have detailed plans of the property boundary.

Don't let them dictate to you, but sharing your plans with the neighbours can mitigate any angst or disappointment down the road.

They may hate the idea, but letting them understand where you are coming from and why

,

is a diplomatic way to stay any tensions. If you let them take full control though, you could end up disappointed with y

our investment.

A fence can be a low-key addition or it can be a very bold statement

. D

oes it suit your frontage

,

environment and the ne

ighbourhood

? A new fence can get the neighbours and the hood gossiping, just make sure that it's the nice kind of gossip!

Face the "nice" side of the fence outwards to the world and the neighbours.
Don't underestimate
the cost
of fencing
There are lots of different styles of fences and materials available to create the boundary you need and want. Ultimately though, what you choose will be dictated to by your budget and your needs. If your property is big, then you will need more metres of fencing, more materials and more labour to complete the job. If you are building a simple wire fence, this will be cheaper than building a full brick fence with a retaining wall and ornate Victorian era style wrought iron gates with a smart open feature and motion sensors, for example.
You can choose from brick, stone, wood, Colourbond steel, corrugated iron, concrete, PVC/vinyl, glass and wrought iron. Your fence can be a combination of materials depending on your preferred design. You can even upcycle old materials if you are into the arts and crafts look, there are images on the internet of fences made out of old doors and one woman literally knitted a lacy fence out of wire with incredibly huge wooden knitting needles. You can be extremely creative with your fence, but the one and most important factor that underpins all ideas is that the fence needs to serve its purpose many years into the future.
Plan your fence to be durable against the harsh sunshine and excessive heat, mould and mildew, traffic, pollutants, floods, landslips and other local environmental factors. Living in a coastal suburb?You may have salt spray and rust to consider.
Make sure your fencing contractor is qualified and insured, shoddy work can be the early downfall to any fence. In 2020 the average cost of building a fence ranged wildly depending on the need and the materials. Generally, it is calculated by the metre, but the rate can include many considerations to increase or decrease the complexity of the installation.
The cost of fencing can include:
Removing the old fence.

Land factors such as soil and contour.

The specific foundations required for the fence.

Materials.

Fence height and length.

Finishing such as painting

, oiling, treating

or staining.
Your potential contractor should visit the property for a preliminary inspection to form the basis of any quotes.
The place you moved to already has a fence
, but ...
If you've moved into a property that already has a fence, you need to check it for vulnerabilities like wobbly posts, loose palings, poor foundations, rot, cracking, movement, rust, termites etc. It will be ultimately cheaper to repair your fence, if possible,then to build a whole new one.
Keeping you and your home safe
The fence was invented with one sole purpose, keeping people out while keeping people safewithin. In the medieval era the fence was the ultimate symbol of wealth and power. If you fenced your village, you were creating a barrier against potential attackers and making a statement that you will fight to protect what you have built. Somethings really haven't changed that much, our fences are the last bastions of defence against the "outside", but they are also a strong deterrent against burglary and home invasion.
Share this page on Facebook
Moving house starts here
View pricing, read reviews and book professional interstate and local removalists online.
35,000+ customers
4.8 rating
Instant pricing