New Report: Moving Trends in Australia, Relocation Of The Nation
Our new report—The Muval Index: Unboxing Australia's Relocation of the Nation—discovers where, why and how Australians are moving around the nation in 2021.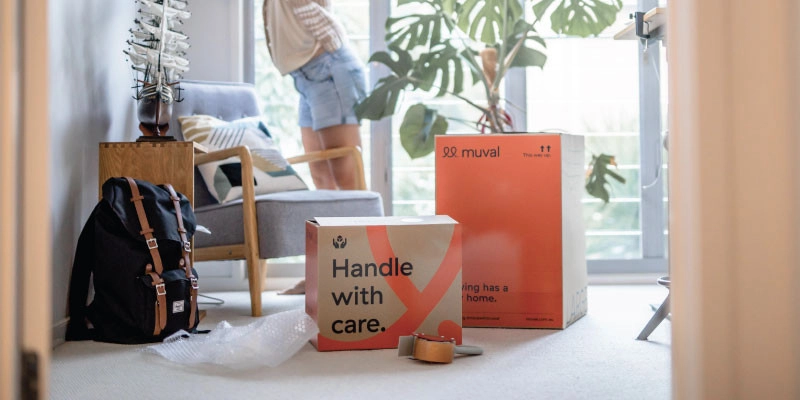 "Since government restrictions began in March 2020, there have been over one million searches for removalists, interstate removalists and 'moving house' COVID related questions. In turn, the home removals industry is challenged to keep up with demand." Says James Morrell, CEO of Muval.
We commissioned a new paper to shed light on how Australian adults are moving around the nation compared to previous years.
Within the paper results from a national survey of 1,000 adults representative of Australia's population looked at Australians' property and financial goals, why they move and how they move.
Download the full Muval Index report here.
Regional moves boom
Regional Australia continues to boom as record numbers of Aussies move from capital cities to smaller towns and communities where there are more jobs available than ever before. It's also younger people - families and millennials - who are making the move to regions, often made possible by working from home conditions in what would traditionally be city based roles.
The data is supported by the most recent ABS data in the quarter ending December 2020, capital cities had a net loss of 10,600 people compared to pre-pandemic 2019 where just 3,800 city folk relocated to regional Australia.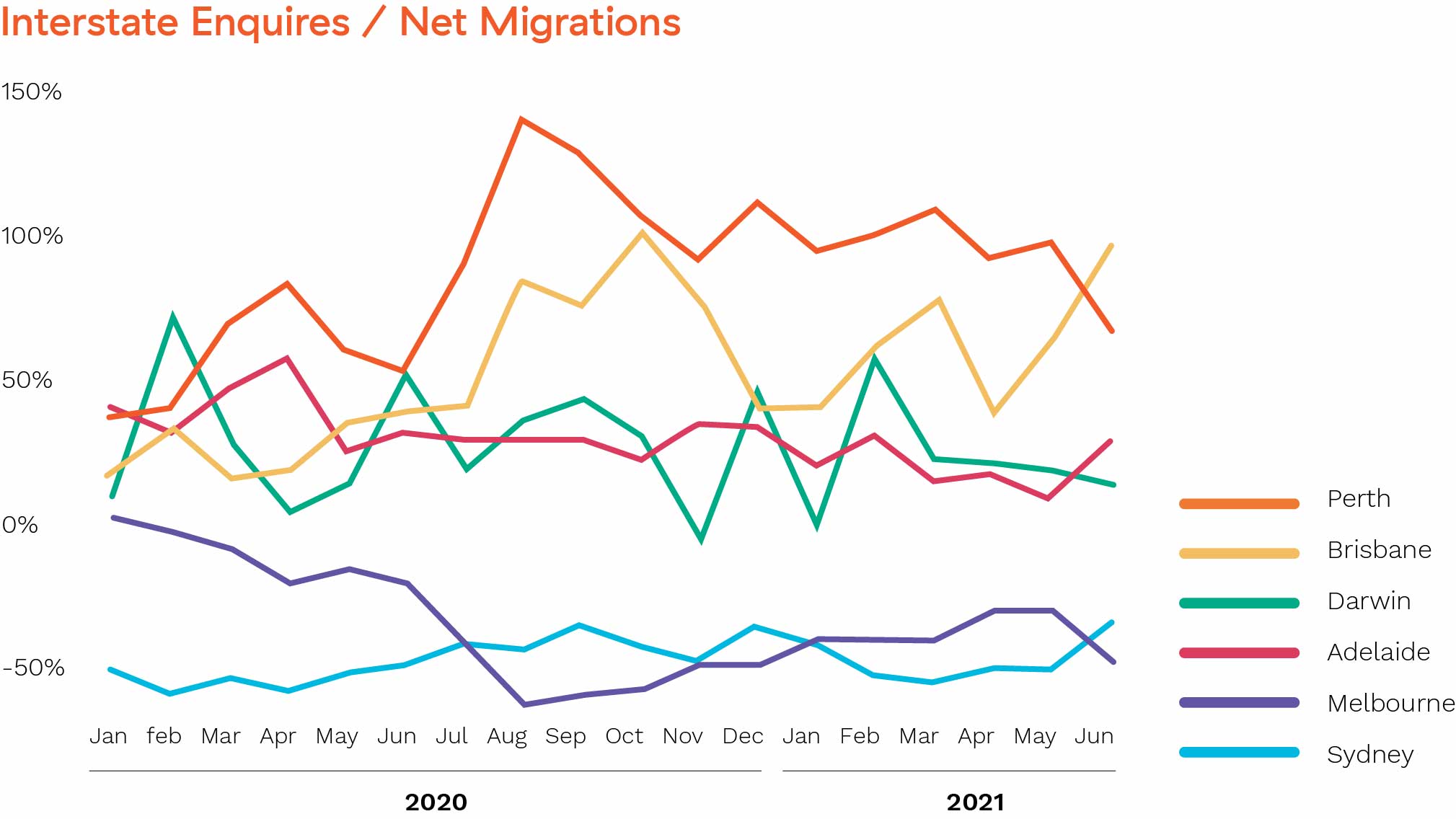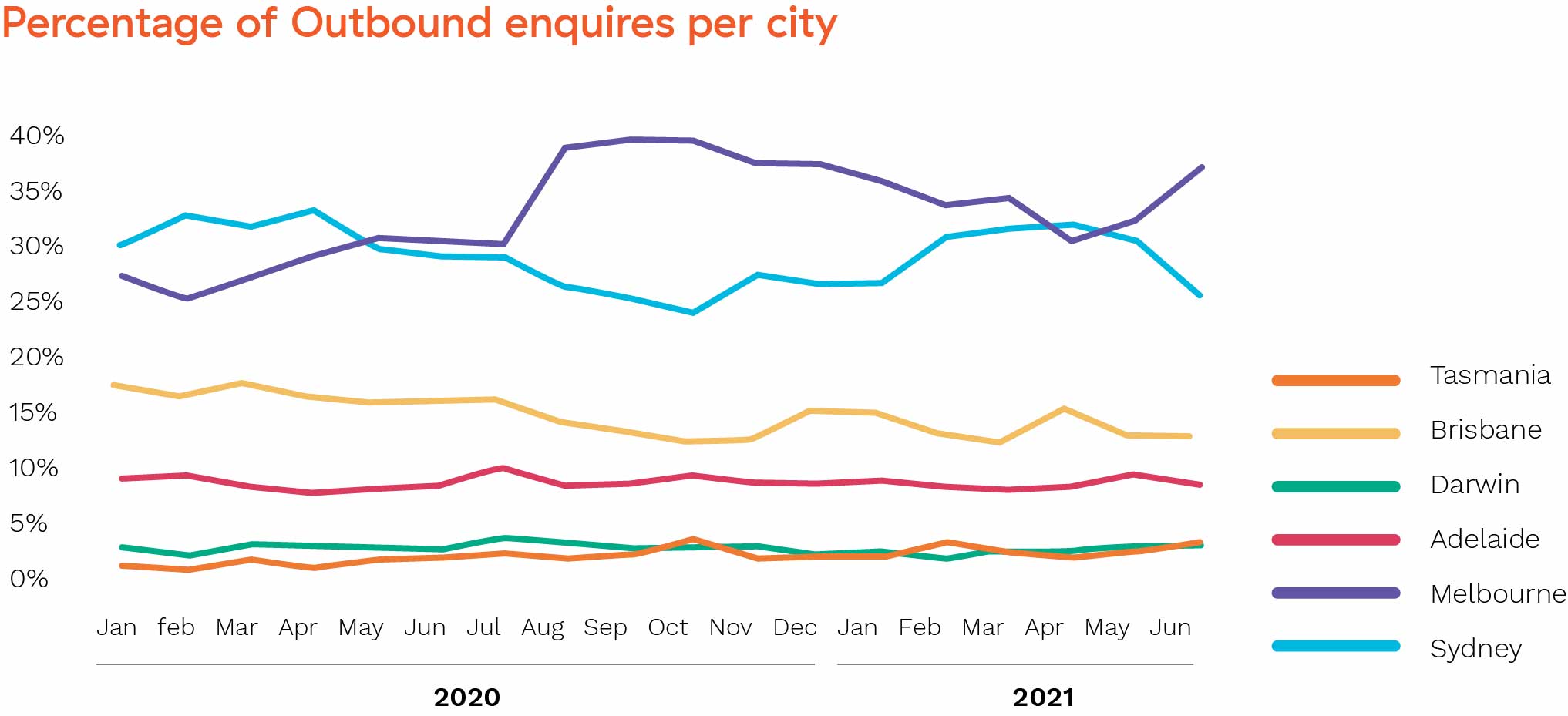 Where are the jobs?
In the weeks following the end of JobKeeper, 30,600 people lost their jobs immediately despite the overall unemployment rate dropping to 5.5 percent in the ABS April data.
In the same period, Muval saw an increase in enquiries for people moving into Sydney and Melbourne. At its worst, job vacancies were cut around half in Victoria (-51.9%), NSW (-49.9%), Tasmania (-45.7%), Queensland (-34.3%) in the quarter ending May 2020.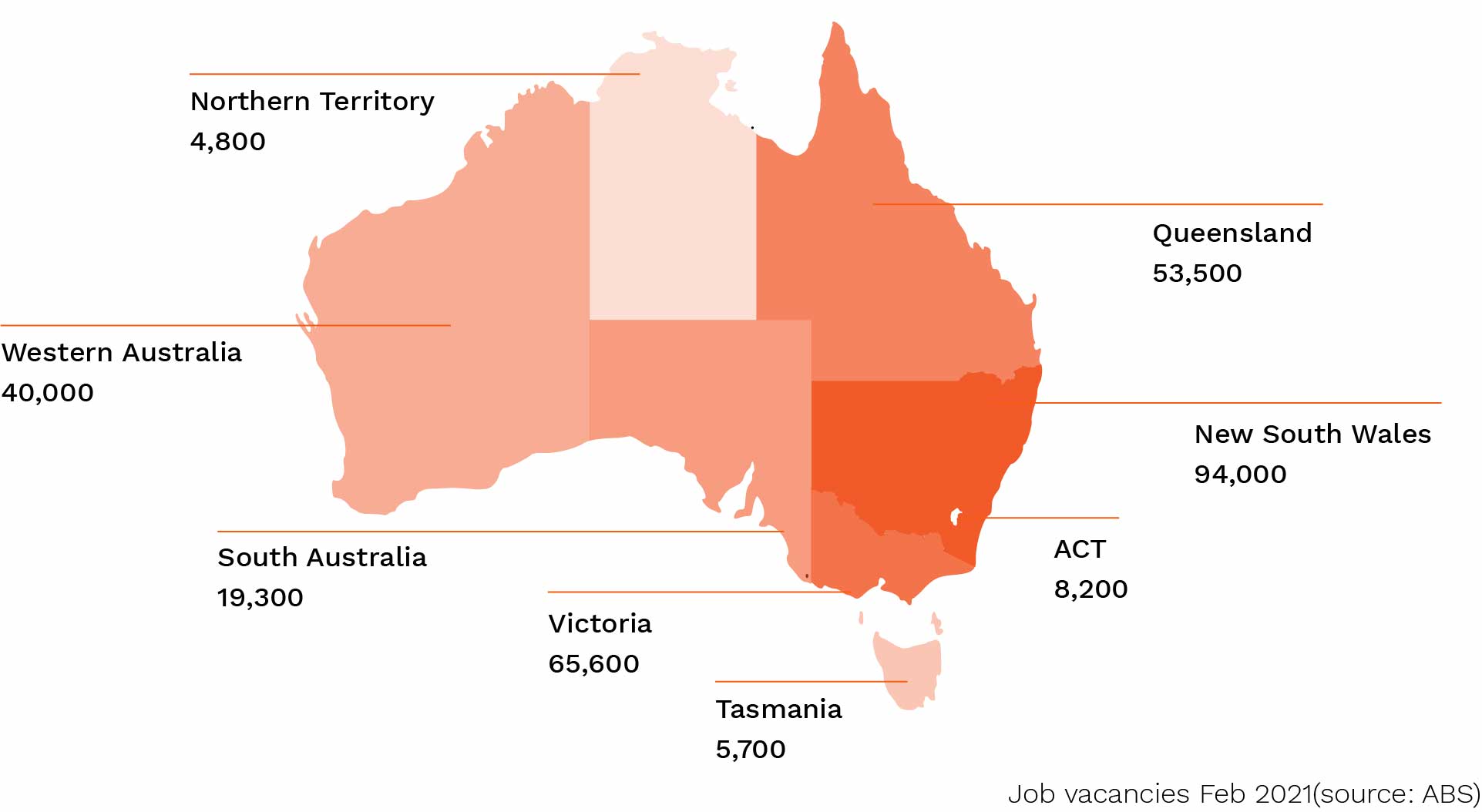 Australia's hottest suburbs
Of course the big shift in people moving more isn't always interstate or city to regional.
According to removalist enquiries on Muval, these are the hottest suburbs for people moving within them and to them from other locations.
| | | | |
| --- | --- | --- | --- |
| QLD | NSW and ACT | VIC | WA |
| Southport | Surry Hills | South Yarra | Scarborough |
| West End | Belconnen | Brunswick | Rockingham |
| Newstead | Parramatta | Richmond | Baldivis |
| Newfarm | Paddington | Southbank | Fremantle |
| Maroochydore | Braddon | Carlton | Canning Vale |
| South Brisbane | Newtown | St Kilda | Dianella |
| Surfers Paradise | Alexandria | Fitzroy | South Perth |
| Robina | Darlinghurst | Brunswick East | Morely |
| Mango Hill | Glebe | Point Cook | Subiaco |
| Buderim | Waterloo and Byron Bay (tied) | Docklands | Bayswater |
We're more ambitious than ever
When asked about property and financial goals, younger Aussies are the most ambitious with their property and financial goals.
The rising popularity of Airbnb and Stayz has led nearly 20% of Australians to have a goal of owning their own home plus a holiday rental.
Just two in ten Australians are working towards having paid off their mortgage by the time they retire. Of those who already have a mortgage, three in ten are aiming to pay it off before retirement.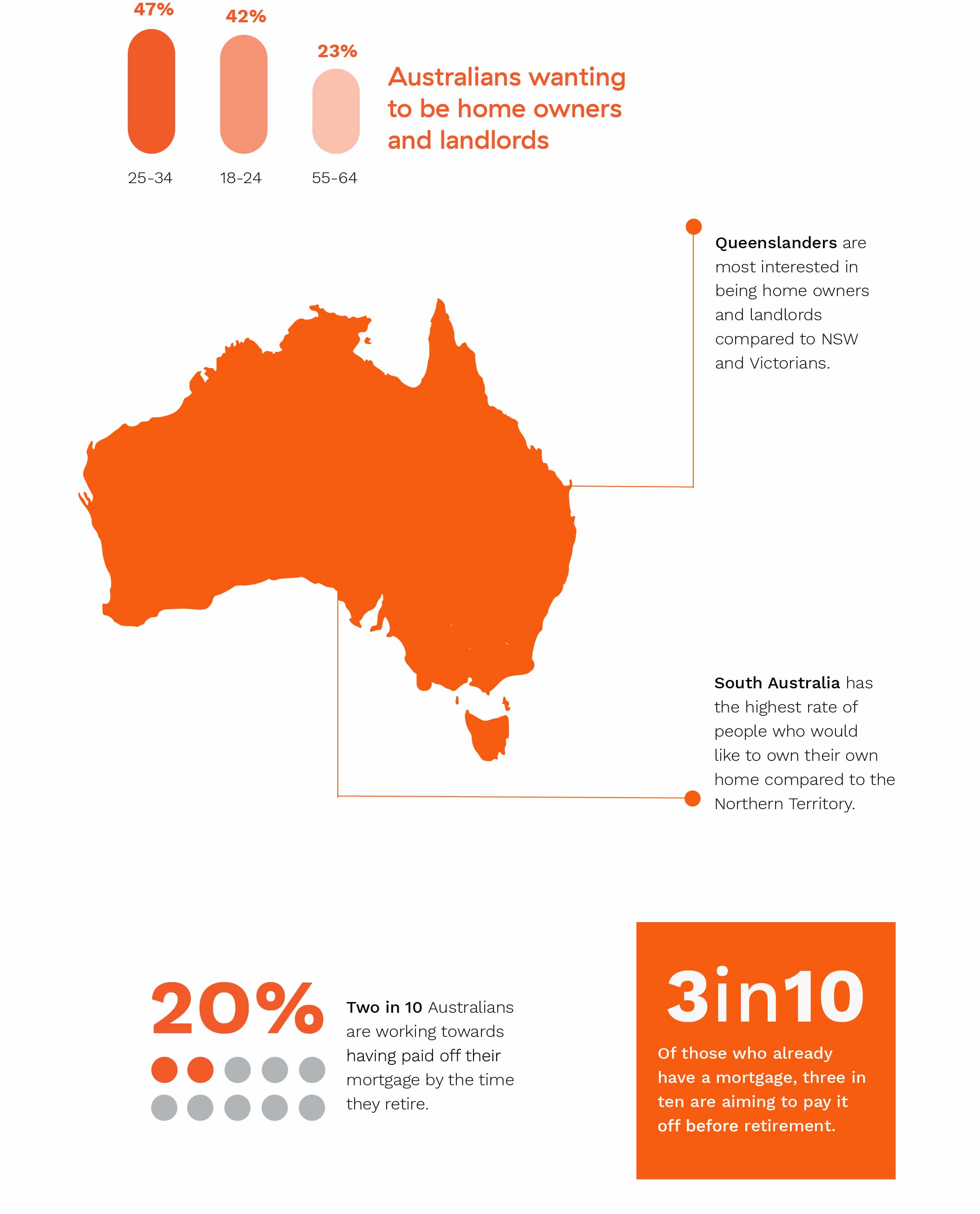 A nation of movers
We were already a transient nation pre March 2020, however the pandemic has only enhanced this.
Whilst the benefits to regional living were the driving force, the top three reasons for driving people out of cities were avoiding traffic congestion (70%), reducing general stress and anxiety (69%) and reducing the cost of living (68%).


When moving home means escaping a dangerous situation
Nicolle Edwards is the CEO of domestic and family violence charity RizeUp who provides groundbreaking add-value support right across Australia to specialist domestic violence services that work with women and children fleeing violence.
Since March 2020, demand for RizeUp's services have increased by 28% and the charity has supported nearly 1,500 families.
To put this into perspective, the charity supported 930 families in its first five years of operation (and pre-pandemic).
An interview with Lord Mayor of Adelaide – Sandy Verschoor
One Australian capital city benefiting from the trend of 'city downsizing' is Adelaide, which saw the city of churches experience the largest net migration gain in the December 2020 quarter since 1991 (according to ABS data).
Muval has seen searches for people moving to Adelaide continue to stay higher than people moving out delivering an average 29% positive net migration over the last year ending 30 June 2021.
Lord Mayor of Adelaide Sandy Verschoor says expats from overseas and across Australia have been drawn back to the city thanks partly to its green spaces and central parklands that have taken on a new importance during lockdowns over the past 16 months.
Our love, hate relationship with moving
Whilst the research shows Aussies are happy to up and move, the actual process of moving can be a slog.
In fact, according to the research, the most loathed parts of moving are packing, cleaning, unpacking, searching and booking a removalist. "The fact these tasks were all ranked nearly equally as loathed activities, it shows how incredibly stressful moving can be," said Morrell.
Whilst packing tasks were ranked closely in terms of how loathed they are, packing was the worst with 63% of Aussies ranking it in their top three most loathed tasks to do when moving house.



Descisions decisions
Moving house is also a time when Aussies rethink their home providers.
Nearly a third of people say they're likely to change their home loan product when moving house and over half said they would change their electricity and/or gas service and products.
For more statistics and interesting findings, download the Muval Index - Unboxing Australia's Relocation of the Nation Report here.
Share this page on Facebook
Moving house starts here
View pricing, read reviews and book professional interstate and local removalists online.
35,000+ customers
4.8 rating
Instant pricing