The cost of toll roads in your neighbourhood
Does your moving travel route have toll roads, or are you moving to a big Australian city with a choice of time saving traffic options? We drill through the facts about the toll road networks of the big three eastern capital cities to help with your move planning.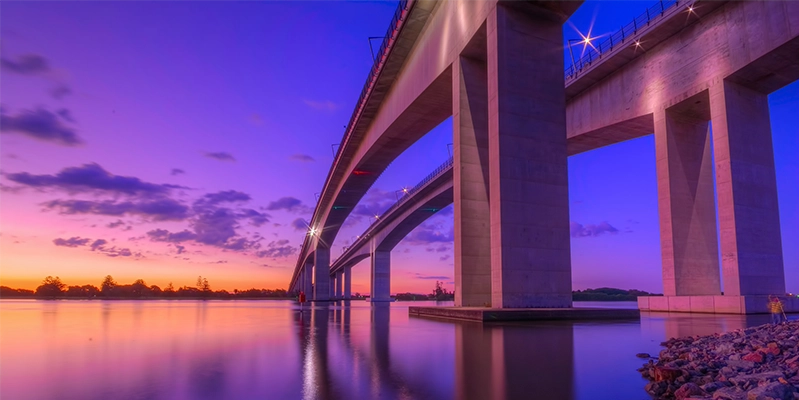 How to pay for use of toll roads across Australia
While road tolls add to the cost of your commute, they can save many hours in the car sitting in traffic chaos. The toll cost will generally pay for the maintenance and the management of the toll systems and roads.
Toll roads are only found in the populous eastern states of Australia, so they are only a concern if you are traveling in, or through, some of the more densely populated areas of Brisbane, Sydney, or Melbourne (with the exception of the Toowoomba Bypass in Queensland, which is a regional toll road). Tolls can be charged in tunnels, over bridges, on roads, and highways. The cost varies depending on the type of vehicle/vehicle class you are driving, and in some cases, how far you visit along them.
All toll roads in Australia use cashless, electronic, free-flow, e-tag tolling, and are clearly signed with the toll service provider. There are a few different options to pay an they can vary depending on your frequency of trips and who your toll provider is, we've outlined some of them below.
Toll e-Tags: If you will be using toll roads regularly, you may wish to obtain an e-Tag transponder and attach it to your windscreen of your vehicle or vehicles. The tag beeps when you pass through the toll scanning point and creates a toll notice number in your account for payment. You can obtain one of these from retailers such as LinktGO, or other providers such as the NSW Government (by signing up for an E-Toll tag account). Regardless of which provider you choose, you only need one tag for your account to be billed while using any toll road in Australia. When using this method it is important to have enough funds in your account to cover the tolls you incur, you can also generally set up an auto top up to prevent unwanted unpaid toll fees on your toll notice.
Video billing: If you aren't keen on using an electronic toll pass OR your vehicle is a motorbike, you can create a video account where your registration plate is scanned as you pass through the tolling point. Your registration is imaged and matched to your account number for payment when trips are recorded, an extra "video matching fee" is added to the toll notice. When using this method it is important to have enough funds in your account to cover the cost you incur, you can also generally set up an auto top up to prevent unwanted unpaid toll fees on your toll notice.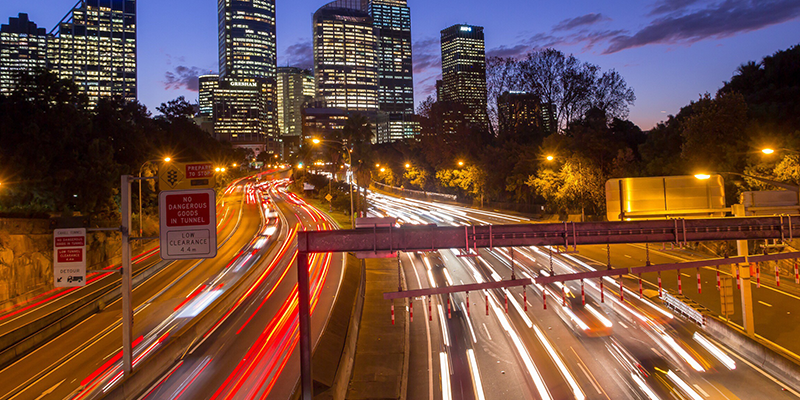 Toll roads come in handy during Sydney's rush hour
Toll passes: For infrequent toll road use, you may be able to arrange a short term pass which can be available between 1-30 days, starting on a date you choose, which will allow you to travel on the toll roads. Generally payment is by credit card only which is billed for every toll trip you make within the active time. It works similar to a video account.
Toll billing: If you haven't used a toll road before and find yourself on one unexpectedly, your registration will be imaged and matched and you will be required to pay with a due date of 3 days from the date of travel. The toll provider you are required to pay will be displayed prominently on the road, but you may need to backtrack on your trip and check google maps for the route you took. If you do not pay within 3 days you will be issued with a notice to pay or a fine for not making payment on your toll invoice. If you are planning a one off trip on a toll road you don't envisage using again, you may want to research your route and pay up front to the relevant toll provider for the roads you will use.
Queensland toll roads
The toll provider in south east Queensland is Linkt so you will need to get your Queensland toll passes set up with them, for more specific information you can call on 13 33 31 or visit their website linkt.com.au.
Toll calculator > BRISBANE
Depending on where you are moving to in Brisbane, here's a couple of great resources to help you understand how Queensland toll roads operate: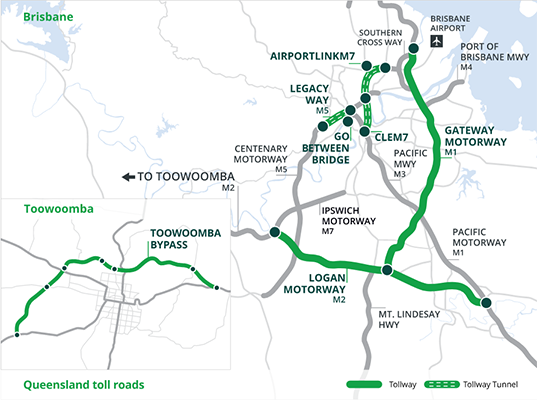 Map from this Linkt web page
This 6.7km twin tunnel runs from Windsor to Clayfield, it acts to connect the Clem7 and Legacy Way tunnels feeding through Brisbane's Inner-City Bypass. Using this toll tunnel saves 14 sets of traffic lights which is said to reduce travel time by up to 88%. It is dug below much of the inner north-east allowing traffic to travel from relatively close to the CBD to the Gateway arterial road or on to the Brisbane airports precinct in the east.
Part of the M7 running from Woolloongabba to Bowen Hills with a toll point at Bowen Hills, the 6.8km Clem7 links to the Airporlink cross city tunnel to the east and Legacy way in the west with the Inner-City Bypass as a connector. It allows drivers to travel beneath the Brisbane River and feeds traffic directly via a number of key exit points to the inner business district, or allows travelers to bypass the CBD altogether to get across town. You will skip 24 sets of traffic lights.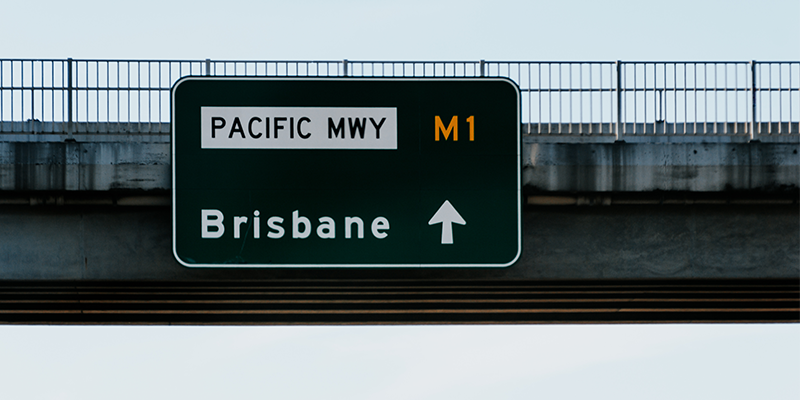 The Gateway Motorway feeds traffic on the M1 up and down the south east Queensland coast.
This iconic highway runs from Bald Hills in the north to Drewvale in the south with toll points at Murarrie and Kuraby, the M1 becomes M2 at Eight Mile Plains. It is a critical arterial network that connects the Bruce Highway to the Sunshine Coast northerly, and the Pacific Highway to the Gold Coast south of Brisbane. An extension was added in 1997 to connect it to the Logan Motorway (also a toll road) which feeds traffic to and from the south west. The motorway includes the incredible Sir Leo Hielscher Bridges with the first bridge opening in 1986 and it's twin not being constructed until 2010.
Termed the M3 this little toll bridge leaps the short distance from West End to Milton with a toll point at West End, but oh the difference in peak hour for those driving from the south to the north of the Brisbane River right in the heart of the city. This 300m bridge was originally baptised the Hale Street Link but after a competition where shortlisted names were voted on by the citizens it was renamed the Go Between Bridge after local iconic Brisbane band, the Go Betweens.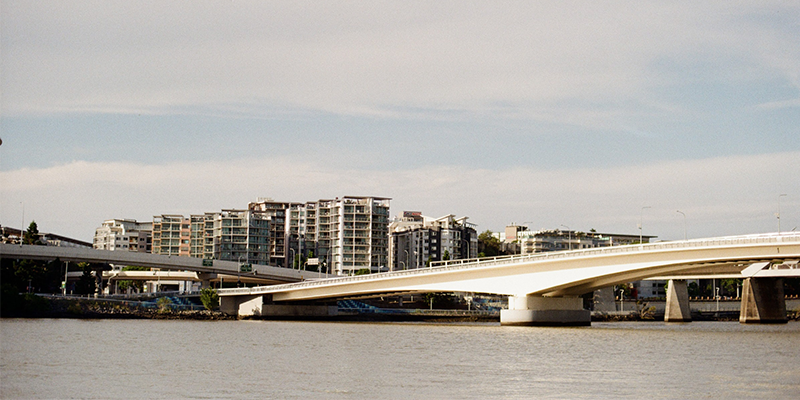 The Go-Between bridge connects West End to Milton
This is a 4.6km two-lane tunnel, part of the M5, from Toowong to Kelvin Grove with a toll point at Toowong. It connects the Western Freeway to the Clem7 and the AirportLink and allows drivers to travel from the inner-city to the western suburbs, connecting with other arterial roads such as the Ipswich Motorway. It is named in honour of the Australian Defence Force and their families, 1 cent from each toll collected is donated to the Legacy Charity.
Spanning from the M2 to M6 from Gailes to Loganholme with toll points at Heathwood and Meadowbrook, the Logan Motorway provides a connection between Logan and Ipswich and joins up with the Gateway Motorway. It has recently undergone an enhancement with additional lanes, improved ramps and interchanges, and new ramps at Compton Road, improving safety and cutting travel times even further.
Charted as the A2 the Toowoomba Bypass runs from Helidon Spa to Athol with a toll point at Harlaxton and is an alternative crossing of the Toowoomba Range. It is a 41km route and is considered a safer passage over the range than the notorious trip motorists took on the old roads.
Sydney toll roads
By far the most toll roads are found in NSW in metropolitan Sydney with two different companies providing services for the Sydney toll network that will work for all Sydney tolls. After you've booked your removalists, you should also arrange an account or pass from Linkt (13 33 31) or the NSW Government.
Toll calculator > SYDNEY
Here are a couple of great resources to help you understand how Sydney toll roads operate: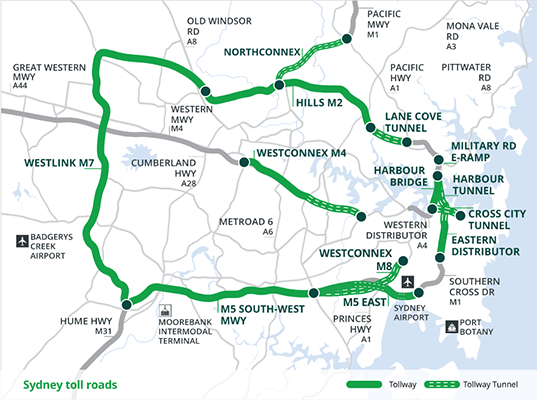 Map from this Linkt web page
This is a 2.1km tunnel that feeds from the airport directly into the CBD and Darling Harbour (Sydney City to Rushcutters Bay) with a toll point at Sydney. The Cross City Tunnel skips 18 sets of traffic lights and the infamous inner-city Sydney traffic jams.
Forming the M1 from Woolloomooloo with a toll point at Woolloomooloo northbound, the Eastern Distributor is a 6km motorway and is considered an important link in the orbital motorway network around Sydney. It's main feature is that is has 1.7km of 'double deck' tunnel with the southbound lanes running beneath the northbound route. You can skip 19 sets of Sydney traffic lights by using the Eastern Distributor.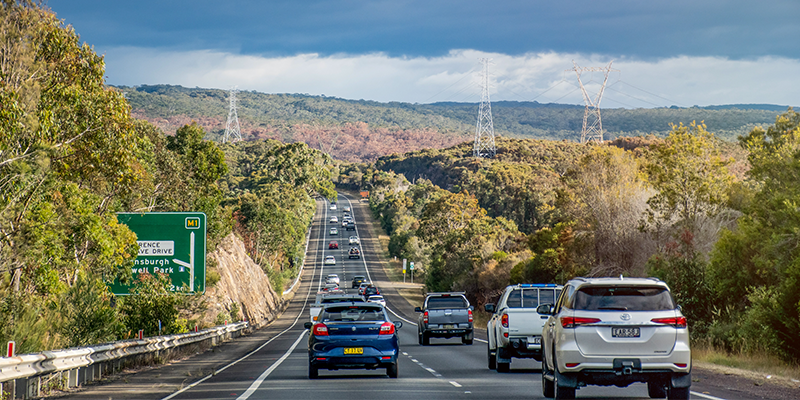 Sydney's M1 Motorwary
Flowing from North Ryde to Baulkham Hills with multiple toll points, the Hills motorway is 21km and forms another section of the Sydney orbital motorway network with a 460m twin tunnel connecting the Lane Cove Tunnel with the Westlink M7. Taking the motorist from east to west between the lower north shore and the northwest.
The Lane Cove Tunnel is 3.6km and forms another section of Sydney's orbital motorway network and forms the M2 from Artarmon to North Ryde with a toll point at North Ryde. It allows travelers to avoid traffic congestion on Epping Road between the northwest of Sydney and the CBD and skips 5 sets of traffic lights along Epping Road.
Tabled as the M1 the Military Road E-Ramps are located at Neutral Bay (with a toll point at Neutral Bay) and create a faster route to Artarmon via the Warringah freeway and Gore Hill freeway. It allows motorists to skip 19 sets of lights on the Pacific Highway.
This 10km motorway creates a quicker trip from the CBD, Airport, Port Botany and the southwestern suburbs. It connects to the M5 South-West motorway with General Holmes Drive and the Eastern Distributor. It contains 2 x 4km tunnels and 2 x 550m tunnels that flow beneath the Cooks River.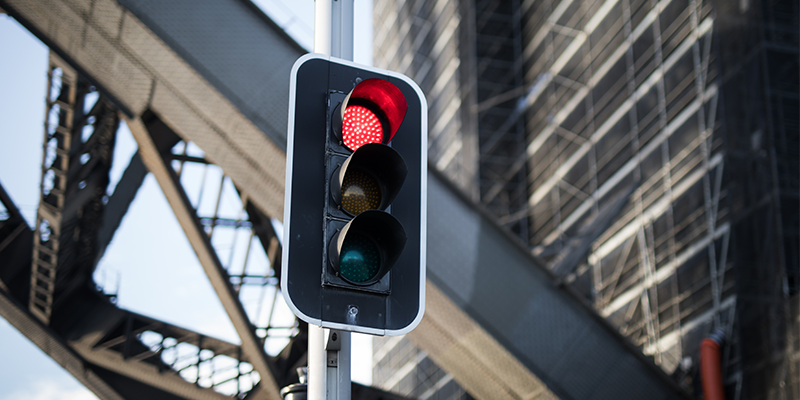 The multitude of toll roads around Sydney allow you to skip heaps traffic lights
This motorway is a 22km road in the south-west wich reduces travel time between Beverly Hills and Prestons. Several other major arterial roads feed into the M5 South-West Motorway including the F5 Freeway and the Westlink M7.
Linking the M1 Pacific Motorway at Wahroonga to West Pennant Hills along the Hills M2 (with multiple toll points), the 9km twin tunnel NorthConnex is the link in the National Transport Network providing freight access across greater Sydney, bypassing the bottlenecks on Pennant Hills Road.
These assets are both owned by Transport NSW and are considered not only essential, but iconic. The Sydney Harbour Bridge (A4) connects Sydney to North Sydney with toll points at North Sydney and Milsons Point (Southbound). The Sydney Harbour Tunnel (M1) joins Sydney to North Sydney with a toll point at North Sydney (Southbound). Essentially they connect both ends of the CBD with 43 million vehicles paying tolls on these roads each year.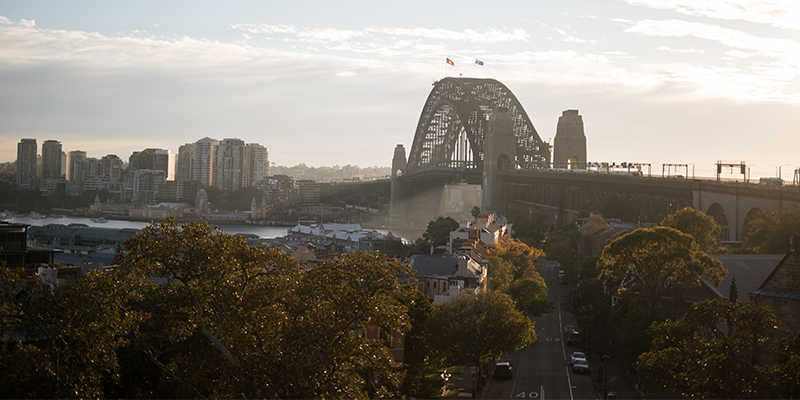 The iconic Sydney Harbour Bridge is a toll bridge
Running from Parramatta to Haberfield in the inner-west, with multiple toll points along the 14km tolled section of the motorway. Traveling east there are a combination of 9 on ramp/off ramps (not all locations have both), and traveling west there are 10.
This road connects Kingsgrove to St Peters with multiple toll points and will be the connector for future roads opening in 2023 (the up-coming M4-M5 Link, M6 extension, and the Sydney Gateway leading into the Sydney Airport and Port Botany). The 9km twin tunnels halve travel times on the M5 East and runs from the King Georges Road Interchange at Beverly Hills to the interchange at St Peters, which allows access to the local roads through Euston, Campbell and Gardners Roads.
Another major section of Sydney's orbital motorway network, the Westlink M7 connects to the M5 at Preston in the south, to the M4 at Eastern Creek, and then to the M2 at West Baulkham Hills in the north over 40km. The benefit being reduced travel times between Liverpool, Fairfield, Blacktown, and Baulkham Hills by eliminating up to 48 sets of lights. It's jointly owned by Transurban and the Western Sydney Road Group.
Victoria toll roads
The toll provider in Melbourne is also Linkt so you will need to get your Melbourne toll passes set up with them, for more specific information you can call on 13 33 31 or visit their website linkt.com.au. Melbourne only has 2 toll roads to contend with but the CityLink has 2 sections, unlike the EastLink which is a smaller route.
Toll calculator > MELBOURNE
If you're moving house within Melbourne, Here are a couple of great resources to help you understand how Melbourne toll roads operate: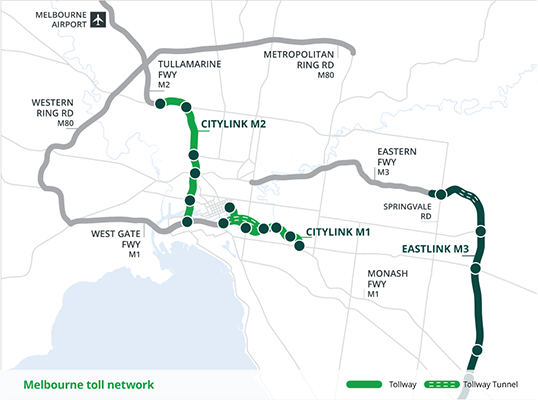 Map from this Linkt web page
The M1 section of this toll road connects Southbank to Kooyong with multiple toll points along the way. The M2 section (the Western Link) connects the Westgate Freeway (M1) to the Tullamarine Freeway at the M2. It is 22km and contains the Bolte Bridge and the Burnley and Domain tunnels, with most of the journey being 8 lanes (4 inbound/outbound lanes). It also connects the CBD with the airport and the shipping port.
This 39km road links the Eastern, Monash, Frankston, and Peninsula Link freeways in the east from Donvale to Seaford with multiple toll points. It is a section of the Metropolitan Ring Road project.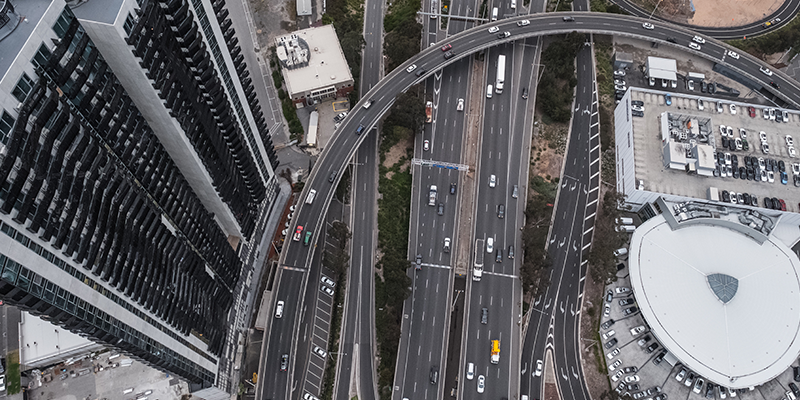 An aerial view of Melbourne's Monash Freeway
Tolls as a growth network
As cities grow traffic congestion is an ongoing challenge for local, state, and federal governments in Australia, from moving people in public and private transport to moving freight from city to country. It is an inevitable sign that these growth patters will move towards using more toll roads to meet commuter and consumer demand in the large metropolis' that drive much of the country's commerce. If you live in these major centres, you understand that paying for a toll road can be not only helpful but will equal more life-hours in the bank to spend on the things you love, instead of suffering through peak hour and drive-radio! Just make sure you have tolls enabled in google maps!
Share this page on Facebook
Moving house starts here
View pricing, read reviews and book professional interstate and local removalists online.
35,000+ customers
4.8 rating
Instant pricing