The Ultimate Moving Boxes Price Guide
We've put together the ultimate guide to know how many moving boxes, what type of boxes, the general costs of moving boxes, where to find and buy them (even some free moving boxes!) to get the best bang for your box.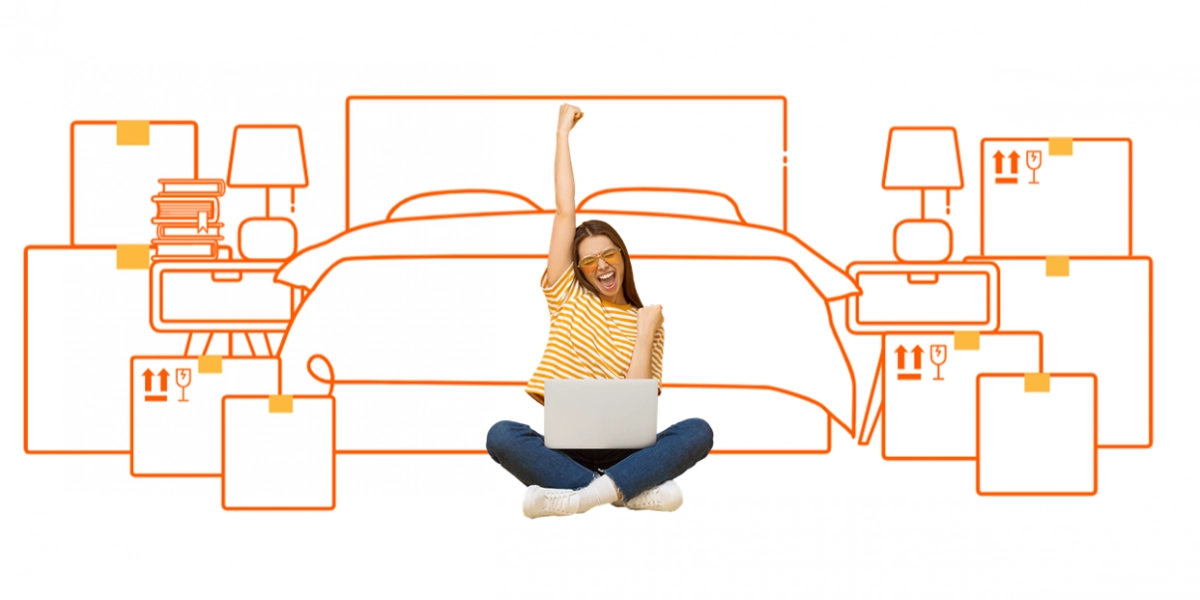 So you're moving house, you've booked your removalist and you realise you're going to need a heap of boxes to pack up all your goods.
Where to get moving boxes for free
Yes – you can get free boxes for your move. Your best place for trying to find moving boxes for free are buy, swap, sell websites like Gumtree, Facebook Marketplace. There's other options like going to shops such as Officeworks, Big W, Target, JB Hi Fi and Bunnings.
Why it's good:
Great for the environment
Great for saving money
Why it's not as popular as buying or hiring boxes instead:
Some boxes can be deteriorated and may split / create damaged goods
Watch out for creepy crawlies that might be transported with you
You'll need more time and petrol money to go out an pick up boxes to get enough to cover your needs.
Extra note for more savings:
Keep reuseable shopping bags on hand / suitcases for a range of loose items that you can quickly put into if needed rather than paying for more shopping bags
Can I hire boxes or give back what I don't need?
Check with the company you purchase from to see if they offer this service. Otherwise, you can always offer the option to sell or give away on Gumtree as above 😊
Buy moving boxes
You can buy moving boxes online here.
Calculate your packing supplies: How many boxes do you need?
Many box websites will offer a pack ready to go with all of the supplies you need based on the number of bedrooms or people you have to pack up. The savings from our research end up being around 20% off buying individually. But – if you're within these prices ranges individually – you'll know you gotten a good price overall without having to haggle to hard for only a few more dollars.
Every move is different and therefore, the number of boxes you need will be different. If you are using a few suitcases or plastic tubs to pack up a number of items, you may not need as many boxes.
We've checked across a number of sources including removalists, professional packers and moving box suppliers to give you the best guide to how many boxes you will need when moving house. Things like port-a-robes, picture boxes, tv boxes, bike boxes aren't included in the guides below as this is dependant on each movers specific house contents. See below for how many boxes you will most likely need as a basline based on the number of bedrooms / size of the house:

15 Boxes for studio apartments (price guide from $60 - $80)
10 x Large tea chest 110L moving box
5 x Medium 61L moving box
1 x Roll of butcher's paper (2.5kgs)
2 x Packing tape
35 boxes for 1 – 2 bedroom house or unit (prices ranging from $150 - $200)
15 x Large tea chest 110L moving box
20 x Medium 61L moving box
3 x Rolls of butcher's paper (7.5kgs)
3 x Packing tape
70 boxes for 3 – 4 bedroom house (approximately $300 - $350)
30 x Large tea chest 110L moving box
40 x Medium 61L moving box
5 x Butcher's paper rolls (12.5kgs)
4 x Packing pape
105 boxes for 5 – 7 bedroom house (approximately $450 - $550)
35 x Large tea chest 110L moving box
70 x Medium 61L moving box
8 x Butcher's paper rolls (20kgs)
6 x Packing pape
What are the different types of boxes and avg individual costs?
Like anything – quality does come into play. The cheaper the box, the more likely it is to break / breakdown over time and not be as usable after the move as it was before. Also – if you are carrying more important goods – like plates and fragile elements – it's worth investing into some better boxes to safely transport at least these types of items for a few extra dollars.
How much does it cost for box deliveries?
Bunnings is as little as $10 for any quantity of boxes delivered up to 3 days
Storage shops like National Storage have moving boxes for sale online range from $12 - $16 – again delivered between 24 – 48 hours
Dedicated online box stores are often free delivery over a certain spend $50 - $100
A courier to deliver a 3-4 bedroom house set of boxes is around $40 - $50 if needed urgently
What about moving & packing supplies?
Boxes sorted! But depending on exactly what you are moving and how much care you want to take (especially on the glassware), you're going to need a few more things to prep for packing and unpack day.
Key things you might need:
Pens and markers (range from $2 - $3
Fragile Packing Tape ($5 - $7) – or just write FRAGILE all over the box 😉
Protective covering (only for those not using a removalist)

Prices range from $3 - $10

Bubble Wrap (around $2)
Butchers paper (approx. $10 - $13 for 2.5kgs)

Expect to use 3 sheets per item

Identification dots – rather than writing on the box
Fragile stickers can be a good option instead of tape too - $2 - $3
Packing Tape – Between $2.50 - $5
Tape Dispenser guns – from $8 - $13
Tissue paper – great for delicate items ($5 - $10)
Don't want to pack yourself?
Packers and Unpackers come at all different rates starting from around $80 ph
Other frequently asked questions for moving boxes
Where are many of the boxes made:
Company's like Visy and Amcor are some of the major manufacturers of boxes here in Australia. Unless the box retailer company is able to buy in bulk – the prices will be set based on a similar cost price from these manufacturers. The good thing is the boxes are typically made using strong engineering techniques with quality glue and are made from recycled cardboard to help for a more sustainable option.
Will removalists move my boxes if I have packed them in boxes they haven't supplied:
Yes – Removalists shouldn't care which boxes you have used. Many have their own box options and will often use a higher quality option with the ability to buy or take back whatn you don't use. So it's important to find out if any issues with using your own boxes up front.
Can I get insurance on boxes that I have packed?
There are many types of insurance that you can consider. Look for insurances that allow you to cover items that you have packed by itimising the value of items in those specific the boxes.
Can I get insurance on boxes that someone else has packed?
There are a number of options to consider. Look for those insurances where you are able to cover the itemized boxes regardless of who has packed the items.
Will removalists move second hand boxes?
Yes, Removalists will do this, but, they take due care and in some circumstances may ask you to repack a box that is deteriorated to save you the hassle of damaged goods down the track.
Can I get my boxes picked up for the ones I don't use?
Yes, many providers offer a buy back or sell back option for both used and unused. Just note it can be more hassle then good if needing to strip the boxes of all tape used etc.
A few tips to help you get the most out of your boxes:
Fill the moving boxes up to the top. A full box makes for a stronger box as if there is space left over, the box can crush and lose the integrity of it's shape..
Put everything, including lose items into boxes. It makes for easier moving come pick up day rather than having to try and balance items in your arms.
Do not mix fragile and heavy items in one box. You don't want an accidental upside down box having the heavy items crush the fragile items.
Label the box with where it will be going in the new home vs the other way around (and leave room for the next place you might have to label)
Go with at least half of your boxes in the higher quality. For an extra $1 a box over 10 – 20 boxes – you'll be happy knowing you can use them over and over rather than light weight boxes having to be torn up and recycled.
Share this page on Facebook
Moving house starts here
View pricing, read reviews and book professional interstate and local removalists online.
35,000+ customers
4.8 rating
Instant pricing