Cost of living in Sydney
Will you be able to afford living in Sydney? We took a look at expenses such as rent, transport and groceries to find the true cost of living in Sydney.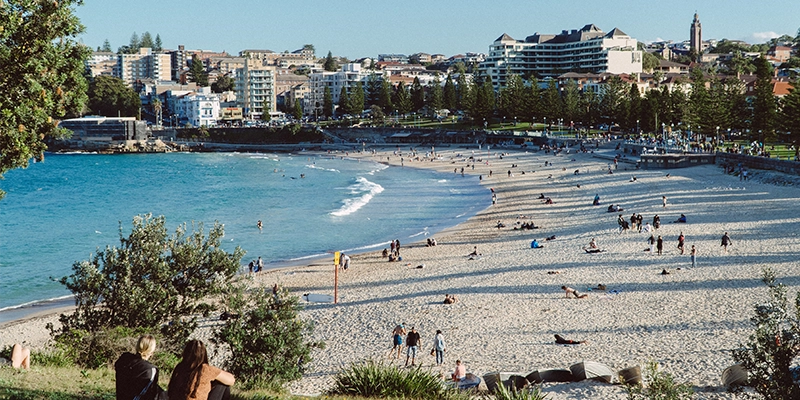 If you are thinking of hiring a Sydney removalist and moving to Australia's most populous city you might be growing curious about the cost of living in Sydney.
It may be a beautiful city with spectacular views and sights to indulge in, but it's not only known as the most expensive metropolis to live in Australia, but also one of the most expensive in the world. This thought might not stop you however, a Sydney lifestyle is one many have sought after, and even if you try it out while you are a single person or a student, the experience is bound to instill lifelong memories.
While Sydney's persona is not for everyone, you may have to relocate there for family, work, or study – we have broken down the budget basics, so you know what to expect cost wise so you can plan in advance!
The monthly average estimated cost of living for a single living in Sydney (minus accommodation) is $1,615.50, and a family of four can be outlaying $5,836.50.
Overview of living expenses in Sydney
We've popped a quick price guide below of the basics, based on a budget for one person living in an inner-city Sydney apartment.
If you want to reduce costs, moving further out from the CBD things become less expensive, there are vast differences in accommodation costs spanning east to west and north to south of the CBD. It's worthwhile understanding that accommodation will be your biggest expense and where you need to spend most of your time in proximity to where you live will impact how much time you spend traveling.
Monthly rent for a 1-bedroom inner-city Sydney apartment could cost an average of $2,2827.11
Accommodation (per month)
Rent for 1-bedroom inner-city apartment
Rent for a 3-bedroom inner-city apartment
Rent for a 1-bedrooom suburban/regional apartment
Rent for a 3-bedroom suburban/regional apartment


$2,827.11
$5,754.56
$2,040.71
$3,586.67

Electricity/Gas (per month)

$246.26

Internet (per month)
60Mbps or more, unlimited data, Cable/ADSL

$79.52

Mobile phone data (per month)
One-minute local prepaid mobile tariff call with no plan or discount

$0.85

Groceries/Food (per month)

$373.04

Single ticket
Monthly Pass

$4.88
$217.39

Fuel (per litre average)

$2.04

Buying a new car
Volkswagen Golf 1.4 90KW Trendline (or equivalent)
Toyota Corolla Sedan 1.6L 97kW Comfort (or equivalent)


$35,000.00
$29,870.95

Dining Out
Meal for one at an inexpensive restaurant
3-Course meal for 2 and a mid-range restaurant
McDonals combo meal


$22.00
$101.60
$14.00
Average salary in Sydney
You can expect due to the expense of living in Sydney that average net salaries (before tax) are a bit higher than in some of the other cities. If you are moving to Sydney for a full-time job your salary may fall somewhere around the average net salary of $6,443.38 per month.
Housing & Rent
Inner city rents are much higher than the outer suburbs, with the exception of the eastern suburbs. If you are looking to rent in the inner city you can expect to pay around:
| | |
| --- | --- |
| Living arrangement | Average monthly rent |
| 1 bedroom inner-city apartment | $2,827.11 |
| 3 bedroom inner-city apartment | $5,754.56 |
Outer suburbs become considerably cheaper, particularly the more south and west of Sydney city you go. However, you may need to consider transport and accessibility if you need to work or study in the CBD. Depending on your personal circumstances and the area you move, you can expect to pay:
| | |
| --- | --- |
| Living arrangement | Average monthly rent |
| 1 bedroom apartment outside the city centre | $2.040.71 |
| 3 bedroom apartment outside the city centre | $3,586.67 |
If you are more ambitious and wish to put some permanency to your move, you can buy an apartment in the city centre for around $20,903.16 (per square metre) or outside the city centre for $12,473.64 (per square metre).
Utilities
The core element of comfortable living is the necessity for heating and power and in Sydney the average cost of electricity is around $246.26 per month.
In this day and age, mobile phones and the internet is also considered a necessity of communication. In Sydney an internet plan (for 60Mbps or more, unlimited data, Cable/ADSL) can cost on average $79.52/month and mobile phone data on a local prepaid call with no plan or discount will cost about $0.85 for less than a minute.
Transport
Public Transport relies on the Opal Card which is used to travel on trains, light rail, buses, and ferries. Adult fares are capped at $50 per week, so on a busy transit week you won't need to pay more.
Catching and iconic Sydney ferry can cut down the distance travelled compared to other transportation
The average cost of a one-way ticket on local transport is $4.88 and the regular price of a monthly pass is $79.52. If you drive a lot the average cost of fuel is $2.04 per litre, if you want to buy a new car when you get to Sydney you are looking at around $35,000.00 for the equivalent of a Volkswagen Golf 1.4 90KW Trendline or $29,870.95 for the equivalent of a Toyota Corolla Sedan 1.6L 97kW Comfort.
Groceries
Expect the estimated monthly costs of groceries to be around $373.04 per month for a single person.
Groceries are a bit more expensive on average in Sydney
Average cost of basic grocery items in Sydney:
| | |
| --- | --- |
| Item | Price |
| Milk 1L | $2.31 |
| White bread 500g | $3.74 |
| Eggs x 12 | $5.94 |
| Rice 1kg | $2.98 |
| Chicken fillets 1kg | $12.18 |
| Beef 1kg | $20.54 |
| Local cheese 1kg | $12.91 |
| Potatoes 1kg | $3.65 |
| Lettuce x 1 | $4.06 |
| Tomatoes 1kg | $7.59 |
| Apples 1kg | $4.41 |
| Oranges 1kg | $3.89 |
| Bananas 1kg | $3.61 |
| Onions 1kg | $3.23 |
| Water 1L | $2.22 |
| Bottle of wine (mid-range) | $18.00 |
| Domestic beer 0.5L | $6.40 |
| Imported beer 0.5L | $6.93 |
Sydney's fresh food markets are value for money
Restaurants
When eating out, you can expect to spend on average per meal (depending on your tastes and the venue):
Inexpensive restaurant for one - $22.00
Mid-range restaurant (3-course meal for 2 people) - $130.00
McDonalds value meal - $14.00
The costs of dining out in Sydney vary depending on what you like and where you go
If you are out for a drink, average beverage costs are:
Softdring 0.33L bottle - $3.38
Water 0.33L bottle - $3.21
Cappuccino regular - $4.66
Domestic beer 0.5L draught - $10.00
Imported beer 0.33L bottle - $10.00
Clothes
This is the average cost of a couple of fashion staples in Sydney:
Pair of jeans (Levis 501 or similar) - $119.12
Summer dress from chain store - $82.67
Shoes | Nike x 1 pair - $162.13
Shoes | Men's leather x 1 pair - $193.99
Entertainment
Movie ticket
$22.00 x 1 for international release
Bar or club
Average Cover Charge - $25
Average cost of domestic beer at a licensed venue - $8.20
Average cost of imported beer at a licensed venue - $20.50
Live shows or sport
Local gig - $20 - $50
International act - $130 - $310
Sporting match - $60
Dance/Theatre - $60
Large arenas $110 - $210 per ticket
The Sydney Cricket Ground will guarantee you an iconic Australia experience
Health and fitness
Average gym membership is around $88.74/month or you can hit up a sweat on the tennis court for on average $24.98 per hour on the weekend.
Child-care, primary, and secondary school
Kindergarten costs an average $2,491.32 for 5 full days per week for one child, before any subsidies are applied.
Public school is fee free however there are levies and additions (such as camp etc.) that you are expected to pay, and these charges can add up depending on the age and participation level of your child/children.
The average cost of sending one child to an International primary school for one year is $23,237.50.
University students
Universities in Sydney are not all in the inner suburbs and are spread-out around the city. Macquarie University is north of Sydney Harbour, therefore can add extra travel time. Inner city universities are UNSW Art & Design, the University of Sydney, and the University of Technology Sydney (UTS).
If you are relocating to Sydney for study or an international student, here are the facts about solo living and how you can find specific options for students.
Many international students have chosen The University of Sydney to study
Student accommodation
International students are not eligible for reduced public transport fees in Sydney (unlike in other cities), but you should always ask if there are student discounts available for goods and services, many businesses try to cater for the student budget.
The cost of living in Sydney may not be on the lower end of affordability, but there are lots of benefits to life in the capital of New South Wales despite it being an expensive area. There is a lot of diversity to choose from and even if you can't afford the beach suburbs to live in, they are always just a public transport trip away. There is big city vibe to soak up with iconic sights, ferry rides and the some of the best dining and cultural experiences Australia has to offer. It's an experience that could be worth it!
Get advice on how Muval can help you move your roots to Sydney and talk to our customer service team now for more information or check out our list of Sydney removalists here!
Disclaimer: The prices listed in this article are listed in AUD$ and are intended as a guide and are indicative only. We highly recommend you investigate costs specific to your own personal circumstances.
Share this page on Facebook
Moving house starts here
View pricing, read reviews and book professional interstate and local removalists online.
35,000+ customers
4.8 rating
Instant pricing