Furniture donation Brisbane
Moving out is the best time to have a clean out. Donating your unwanted furniture, clothes or books can not only help those in need, but it can make moving cheaper and easier. Where can you donate in Brisbane? Furniture, clothes and more.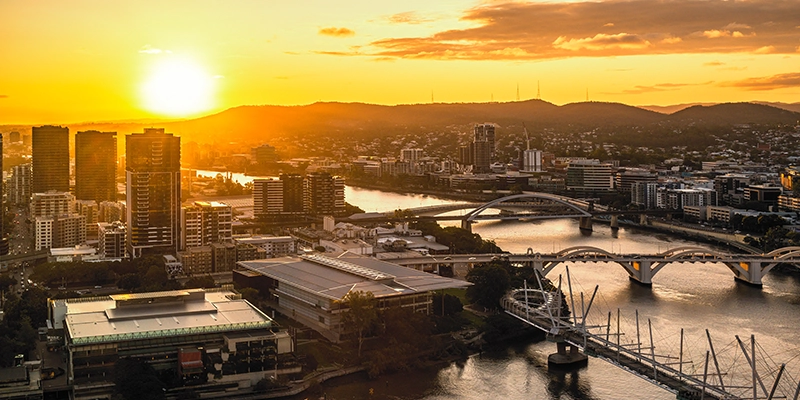 Where can you donate furniture and clothes before moving?
Moving is the ultimate time to assess your hoardings and get rid of a few items or have a full cull, if you are not selling it, you could be donating it and stop it going to landfill! You know there are too many novelty mugs in the china cupboard, you haven't worn that coat in two years and the BBQ is just too big to bother moving, and that's just the beginning. How much you have to transport can have a lot of impact on your moving cost, so doing the donation deed is going a long way to helping you being move thrifty and helping a community charity make a sale that will help someone in need.
Moving is a great time to get rid of things you no longer need.
Lifeline – UnitingCare
Uniting Care is a large organisation that support Australians where they are and identify need. They are skilled at intervening to provide care and assistance to vulnerable people facing adversity and injustice. They are crisis response leaders and work across Queensland to provide positive change, growth, financial resilience, and family well being. Practically speaking they can assist with a range of services through a network of care providers that incorporate aged care, disability support, health care and crisis response with organisations such as BlueCare, Lifeline, The Wesley Hospital, St Andrew's War Memorial Hospital, Buderim Private Hospital and St Stephen's Hospital.
Lifeline shops sell items across the state and help fund the 24-hour Lifeline Crisis Support Line, so there is a real chance you are helping to save someone's life.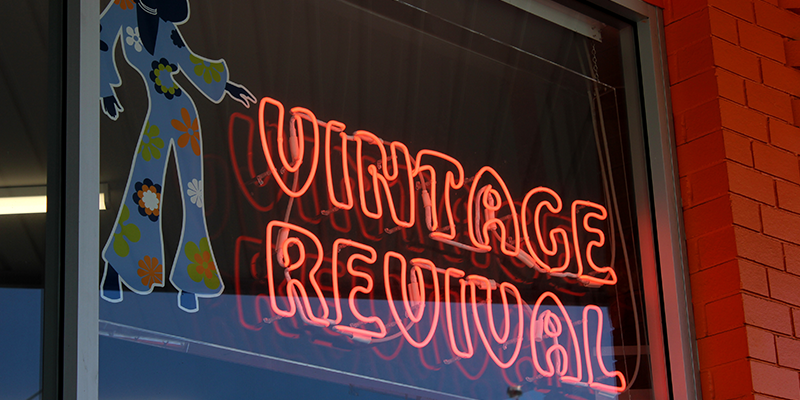 A few Lifeline stores are specialised vintage wares outlets in inner Brisbane suburbs.
What donations are accepted?
With the adage "one person's clutter is another's must-have!", Lifeline don't really have many items that they will not accept. Of course, though, bear in mind that they are a charity and to save them money in dumping to a land fill, you should only donate items that you would be happy to sell or pass on to a friend or relative. They do have a little advice guide on how to decide what to give to them, all donations should be in clean, good condition and not require repair.
Furniture – donate quality furniture of all kinds, couches, cabinets, beds, and bedside tables.
Clothing – Lifeline accept wearable clothing that is in good quality, shoes, and accessories. Do not donate clothing that is ripped or stained or would be embarrassing to wear, low-income individuals deserve to be thought of with dignity, use the un-wearables as cleaning rags or just throw them out. If you are super organised and super helpful, they would love your donation to be sorted into bags of similar items (e.g., women's, men's, children's) and shoes paired or with their laces tied together.
Bric-a-brac – That old knick-knack, that souvenir, that present from that ex-friend. Curious ornaments, crockery, etc. are favourites of op-shop bargain hunters and Lifeline LOVE them to be donated, but please DO NOT put breakable items in donation bins, deliver them safely to a donation collection point.
Books – Donate all your old books! Lifeline is famous in Queensland for their annual Lifeline Bookfest events that happen all over the state, and they are HUGE and are a lot of fun to visit. In Brisbane, the Convention Centre exhibition hall is packed with pallet after pallet of incredible books, vinyl records, CDs and DVDs. If you are a rare book hunter, this is a place of wonder! Get on the mailing list here.
Here is a cool time-lapse video of what goes into this incredible fund-raising event!
Is pick up available?
If your items are too large for you to arrange for a delivery to a local lifeline warehouse, you can request a pick-up if the items are in good, saleable condition, by completing the online form here.
Find a Lifeline Donation bin near you
Check out the Anglicare and Lifeline websites for more information.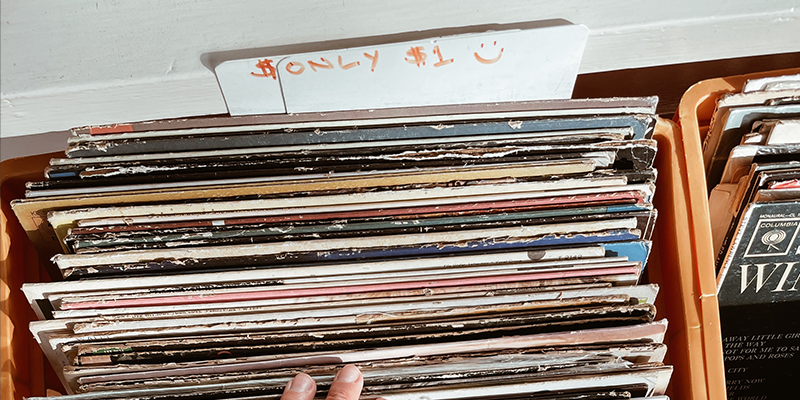 Vinyl records are a great find for the retro music lover!
Rizeup Australia
The mission of Rizeup is to raise awareness of the prevalence of domestic and family violence within society. They do this by generating life-changing support for people affected by DFV. They have a few different ways to deliver this service, but one of the mechanisms of support is to help people re-establish their life by setting up and furnishing homes that are sourced by specialist services. This is the part is where YOU come in!
Donations of quality furniture, household goods, or electrical items can make a huge positive impact on those who are recovering from a situation of vulnerability.
What donations are accepted?
Please donate these quality furniture and household goods:
Bedroom - Single and queen size mattresses; unused linen and manchester; and bedside cabinets/drawers.
Bathroom - Unused towels and bathmats; unused soap, cosmetics, and sanitary items.
Kitchen - Near new small electrical items.
Homewares - Televisions and television units; eyelet curtains; décor items; lounge suites; dining tables and chairs; coffee tables.
Please do not donate:
Specialist items that require installation, mounting, or permanent fixture.
Hazardous items that are difficult to determine its safety status (such as small appliances) or furniture items that include glass in the design (such as a glass-topped table).
The sofa bed or couch.
Large heavy appliances like fridges, freezers, dryers and washing machines.
Alcohol related items including wine glasses, shot glasses, wine racks etc.
Weaponry related items such as fake guns, water guns, nerf guns or fake knives.
Perishable items such as food that is beyond its use by dates, open cosmetics, or health care items.
Clothing or baby items (you can donate your baby items to their partner organisation (Baby Give Back).
Is pick up available?
The only way you can donate to Rizeup is via their pick-up network. Last year they were able to complete over 400 donation collections.
Due to current covid-19 conditions, donations are accepted in the following way:
Up to 3 items for donation - If they are big or small, they should be in amazing condition to help clients feel dignity in their new circumstances. You need to complete the online donation form and detail the particulars of your donation here.
More than 3 items - Use the link below to email the details of your donation, note that it may take a little while to get a response.
St Vincent de Paul Society - Queensland
St Vincent de Paul, affectionately referred to in Australia as "St Vinnies", was started in Paris by a 20-year-old student who had been inspired by St Vincent De Paul who was considered a patron saint of the poor. This legacy is world-wide and today you can contribute to this cause by simply culling the items you do not want to move and giving them to this very worthy organisation.
Items that are donated and sold through the St Vincent de Paul Society are either directly given to support people and families in need or sold in their op-shops located all over Brisbane and Queensland.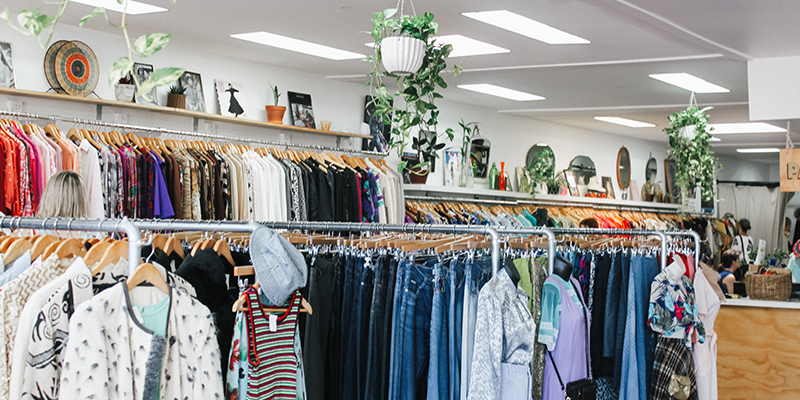 Op Shop in West End, Brisbane.
What donations are accepted?
Here's the deal on what you can and can't donate to a Vinnies op-shop or donation point. Most things are accepted unless they are broken, need repair, are unusable or are unwearable.
Please donate:
Clothing and accessories
Homewares, including Manchester
Children's toys
Books
CD's & DVDs in playable condition
Furniture (check which stores can take your furniture donation)
Some stores will take electrical appliances if they do not require repair, contact them to check before dropping them off.
If you have something that you believe is a great contribution but is not listed above, contact your local store on 13 18 12 to give the details and ask if they are willing to accept it.
Please do not donate:
Computers, printers, and scanners.
Ripped, torn, soiled or stained clothing.
Household waste.
Green waste.
Broken, ripped or stained furniture.
Cracked or broken homewares.
Stained bedding including mattresses.
Be thoughtful about your donations and where you donate to, just because you have a local store does not necessarily mean they have the capacity to take everything you want to give away. Also, only mass donate items during business hours, don't be one of the ones to create a bigger problem for a well-meaning organisation.
Is pick up available?
Although a wide variety of donations are graciously accepted, some stores are unable to receive donations of furniture directly, so you will need to either drop them at a donation location or, if they are in exceptional condition you can arrange for a furniture pick-up, however this service is limited by the resources available at the time.
Full list of Vinnies op-shops in Queensland
Check out the vinnies website here.
Animal Welfare League Queensland
If you are particularly that personality that has more concern for the animal kingdom, you can donate your unwanted items and give them a second life at the op-shop network of the Animal Welfare League of Queensland. Funds raised from furniture sales and the like in these stores, contributes to the care of thousands of stray and abandoned animals in need of shelter each year. This group are a much smaller and local charity, so you will find that they have not as many locations as the larger not-for-profit groups.
What donations are accepted?
The organisation is always grateful for donations of quality, clean items that they can easily resell – they accept furniture, homewares, bric-a-brac and clothing.
Is pick up available?
If you have a large amount to donate, or there are bulky items, you may be able to arrange a collection subject to availability (Monday – Friday) by calling 07 5509 9056 for more information or contact them online here.
You can also drop off your donations at any of the op-shops (you can find a list here) or their re-homing shelter at Ashmore on the Gold Coast.

Check out their website here.
The Salvation Army
The Salvation Army, often referred to as the "Salvos", has been helping the poor since it's origin in nineteenth century London and now operates on a global mission to help those in need. Like St Vincent de Paul and Lifeline, there are a plethora of Salvos stores all over Brisbane, in many instances you may even find locations where outlets for all of these organisations exist side by side or very close by to each other in a particular suburb (like in Lawnton on Brisbane's northside, there is an unofficial Op-Shop precinct).
What donations are accepted?
Some stores are bigger than others and cater for bigger items, if you are planning to donate furniture, white goods or mattresses – call ahead first to make sure it will be accepted. Otherwise, you can find a bigger donation station here: www.salvosstores.com.au/donate-goods
Only donate furniture and items which you would be proud to admit you used to own:
Toys
Books
CDs and DVDs
Vinyl records
Clothing and accessories
Homewares
Furniture
Electrical appliances
They cannot accept:
Computer monitors, printers, scanners and other electronic hardware
Building materials
Car and truck parts
Weapons including replicas
Taxidermy animals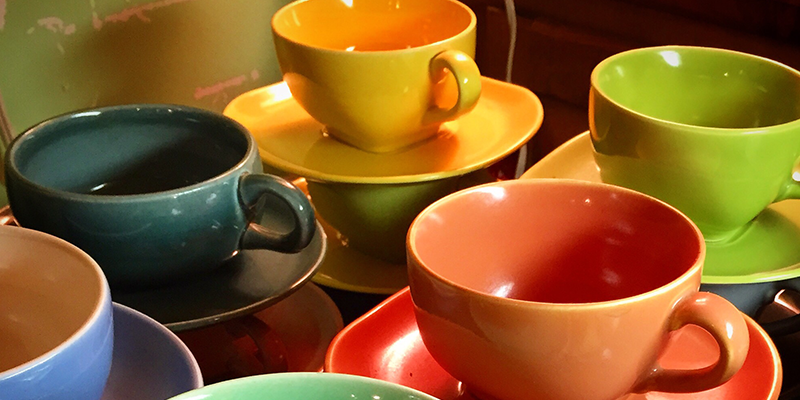 Too many mugs in the cupboard Donate them to a worthy cause.
Is pick up available?
Only deliver items during business hours unless using the bins. Some stores are able to collect large items that you cannot deliver yourself (call 13 SALVOS or 13 72 58 / Find a Salvos Op-Shop).
If you can deliver the larger items yourself it will save the organisation money that could otherwise be channeled into their charitable programs.
Request a free pick up collection online or check out their website here.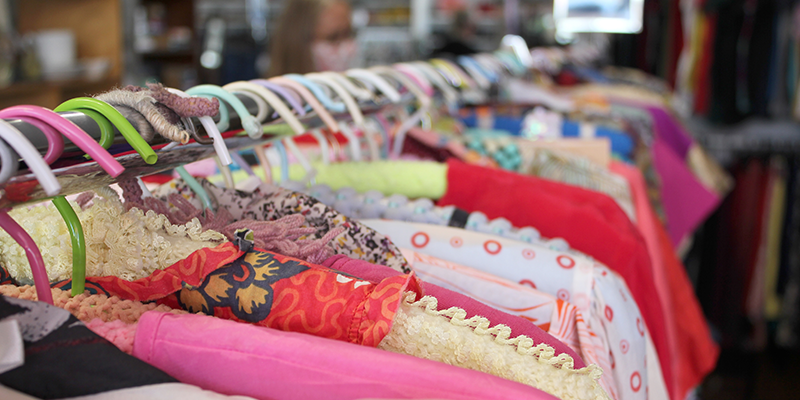 Only donate items that you would be proud to sell yourself or give to a friend or relative.
Donate responsibly
Wherever you plan to donate your pre-loved belongings, donated goods should pass the "mates" test – do not donate if you would not proudly pass onto a friend or relative. Charities organisations are not for disposing of trash that would be better off dumped, if you would not pay money for it, then don't donate it. If the organisation have to dump items it costs money, so any good you hoped to do is not valid. If your bestie won't want it, neither would the op-shop.
If you need help from furniture removalists to donate your large items to charity, contact us and we'll help you find a trusted Brisbane removalist to help you out.
If you find that you have items that are more in the category of "trash", check out our Rubbish Removal article.
Share this page on Facebook
Moving house starts here
View pricing, read reviews and book professional interstate and local removalists online.
35,000+ customers
4.8 rating
Instant pricing