Cost of living in Brisbane
Will you be able to afford the cost of living in Brisbane? We have examined the basics such as rent, transport and groceries to assess the affordability of a Brisbane lifestyle.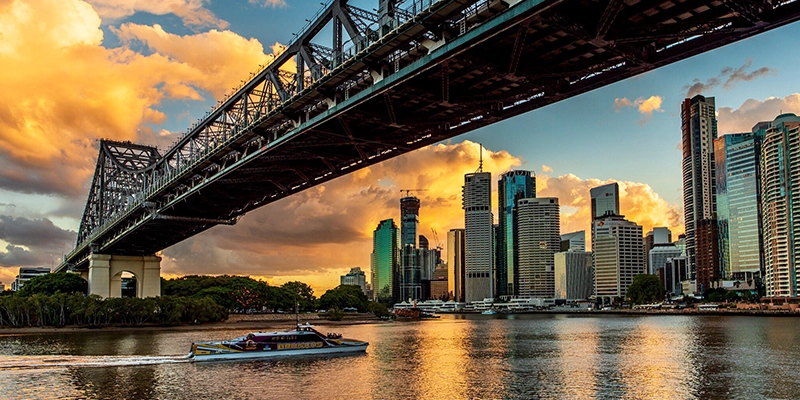 Brisbane has recently experienced the most population migration growth it has ever undergone. An exodus of sunshine seekers booking Brisbane removalists and moving from the southern states to Queensland has created a property boom that is driven in part by people's desire to experience a more laid-back approach to life than that offered in the other large east coast cities. Meanjin/Brisbane has a rich and diverse culture that is appealing on all levels, but it also has a fantastic abundance of sun, sand, sea, and of course, the mighty Brisbane River.
If you are feeling the pull to the "great south east" of Queensland, Brisbane's affordability is a surprise when you compare cost of expenses to that in other dense population cities. You can expect the estimated monthly costs of living in Brisbane per person to be $1,657.50 per month for a single and $5,908.50 per month for a family of four.
We examine the cost of living in Brisbane on an itemised basis, so you can mix and match what you need to be paying per week depending on your living index and estimate how much money you need to move to Moreton Bay.
Inner city living in Brisbane.
Overview of living expenses in Brisbane
Living Expense

Avg. cost or
Avg. cost
per month


Rent for 1-bedroom inner-city Brisbane apartment

$2,417.15

Rent for 3-bedroom inner-city Brisbane apartment

$3,850.33

Rent for 1-bedroom suburban/regional Brisbane apartment

$2,025.31

Rent for 3-bedroom suburban/regional Brisbane apartment

$2,388.27

Electricity/heating/water/garbage (85 m2 apartment)

$306.49
approx.

Internet (60Mbps or more, unlimited data, Cable/ADSL)

$87.41

Mobile phone data (one-minute local prepaid mobile tariff call with no plan or discount)

$0.71

Transport One-Zone Adult Paper Ticket (average across all transport options)

$6.00

Fuel (per litre)

$2.10

Buying a new car
- Equivalent to a Volkswagen Golf 1.4 90KW Trendline
- Equivalent to a Toyota Corolla Sedan 1.6L 96kW Comfort


$34,500.00
$29,162.67

Basic groceries per person

$381.64
Dining out in Brisbane is very affordable compared to other cities.
Dining out

Cost

Breakfast in a cafe

$15.32
(not including coffee)

Lunch in a cafe or restaurant (per person)

$17.36 - $20.42
The average salary in Brisbane
The average net salary (after tax) per year in Brisbane is comparably slightly less than in Sydney or Melbourne at $75,382, but the costs of essentials are marginally less in ratio.
Housing and rent
Home is where the heart is and also the biggest expense! No matter where you are, it is generally the larger part of the budget. Where you live will have a bearing on the ultimate average price you pay per month, but we have the averages below to help give you a rough idea:
| | |
| --- | --- |
| Type of accommodation | Avg. cost/month |
| Rent for 1-bedroom inner-city Brisbane apartment | $1,858.22 |
| Rent for 3-bedroom inner-city Brisbane apartment | $3,080.36 |
| Rent for 1-bedroom suburban/regional Brisbane apartment | $1,327.30 |
| Rent for 3-bedroom suburban/regional Brisbane apartment | $2,060.27 |

There is plenty of apartments to rent in Wooloongabba.
Cost of buying an apartment
| | |
| --- | --- |
| Location | Median Cost |
| Brisbane CBD | $8,124.24 |
| Suburban/Regional | $5,232.63 |
The Brisbane CBD has high density 1 and 2 bedroom apartment living that comes with a price tag you may not be willing to pay or is just not affordable for you. You can find houses in the inner-city suburbs but again, the closer you are to the centre of business the more you pay, conversely the less you may need to spend on getting around and doing the things you want to do.
Many find solace in Brisbane's outer rim which, thanks to fantastic urban sprawl, has a diverse range of eco systems that provide all the lifestyle and recreation choices you could ever dream of!
There is a reason Queensland is considered a tropical paradise compared to other places - and Brisbane has a delicate mix of green balance and upwards urban development. Many neighbouhoods have been the centre of renewal projects and beautification.
Utilities
Electricity, heating, water, garbage combined for an 85 m2 apartment will cost approximately $173.69 per month. The main thing you will need in Queensland will be cooling as the height of summer is traditionally very tropical with high humidity and extra power for air-conditioning and other cooling appliances will increase dramatically. Queenslander's have embraced the abundance of sunshine though, and many homes are fitted with solar power.
Transport
Public transport in Brisbane relies on the Go Card which is a prepaid card that grants access to all modes of transport which are trains, buses, ferries, city cats and soon to be added to the list, cross-river light rail. All timetabling can be found via Translink by phone, website or the Translink App. 50% discounts are offered to people who take more than eight trips per week and subsidies and concessions are scheduled to specially-abled and student travelers.
In addition to public transport the inner-city has electric scooters and bikes for hire. The city is improving on it's linking of all bike ways but it can also be a great way to commute around the inner city suburbs. Find a map of the bike routes here.
There are lots of transport options all over Brisbane.
Here is what you can expect to pay to get around the river city in private or on public transport:
One Way Ticket
$5.00
Petrol (1 L)
$1.84
Insurance
$5,105 per year
Registration (4 cylinders)
$773.55 per year
Annual Service
$408.40
Groceries
Living in Brisbane you will need to budget approximately $170 per month for groceries for a single person but this will vary depending on your tastes and palette. This list does not include personal care items or household cleaning products.
If you are on a basic food budget you can get away with eating from home for:
| | |
| --- | --- |
| Common Grocery Items | Avg. Cost |
| White Bread (500 g) | $2.94 |
| Eggs (12) | $4.69 |
| Milk (1 L) | $1.68 |
| White Rice (1 kg) | $2.94 |
| Chicken Breasts (1 kg) | $11.57 |
| Round Beef (1 kg) | $19.48 |
| Local Cheese (1 kg) | $10.16 |
| Potatoes (1 kg) | $3.41 |
| Lettuce (x 1) | $2.68 |
| Tomatoes (1 kg) | $5.27 |
| Apples (1kg) | $4.59 |
| Oranges (1 kg) | $4.15 |
| Bananas (1 kg) | $3.86 |
Put money aside for getting out and enjoying Brisbane.
Restaurants
Brisbane has no shortage of places to eat. From laneways, street food festivals, cafes and restaurants - of all offerings you are guaranteed to find a place to eat out (or order in from) that is suitable to your budget and your belly.
Average meal costs for eating out in Brisbane city are:
Breakfast at a Cafe
$16 per person (coffee not included)
Lunch
$17
Dinner
$26 per meal
The average cost of dining out in Brisbane is:
Inexpensive Restaurant (per person)
$41
Mid-Range Restaurant (3 course meal for 2 people)
$102
McDonalds Combo Meal
$14.29
Domestic Beer from a licensed venue (500 ml draught)
$8.17
Domestic Beer from a liquor store (500 ml draught)
$5.75
Imported Beer from a licensed venue (0.33 L bottle)
$20.42
Imported from a liquor store (0.33 L bottle)
$7.20
Bottle of wine (mid-range)
$18.83 from a liquor store
Softdrink (0.33 L bottle)
$3.70
Water (0.33 L bottle)
$2.70 from a retail seller
Cuppuccino (regular)
$4.75
Clothes
Brisbane fashion is unique in both its applicable practicality to the weather and its variety to adapt to the many lifestyle choices offered to its citizens, but everyone needs these things in their life.
Running Shoes comparable to a pair of Nike kicks will cost on average $145.30.
In Meanjin you can expect to buy these items (on average) for:
Running Shoes (Nike or comparable)
$145.30
Men's leather shoes
$164.93
Jeans (1 pair Levis 501 or comparable)
$103.54
Summer Dress (from a chain store)
$62.08
Entertainment
Having a good entertainment experience in Brisvegas will solely depend on how hard you like to play and what you like to do. Budgeting $200 - $220 per month for events and extra-curricular activities will safely have you relaxed and cultured in the river city.
Movie Tickets
A ticket to the flicks can cost one adult $15 - $20 for an international release in Brisbane, the average ticket cost is $17 per person.
Many of the cinema's have reward programs where a discount is available for tickets, popcorn and drinks when you join. Chain cinemas are more expensive than independent movie theatres. Queensland ranks about the middle when comparing the cost of a movie in other Australian capital cities.
Independent cinemas are usually less expensive than large chain moveie theatres.
A night club cover charge will set you back around $15 - $20 but there are also heaps of pubs and other venues around that attract plenty of people that don't charge for entry.
The cost of catching a local band will depend on the venue and whether they are a touring act but you can safety see a show and taste the talents of any of Brisbane's enthusiastic musos for around $60 for a bigger venue and less for a smaller, intimate venue.
Catch a live music gig in Brisbane.
Going to the A-League soccer will set you back around $25 - $42 for an adult to see Brisbane Roar play. You can also catch basketball, AFL, and Rugby Union regularly with special international sporting tournaments for tennis and other sports scheduled in. Brisbane will be hosting the Olympics in 2032.
If you are an arts buff and prefer to see classical music, opera, stage drama or ballet Brisbane is pretty expensive, but the arts benefit from the ticket price. You can expect to pay an average of $90-$150 or more per ticket.
Family and children's focused shows can average between $40 and $100.
Brisbane has a thriving arts scene.
Health and fitness
Gym Membership for 1 adult in Brisbane comes in around $55-$60 per month (sometimes student discounts or concessions are available with the necessary documentation) some fitness clubs are around $69.62 per month. The average tennis court hire is around $19.55 per hour.
Child-care, primary, and secondary school
Average cost of childcare across Queensland is $108.62 per day, before childcare subsidies and per child in care, although some centres may offer discounts the more children in your family are enrolled. State school for primary and secondary is fee free although you will need the cash for extra activities and resources when required. Private school costs are generally adapted to the area the school caters for, check your local private schools to find out more about their pricing
University students
Accommodation will be the biggest concern and you may need to choose somewhere that is not only suitable to your hip-pocket but also the environment you need to create for you to study. There are lots of incredible Universities in Brisbane central as well as around the Greater Brisbane region so you may choose to find somewhere close to your school to keep your costs down.
| | |
| --- | --- |
| Type of Accommodation | Avg. cost/week |
| Share house room - 2 bedroom (inner-city) | $227.44 |
| Home-stay with full board | $350 |
| Home-stay accommodation only | $200 - $250 |
| On-site university residential college | $485 - $645 |
Transport concessions are offered to full-time student travelers with a current student card.
Brisbane's population boom is no accident, it has been referred to as one of the most livable cities in the world because it is - well at least in Australia! It is a city that has come of age and is showing it has what it takes to be a shining example of sustainable lifestyle balance. The only drawback is with all the people flocking there from other cities it might be hard to fight the right place straight away as the demand for accommodation increases and vacancy rates struggle to keep up. One thing is certain though, Brisbane really is beautiful and perfect!
Get advice on how Muval can help you move your roots to Brisbane and talk to our friendly customer service team for more information, or check out our list of Brisbane removalists here.
Disclaimer: The prices listed in this article are listed in AU$ and are intended as a guide and are indicative only. We highly recommend you investigate costs specific to your own personal circumstances.
Share this page on Facebook
Moving house starts here
View pricing, read reviews and book professional interstate and local removalists online.
35,000+ customers
4.8 rating
Instant pricing