Cost of living in Melbourne
It's one of Australia's largest and most enviable lifestyles for urban dwellers, with food, culture, art, history, and environment at your fingertips, can you afford the cost of living in Melbourne for the ultimate lifestyle experience?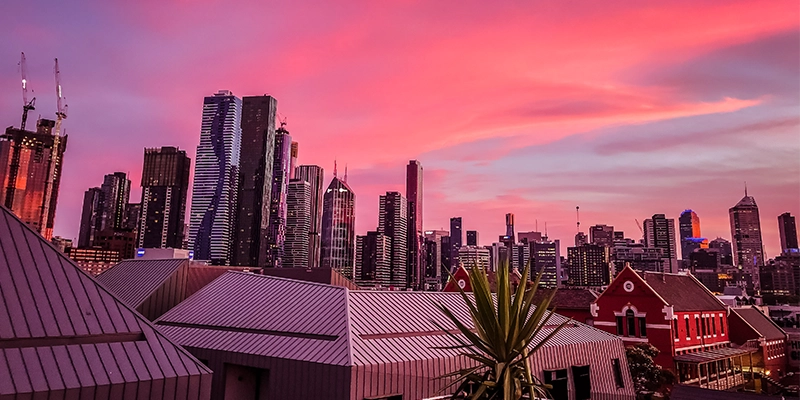 Can you afford the culture of Melbourne?
With the mighty Yarra River winding from the rugged country of the Yarra Ranges National Park, snaking its way through one of Australia's largest cities to flow into the harbour of Port Phillip Bay, Melbourne life is carved out of this natural environment at the very bottom of mainland eastern Australia. It's one of Australia's largest and most enviable lifestyles for urban dwellers, with food, culture, art, history, and environment at your fingertips. If you were to pack your things, hire a Melbourne removalist and move there, could you afford the cost of living in Melbourne for the ultimate lifestyle experience?
Melbourne is a multi-faceted and complex metropolis, and though the elite inner areas may have astronomical house prices there is still lots of rental options. Or you could find the perfect lifestyle a little further out from the hustle bustle that gives you everything "Melbourne", and also offers a better life balance with day to day living expenses. A family of four can expect the median living cost (excluding accommodation) to be around the $5,640.30. It's around $1,565.40 (excluding accommodation) for a single.
We examine the cost of living in Melbourne on an itemised basis, so you can mix and match what you need to be paying in living costs per week depending on your living index and estimate how much money you need to move to mighty Melbourne.
Overview of living expenses in Melbourne
Living Expense

Avg. cost OR
Avg. cost
per month


Rent for 1-bedroom Melbourne apartment in the city centre

$1,985.82

Rent for 3-bedroom Melbourne apartment in the city centre

$3,752.08

Rent for 1-bedroom suburban/regional Melbourne apartment

$1,673.34

Rent for 3-bedroom suburban/regional Melbourne apartment

$2,575.20

Electricity/heating/water/garbage (85 m2 apartment)

$239.42

Internet (60Mbps or more, unlimited data, Cable/ADSL)

$80.78

Mobile phone data (one-minute local prepaid mobile tariff call with no plan or discount)

$0.47

Public Transport One-Way Ticket (average across all transport options)

$4.60

Public Transport Monthly Ticket (average across all transport options)

$162.00

Fuel (per litre)

$2.10

Buying a new car
Volkswagen Golf 1.4 90KW Trendline (or equivalent)
Toyota Corolla Sedan 1.6L 97kW Comfort (or equivalent)


$33,000.00
$29,230.00

Basic groceries per person

$430.80
Queen Victoria Markets are a favourite shopping destination in Melbourne and is the largest open air market in Australia.
The average salary in Melbourne
The average net salary (after tax) per month in Melbourne is comparably more than the Australian average net salary but is offset by the fact that the cost of living in Melbourne is higher than in some of the other capital cities. The average earning is around $5,582.31 per month after tax to work in Victoria, now to figure out how much money you will need to use of your earnings to cover the cost of living in a city with living expenses considered not only expensive in Australia, but also the world.
Housing and rent
Accommodation is generally the largest portion of the budget for everyone, professionals, families, students and international students alike! In any location our lifestyle is underpinned by where and how we live. As with any city, the closer you get to the central business district, the higher the price tag. We have the averages below to help give you an idea of what you may expect to pay for accommodation in Melbourne:
| | |
| --- | --- |
| Type of accommodation | Avg. cost/month |
| Rent for 1-bedroom Melbourne apartment in the city centre | $1,985.82 |
| Rent for 3-bedroom Melbourne apartment in the city centre | $3,752.08 |
| Rent for 1-bedroom suburban/regional Melbourne apartment | $1,673.34 |
| Rent for 3-bedroom suburban/regional Melbourne apartment | $2,575.20 |
Sunrise over the city of Melbourne.
Cost of buying an apartment
| | |
| --- | --- |
| Location | Avg. cost/per metre squared |
| Melbourne CBD | $10,392.02 |
| Suburban/Regional | $9,341.18 |
The ultimate cost of living in Melbourne will be determined by what type of a lifestyle you wish to live. As with any city, the closer to the CBD you are the more expensive the monthly rent of the accommodation, but you may offset that and save money in other ways by not needing to pay so much to get around. If you wish to live near the water in suburbs like St Kilda or Brighton, the cost of housing is also more expensive for monthly rent.
Thankfully there are many outer Melbourne communities that have a more laid-back vibe but are populous enough to provide a great choice of lifestyle options such as dining, environment and culture.
Utilities
If any Australian city was known for its unpredictable weather it is definitely Melbourne, with the term "four seasons in one day" being commonly used as either a quirky quip or a curse in conversation. Therefore you will possibly need heating in the winter and cooling in the summer which could drive your energy cost up that bit more. On average electricity, heating, water, garbage combined for an 85 m2 apartment will cost approximately $239.42 per month.
Transport
Melbourne public transport relies on the Myki card which is a prepaid system that grants travel on trains, buses, trams etc. Scheduling is managed by Public Transport Victoria and fares are determined by how far you travel, the type of ticket you are buying (example a 2 hour or daily ticket, concession, or free travel) and any other discounts you may be entitled to.
Melbourne is famous (unlike other major cities) for having kept their historic tram line system with some of the old trolley cars still circulating with the modern light rail. Getting around the inner CBD is easy by tram with a free tram zone that operates the perimeter and criss-crosses the grid pattern streets of inner Melbourne.
Travel on Melbourne's historic trams.
If you need a taxi you need to consider how much their average rates are:
Start (normal tariff) - $5.00
1km (normal tariff) - $2.00
1 hour waiting time (normal tariff) - $34.08
Groceries
Living in Melbourne, like any major city is not short of supermarkets and there are plenty of major chain outlets that price point compete on a daily basis to keep costs low and woo the local business with their grocery prices. If the farm to table approach is more your thing, Melbourne is particularly good at putting on a farmers produce market, and they can be found in lots of regular locations.
Melbourne has produce markets for farm to table shopping.
If you are on a basic food budget, you can get away with eating your own meals from home for estimated monthly costs of:
| | |
| --- | --- |
| Common Grocery Items | Estimated Monthly Costs |
| White Bread (500 g) | $3.40 |
| Eggs (12) | $5.44 |
| Milk (1 L) | $2.12 |
| White Rice (1 kg) | $3.34 |
| Chicken Fillets (1 kg) | $13.26 |
| Round Beef (1 kg) | $23.95 |
| Local Cheese (1 kg) | $14.80 |
| Potatoes (1 kg) | $4.04 |
| Lettuce (x 1) | $5.30 |
| Tomatoes (1 kg) | $7.78 |
| Apples (1kg) | $4.70 |
| Oranges (1 kg) | $3.95 |
| Bananas (1 kg) | $3.78 |
| Onion | $3.40 |
| Domestic beer from a liquor store 0.5L | $6.38 |
| Imported beer from a liquor store 0.5L | $5.76 |
| Bottle of mid-range wine for a liquor store | $20.00 |
| Bottle of water (1.5L) | $2.44 |
Restaurants
Walking the streets and laneways of Melbourne there are restaurants and cafes lining the pavements with open air or ala carte dining. There is so much choice that the costs are only relative to the type of experience and service you want from the outing. If you want burgers there is a joint on every block, if you want ethnic food, you need only visit Lygon Street for Italian, the Greek Precinct or China town, and that doesn't even consider the other cultural flavours and themed dining experiences you can find anywhere in Melbs.
There is good coffee in every corner of Melbourne.
The average cost of dining out in Melbourne is:
Inexpensive Restaurant (1 person) - $25.00
Mid-Range Restaurant (3 course meal for 2 people) - $120.00
McDonalds Combo Meal - $15.00
Domestic Beer from a licensed venue (500 ml draught) - $11.00
Imported Beer from a licensed venue (0.33 L bottle) - $10.00
Softdrink (0.33 L bottle) - $3.88
Water (0.33 L bottle) - $3.44
Cuppuccino (regular) - $4.96
Clothes
Melbourne is considerably far from the tropics so it tends to get pretty cold in the winter side of the year and can stay cooler for longer. Conversely though when it gets hot it can get uncomfortably hot. That's why you will need a clever, versatile and climate diverse wardrobe.
Here are the average prices of some "essential" base fashion items in Melbourne for:
Running Shoes (Nike or comparable) - $168.72
Men's leather shoes - $183.00
Jeans (1 pair Levis 501 or comparable) - $114.10
Summer Dress (from a chain store) - $76.69
Leather Boots cost a little more in Melbourne.
Entertainment
There are all the things to do in Melbourne. From arts to sports to music – you can spend lots of money on touring international shows, grand finals events etc. but week to week, how can you keep entertained and socialised without breaking the budget? Here are a few Melbourne activities that won't hurt the hip pocket.
Melbourne Zoo – Adults $42.00
Lantern Ghost Tours – Adults $36.00 - $199.00 (depending on the experience you choose)
Eureka Skydeck Southbank – Adults $28.00
Australian Sports Museum Melbourne Cricket Ground – Adults $30.00 ($40.00 if you add a tour of the MCG)
Melbourne Aquarium – Adult General Admission $47.00 on weekends and peak seasons and $42.30 for off-peak and weekends
Phillip Island Nature Parks Penguin Parade – Adult General Viewing $13.70
Visit the Austalian Sports Museum and take a tour of the Melbourne Cricket Ground (MCG).
Movie Tickets
A ticket to the movies can cost one adult $22.00 for an international release in a Melbourne cinema.
If you investigate some of the chain cinemas you can join membership programs that will get you extra movie offers and discounts. Sometimes independent theaters cost less than the major chains.
If you are out to go clubbing in the Melbourne CBD you are looking at a cover charge from $15 - $40 depending on what time of the night you step in, it costs more money as the night rolls on.
Health and fitness
Melbourne gym memberships for 1 adult come in around $75.61 per month. The average tennis court hire is around $20.67 per hour.
Child-care, primary, and secondary school
If you need care for young children the cost of sending one child to a Melbourne preschool (or kindergarten) for a full day, (private), before any rebates or discounts, is $2,571.04 per month. Public schools are fee free but can incur costs for extra-curricular activities and any other extras required. Private schools in Melbourne are many and varied, you really are best looking at the options available in the areas you are wishing to move to find the right fit for your child or children, and your budget.
University students
As a student (or international student) and single person, your biggest concern like most people when it comes to spending is food, then student accommodation and then transport which are sort of interlinked because finding accommodation that is close to your tertiary institution can be a convenient option and make transport easier and cheaper. The question really is whether paying the extra to live close is worth the money in comparison to cheaper student accommodation further out, but paying for transport to travel to Uni? This may vary depending on where your campus is, so this may or may not be a simple answer.
Transport concessions are offered to full-time student travelers with a current student card.
Type of student accommodation

Avg. weekly rent

Rent - 3 bedroom house or flat

- Within 6kms of CBD
- Suburban/Regional

$600.00 - $720.00
$285.00 - $345.00

Share house with 2 flatmates in a 3 bedroom house or flat

- Within 6kms of CBD
- Suburban/Regional

$200.00 - $240.00
$95.00 - $115.00

Student accommodation

- 2 bedroom apartment
- 1 bedroom apartment
- Premium apartment with utilities included

$270.00 - $325.00
$355.00 - $435.00
$425.00 - $520.00

Hostel

- 1 bedroom with shared bathroom and kitchen

$230.00 - $285.00

Residential college on or near campus (Graduate)

$425.00 - $520.00

Homestay full board with a local family

$295.00 - $360.00
Melbourne is characterised by the Yarra River and Port Phillip Bay.
Melbourne is considered an expensive city when comparing average living expenses (one of the most expensive cities in the world) and is only challenged by Sydney, and unlike Adelaide, is well above the national average.
Walking through Melbourne is a feeling that mixes your senses and emotions and is hard to describe in any other way than unique and rich. The city heaves and breathes with the aroma of coffee and fine food, the views of the grand Yarra River and it's Victoriana history of colonial architectural grandeur. From the gentrified neighbourhoods with their renovated terraces and warehouses to the docks, the bayside beaches, and the Dandenong Ranges, Melbourne presents a lifestyle that is unmatched anywhere else in Australia.
Get advice on how Muval can help you move your roots to Melbourne and talk to our friendly customer service team for more information or check out our list of Melbourne removalists here.
Disclaimer: The prices listed in this article are listed in AUD$ and are intended as a guide and are indicative only, it does not include the living cost of personal care items. We highly recommend you investigate costs specific to your own personal circumstances.
Share this page on Facebook
Moving house starts here
View pricing, read reviews and book professional interstate and local removalists online.
35,000+ customers
4.8 rating
Instant pricing