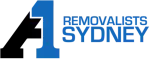 A1 REMOVALISTS SYDNEY
4.80 · 1180 reviews
Muval verified for quality & service
Reviews summary
| | | |
| --- | --- | --- |
| | | 93 reviews |
| | | 2 reviews |
| | | 2 reviews |
| | | 3 reviews |
Service 24Quality 3Professional 25Care 21Happy 11Efficient 17
A1 Removalists Sydney is a family owned and operated business based in Sydney N.S.W. Our professional and friendly team offer a range of removal and packaging services covering Sydney Metro and Suburbs, throughout local NSW country areas and interstate. We aim to provide you with the right advice for your job and the best price possible. Whether it's a small job or a large move, you can count the A1 professional service to make your upcoming move stressfree.
Trusted Removalists Near You When it comes to moves of all shapes and sizes, we're the best team for the job. As one of the most trusted and reputable options for moving to Sydney, our professional team is well-equipped to handle jobs of all shapes and sizes. With cost-effective pricing and expert service, we always provide the best possible service to make moving a smooth and easy task.
Local areas serviced
Removalists Northern Beaches
Charles Anderson (Charles)
John Aiso was on time and efficient despite the difficult access. I would recommend A1 and John aiso. They were exactly the price they said. Charles
---
Alicia Sullivan
Efficient service! Thank you you much
---
Kristin Hanna
Happy and friendly and very helpful I would highly recommend these two A big thanks for making a stressful time much easier
---
Tara Borich
John aiso and revon were amazing, they were quick and also very carful with all my belongings. John was very helpful and went the extra mile to make sure I was settled. Very professional and highly recommend
---
Aimen Zraika
Randi, Youseff and Michael are fantastic removalists. They are extremely hard working and fast. Highly recommended.
---
Rachel Willemsen
---
Al Radwan
Michael and Lawrence were absolutely fantastic. Quick and Reliable and highly recommended
---
Justin Hojel
Moving day is never pleasant, but Carlos and Steven from A1 were amazing, arrived on time, friendly and worked tirelessly all day to ensure we had everything we needed moved in. Could not recommend highly enough, if you're moving, these are your guys!
---
Lesley Vaughan
John aiso and his team turned up early were fast and professional.
---
John McAlinden
John aiso and evon. Great people highly professional wonderfully quick did a great job for us and delivered everything early to our destination in Queensland. Very much appreciated would recommend highly. Will use again
---
Huma Kamal
I am very happy with Anton and Elias they are working I a safe manner and they are doing an amazing job because they gives attention to details with care
---
Jane Pettersen
John Aiso excellent service, helpful and patient. Highly recommend
---
oliver mikha
Positive: Professionalism
---
Silver Mikha
Good service 👍 easy going people
---
Paul English
Randi was fabulous and extremely helpful. Second move in my family and couldn't have done better
---
Upula Dharmawardana
John Aiso and his team did a very professional job. Timely work and very cooperative.
---
Sunny Commandeur
Easy experience, arrived early and made the move smooth. Big thanks to Mateus & Sam
---
Zack Griffith
Michael, lorance did an absolute awesome job and I couldn't recommend them two boys enough. Easy to work and did everything with no complaints only smiles
---
Ellie P
Robert and Ramy helped me with my move from Sydney to Canberra today. They were very helpful and no task was too much. They even assisted with my larger plants and were very considerate. They moved everything in very quickly and took care of my furniture and the new house. I would recommend this service. 🙂
---
Peta Dover
I used A1 Removals for a local move of a very large house. I found Anton & Elias extremely helpful. They were very careful and professional and went above and beyond in every way. I plan on using them team at A1 again in the very near future and will absolutely be requesting Anton and Elias again. Won't be using anyone else in future!
---
JAG REVIEWS
Michael and Fadi are brilliant at doing their job very efficient highly recommended
---
damien barrow
Randi and sam were polite, clean, fast, efficient and professional movers. Would recommend using them anytime again.
---
Andy Del
Maykil and his team were prompt, took care of our stuff and packed it very well. Very happy with the service.
---
David Lim
Randi and team was great. They arrive promptly on time, careful with the items, friendly and courteous. This is our 7th move, probably the best removalist we have encountered. Thank you for a great experience despite what might be a stressful move.
---
Rabita Rahman
Randi & Tim thank you for being on time, wrapping everything and getting it all safely moved despite the rain and the many stairs!!!
---
Serena Osborn
John Aiso and his team, Arkan have helped us twice. They are very polite and get the job done No matter how hard they just get on with the job. Very professional service.
---
Alex Hare
Was great service today with John aiso !! Everything went well, great customer service and went the extra mile ! From Sydney to Queensland will call him again for another job for sure !!
---
Fouzan Wahab
Matt and Sam were fantastic. They worked tirelessly to complete a very stressful move on time AND under budget. Highly recommended and will use again !
---
Henry Rong
Johnny and elais was excellent with our move. They were very friendly and professional. Highly recommended.
---
Tathyana Gusmão
Randi and Sam were very good with my moving! I highly recommended them! Thanks so much A1 Removalist! Great service!
---
andrew stensel
Robert and Rami were fabulous, quick, calm and efficient. If we move again we will be asking for them. Great job thanks.
---
Usman Hijazi
Robert and Molo are exceptionally hard working and good guys. Highly recommend
---
Joseph Cacic
Amazing job today, boys were awesome!!!! Mateus sam
---
Oscar Li
Randi and Tim doing a great job on my house moving. Will use A1 again in the future.
---
Jack Watson
Michael, and Lourence were sent to us for the day, and they were easily the most friendly, and professional Removalist I have ever dealt with in my life, they handled everything with extreme care and were able to maintain a good hearted, friendly demeaned the whole time. 5 stars!
---
Zaki Saad
John Aiso provided great service
---
Sonja van Niekerk
Just used A1 Removalist's for our interstate move and delivered an exceptional job. Randi and Sam were very helpful and polite. Would highly recommend!!!
---
Michael Huxley
Randi and Yousisf were quick and professional. They were great to work with and I'd happily recommend them.
---
Mia Spragg
amazing service from these guys! they helped us out with only 2 days notice and did an excellent job! especially at making sure everything was kept in good condition and are very time efficient. will definitely be using them with our next move! great job from Anton and Carlos 👍🏻
---
JKrolling
Hard workings guys. Got the job done within the time frame was given and exceeded the expectation. Randi, Yousif and George great team. Definitely recommend them. 👍🏽✊🏽
---
Juliette Nankervis
Randi and Yousif did the best job moving everything. Extremely efficient and quick!
---
Barnali Das
Anton and Elias were on time and they did a wonderful job with our move. They put everything in order in the new home and assembled all our furnitures. We highly recommend them.
---
Brenda Owen
Randi and team have been fabulous. On time and very careful. Nothing too much trouble. Many many thanks.
---
Alicia Duong
Sargoon and his team were very fast and professional. Very happy with how they handled all my furnitures. Would definitely recommend 👍🏼
---
Leanne Vigenser
John aiso I Leanne moved from Victoria to New South Wales I found this company and the way they conduct Business to be excellent I highly recommend them for moving your goods Well done fellows It's been an absolute pleasure Leanne Vigenser
---
Jesse Moffat
John Aiso and even was very helpful and the job done very smoothly and fast from QLD To Sydney. Would recommend these guys
---
Daniel Selwainse
Robert and nasir were fantastic. Very careful with our furniture and I'd highly recommend
---
gary david
Michael & Lohan did an excellent job relocation furniture & household items from Canberra to Alexandria - in one day - yes one day That's a complete pack up & pack down They even helped with space saving ways to fill the storage unit Thank you
---
Penny Papoulias
Randi and Yousif were amazing, I'm so happy with their service.
---
Ledya Putros
Anton and elias and kerlos helped us with our move. Excellent workers, very helpful and patient. Would highly recommend! Took a lot of care and made sure everything was wrapped and uncovered
---
Isaac McKay
John Aiso - the boys moved my furniture from QLD to Sydney - pick up 4pm one day and delivered 10am the next. Quick and reliable. Good job legends - enjoy your Saturday night out!
---
Harrison Samway
Positive: Professionalism, Quality, Responsiveness, Value
---
Catherine Donoghue
Randi and George. Amazing service, fast, friendly efficient so helpful. So careful with all our things. Would absolutely recommend to anyone.
---
michael currie
The guys from A1 carefully and professionally helped me relocate. Highly recommended and will definitely be using them again!
---
Tirian McManus
Randi and Yousif were fantastic, they really got us out of a pickle with our first revivalist cancelling on us the morning of our move. Thank you very much guys!
---
Paul Macmullen
Robert and Rami did a great job getting furniture not designed for apartments into apartments, were really friendly and efficient - thanks guys!
---
Allana Hema
John also and his team great work. Awesome team
---
Joel Honeysett
Anton and Elias did a great job helping us to move. They were friendly and professional and took great care with all our items. Highly recommended.
---
Kim Nguyen
John Aiso, excellent service!
---
Dijana Speak
John Aiso moved from Sydney to qld was very good. Would use again.
---
linda McGeorge
Randi and Josef. Excellent service. They are honest reliable and happy to go the extra miles. No damages. Nothing was too hard.
---
Arunvel M
Anton and Elias were punctual and very efficient in moving our stuff. They were quite courteous and took great care while moving the fragile items. I will highly recommend their services for moving in the future.
---
Random Explorer
Elias and anton: We moved from Hurstville to Werrington on 20/5/2022. We booked the removals for 8am. Both of these guys were sharp on time. They contacted me 15 mins prior informing that they will reach here by 0800hrs. They came and inspected the items and started their work very smoothly. They were organised and ensured that they took all the heavy items with caution, taped with plastic and with enough safety. We offered assistance but they were very efficient in their way. This was my third move and first time I experienced such professionalism and safety to my property. They took time to ensure safety of the items, they took photos for all the existing damaged to items and confirmed that the damage was already there. They confirmed before leaving the house for address. Drop off was also smooth and no any damaged to property and items. We are extremely satisfied with their technique of packing, disassemble, assemble and everything in general. Will recommend their service to anyone who is searching for best service, punctuality, technique of removing heavy items and no hidden fees. Best removalist ever :)
---
Caitlin Hooper
Excellent service, Randi and Yousif were so helpful, shrink wrapped everything, even offered extra storage when I was concerned about the space I had booked. And they fit everything into the storage unit like pros! Will definitely be returning for the next move in a few weeks.
---
Jonathan O'Brien
Michael and neho and George doing a fantastic job i am very happy with this team, I highly recommend them!
---
Joe Repici
Thank you Randi and Sam for all your work in getting our things moved. They came as a last minute request and were super efficient and professional. Highly recommend.
---
WILLIAM DALTON
Recently we moved from Sydney to Geelong. This company made it stress free. Somo and Hamid were fantastic. I would use them again. Well done to all. Thanks Bill.
---
Noel Muckian
John Aiso moved from Sydney to QLD was very very good and great service they do it amazing job , Thanks JOHN AISO , THANKS A1 REMOVALISTS
---
John Gremos
Johnny and Elias were very helpful in this stressful period of moving as they ensured all our belongings were transported safely and with ease. I felt calmer knowing i didn't have to worry about my items being damaged and they were very effective and time efficient. even had a nice laugh and chat during such an intensely busy day.
---
Sohinee Pathak
Michael and his team did a fantastic professional job for us. Extremely efficient and careful with all our belonings. Will definitely refer them.
---
Frankie Lau
Anton and Elias and gorges great job and service. Very happy with everything and highly recommend!
---
Shane McCarthy
Johnny and Elias did a great job. Made my life easier. Would recommend them everyday.
---
Billy Stamp
Robert and Rami were amazing. Excellent work, great attitude, and took very good care of our delicates. Couldn't be more happy.
---
Lachlan Young
Johnny and Ellias on time, excellent service great guys, great price couldn't ask for a better set of removalists highly recommended
---
Randhir Singh
Best experience with Michael and Lawrence , awesome guys.They have been very helpful and took care of our needs , definitely recommend if you require smooth experience 👍👍👍👍👍
---
Trent Fleming
Michael, George, Neho done a professional job for our move efficiently and effortlessly
---
anthony folasaitu
Anton and Elias very great skills and very efficient in getting the job done, great job I have no problem in hiring them again. I would strongly recommend!!
---
Anant Rathore
John aiso and Rivon did very good and clean job.
---
craig waters
Robert and Muyd were fantastic and helped us greatly with our move. I would fully recommend A1 if you are moving.
---
Mr. Kim T. Christensen
Anton, Elias & Kerlos - did a great job with my recent move. They worked hard and professionally all they and even stayed an extra 3 hours to get the job done - due to a tight landing a lift area the job was much harder than expected. Thank you guys - thanks for a great job 👏🏽
---
Emma Halliwell
Quick and friendly Mateus. Sam
---
Saad Shabo
Robert and Rami moved my house took care of my stuff from pick up to drop off they they are so friendly Thant you so much A1 removalists
---
Manoj Thomas
Positive: Professionalism, Quality, Responsiveness, Value
---
Genevieve Ellis
Michael and Larnce were very professional. They were very careful with everything in the home and ensured that nothing was damaged. Would highly recommend!
---
MARIO Ioannou
Great removalists, on time & took care when moving furniture. Communicated well without any complaints. Thanks to guys Eevro & Michael, excellent work.
---
SK Heezen
John Aiso and his team did an amazing job moving the contents of our large family home. They were courteous and happy to help with everything and were very careful with our goods. Best movers ever!!!
---
Alexia Sultana
John and Lawrence and Steven great guys, did a wonderful job! Would highly recommend
---
Elias Nano
---
Andrew S
Michael and Lawrence did a very good job. Very happy with the service!
---
Stephen Sawert
John aiso and his team very friendly, professional, service. Would definitely recommend. No problems with the move, all the way from Newcastle to Wagga. Thanks men and thanks to A1
---
Emma Afeaki
Anton and Elias were absolutely fantastic- very friendly and nothing was too much to ask! Highly recommend
---
Aaron Willemsen
Randi & Yousuf
---
Jamay Osborn
John Aiso and arkan are amazing on time and cearfull with your products, and very nice and friendly
---
Vy Truong
Michael and Laurence were very careful and proactive in our service thanks you!
---
Adam Perri
Positive: Professionalism, Quality, Responsiveness
---
A. Hussain Ali
Made a reservation with A1 Removalists after seeing their Google ratings, but I have had a terrible experience. It took them 6 hrs to transfer a small 2 bedroom townhouse to an apartment. The men were slow and inefficient, clearly dragging out the time to maximise their charge. I had to get involved to keep things moving otherwise it would have taken 2 hrs longer! Also, both men DID NOT speak English. It was almost impossible to communicate with them during loading and unloading, or trying to explain the delivery address to them. This is a major issue if you're operating in a metropolitan city like Sydney. I don't blame the workers, but the management should be considerate of this. Overall, a very disappointing experience and I probably will not use them again.
---
Joo hyung Nam
Noticably dragging time on purpose we end up doing half the work
---
Al Virgona
Atrocious service. Do not trust the reviews. My girlfriends phone was physically taken out of her hands so one of the removalists could write a 5 star review onto google. Not only were they rude and completely ignored fragile boxes (putting boxes upside-down, crushing numerous boxes and resulting in broken items). They tried to claim that wrapping items would incur an extra fee for each item ($50 per item, but they said they could do a "deal" of $200 total). They then attempted to charge us for the use of tolls which like wrapping was included in the fixed price. GST was not included in the fixed price and this was NOT disclosed until after the service was complete. They are just plain shady and I would never recommend them.
---
Hamish Kelly
These guys are next level thieves making up the minimum hours on the run ! And then charging a extra half hour when they worked a minute over. They were meant to be doing job at 830am arrived 1130am with boss insisted flat tyre but worker said we just finished other job haha get your lies straight. Could not connect washing machine too lazy for that and broke all my kitchenware and TV stand. WORST REMOVALIST COMPANY I HAVE EVER ENCOUNTERED
---
Sumeet Soni
Critical: Professionalism
---
Moving house starts here
View pricing, read reviews and book professional interstate and local removalists online.
35,000+ customers
4.8 rating
Instant pricing