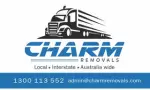 Charm Removals
4.80 · 132 reviews
Muval verified for quality & service
Reviews summary
| | | |
| --- | --- | --- |
| | | 26 reviews |
| | | 1 reviews |
| | | 1 reviews |
| | | 3 reviews |
Communication 3Service 10Quality 2Professional 16Care 9Happy 3Efficient 3
Charm Removals are your premium interstate moving choice.
Our professional move Coordinators, Highly trained Removalists and fleet of modern Iveco furniture Pantech trucks will transport your furniture and house hold items safety and on time every time.
In this competitive market we believe we are a cut above the rest, Our team of dedicated movers always go above and beyond offering fully individualised moves to every customer.
-Straightforward quoting always.
-Highly premium service, We go above and beyond for all our customers.
-All of your belongings are individually wrapped in thick removals blankets and pads to ensure safe transit.
-We offer FULL insurance of your property and goods while in transit against any accidents, Fire or Natural Disasters
-Excellent communication, You will liaise with one move Coordinator throughout your entire relocation.
-Careful, Professional and very efficient
Charm Removals are committed to providing you a premium, Stress free relocation service.
We always stay up to date with all industry training and are members of Australian furniture removers association (AFRA)
Our relocation experts take every necessary step to ensure the safe journey of your valuables in transit.
Charm Removals takes pride in delivering Safe, Secure and prompt transport of your goods and furniture.
Our skilled Removalists and customer service professionals are dedicated to enduring a seamless and successful transition into your new home.
admin@charmremovals.com
www.charmremovals.com.au
With Kind Regards
Charm Removals
Local areas serviced
Removalists Gold Coast
Removalists Brisbane
Removalists Melbourne
Removalists Northern Beaches
Removalists Canberra
Mia Thomas
Charm removals moved my furniture from Sydney to Gold Coast and I couldn't of ask for more from the guys that moved me. They manoeuvred all my furniture down 2x flight of stairs and everything arrived perfect and on time. I was so relieved. Thank you charm
---
Tracy Eaton
My husband and I used this company to move interstate the level of professionalism was outstanding they meet all our requests . Our furniture arrived on time and there company offered us a great price which was a great bonus. I would definitely use this company again and would recommend them to anyone at any time to go with Charm Removalists. Their friendly team made our move so much easier.
---
Daryl Rowley
The lads arrived on time and did a great job getting the truck up our difficult driveway. We found Joel and Matt friendly, efficient and total professionals. They got stuck right into loading our funiture & stuff into their huge truck - they worked like Trojans with barely a break for a drink of water. They were all done in about 2 hrs.... then the 1.5hr drive to the new house; and then at the new house, they got stuck into it again and were all done in about 2hrs! All our furniture and stuff was delivered safely without any damage. Joel and Matt did an exemplary job and really impressed us.. so much so, that we tipped each of them $50.... I don't know how they do this every work day...no wonder they look fit! I'm hoping we wont have to move again for quite some time, but if we do, we'd definitely choose Charm Removals again....they gave the best service and the best price. Their quote was spot on. We would recommend them to anyone who wants great service and value for money.
---
Gavin Nerney
The guys did a great job relocating my goods. They were prompt, courteous, took care in their work and everything went smoothly.
---
Eric
The team at Charm Removals was great to work with. Everything arrived intact, which was great!
---
Samantha Eaton
Joel Eddy and Ivan were so incredible, Being on my own I couldn't thank them enough for taking apart some of my furniture and taking down my bed and cot. They even let me follow them to their storage as my keys were accidentally left in my dresser draw. The ladies in the office were super easy to deal with too. Thank you Charm
---
Elyse Thomas
These guys are great, on time professional attitude and overall really nice people to work with. I honestly could not recommend more highly! Thanks so much guys, you made moving such a breeze!!
---
Sam Hammond
The guys were extremely helpful, quick, and took extra care handling all of our business goods. Thankyou!
---
Dinesh D
There are close to no good removals who does a decent move from ACT to QLD, after loads of research found Charm Removals. Their quotation was reasonable, realistic time frame/ ETA, wonderful communication, kept me up to date with the happenings, which helped me to be relaxed. Its was a seamless experience. I have to mention about Samantha, who was extremely customer focused, has all good skills to keep customer clam and updated. professionally polite and pleasant. and then the team, they were highly professional and well coordinated. In short: Great pricing Amazing customer service Prompt Peace of mind guaranteed Will recommend for everyone.
---
james moore
Cheers to the boys that moved me from Lismore to tabulam, huge effort.
---
Philip Burns
We were recommended to Charm by another removalist who wasnt available the day we wanted, it was the best decision we have made in a long time, Our move wasnt without its dramas but Charm worked through it with us and got it done.Their profesionalism, honesty and care is just the best, we heartily recommend Charm, you wont find better.
---
Jørn Bakkebø Nilsen
The removalists arrived on time and provided professional service. I recommend!
---
Emma Stuart
Could not fault the service given to us on our recent move. They were professional, very helpful and looked after our possessions. Excellent value for money. Would highly recommend.
---
Jesse Baker
Thank you Charm Removals for your care in moving my house and belongings. We had a huge move and the guys were incredible. 10 out of 10!
---
Shinae Ralph
We had a great experience with Charm Removal. From their initial spot on quoting and useful information we were given leading up to the move day, the crew was on time, very professional nice Removalist's. Polite and helpful and reassured us each step of the way. Our belongings were in good hands and we can certainly recommend them!
---
Amanda Collingwood
We were extremely happy with our recent move from Sydney to the Gold Coast. Samantha was great at coordinating everything to ensure all aspects of the move were incredibly smooth and stress free. Eddie and Joel were awesome - great communication, very friendly, and they took really good care of our shipment to ensure it arrived safely. Thank you!
---
Solomon Campbell
Samantha & Joel provide an amazing service, dedicated & reliable. Great to deal with & inspiring to see these young professionals building a great quality business together in partnership. Highly recommend.
---
Kate Gilmour
I have used this company on 3 separate occasions. From Sam in the office to Eddie and the guys on the road, thank you for such a friendly and professional service. Definitely made a potentially stressful experience much easier. Highly recommend for quality removal and professionalism! Kate G
---
Mel Saillard
I couldn't thank the guys at Charm that moved us enough. I was so concerned about the big move! We had some precious possessions and they gave me reassurance that extreme care would be taken and they absolutely exceeded my expectations!! Thank you so much boys.
---
Lisa Hough
Absolutely brilliant service from these guys. From quoting day to moving day, the team at Charm Removals provided excellent, friendly and professional service. They were careful, considerate and courteous, not like others i have used in the past. The men were incredible and strong providing a stress free move very happy
---
khalie1000
Professional and hassle free! I cannot thank you enough! I had several large glass items to move and this crew managed to pull it off without a hitch! I was kept up to date with every step of the procedure and everything was explained clearly beforehand! If I ever have to move again this is the team I want! Thanks again Charm Removals!
---
MANOJ KUMAR
Honestly the best removalists we've ever used! boys were professional, timely and communicative. Great watching them manoeuvre all of our furniture into our (downsized) apartment - serious Tetris kings! Thank you so much! Highly recommend your services to everyone
---
Hugh Chapman
Highly recommend. Team was amazing. Would use again. Nothing was too hard for the team, great attitudes, and genuinely happy to help.
---
paul gorton
From the first phone enquiry, I found Charm to be professional, friendly and efficient. This was my first long distance move and they were able to answer all my queries and give advice where needed. They gave me a very competitive price, accommodated me when I needed to change dates and were thorough with their communication before, during and after the removal. The removalists themselves were great, even during the rain, as was Samantha in the office throughout. I couldn't have asked for much more. Highly reccommended.
---
Robyn Baglin
Highly recommend Charm Removals. Today was the second time I've used Charm! Friendly service, on time, efficient and careful. From the booking to pickup and drop off. Seriously can't fault these guys Thank you! Highly recommended!
---
Bethany Mantle
Exceptional professional customer service and my goods were delivered on time and well cared for. As a customer I felt that my goods were respected and concerns met with ease. I would 100% recommend charm removals to anyone.
---
anton apua
Ivan and Eddy were professionals in handling our stuff. Very easy to deal with.
---
James Shaw
---
Talita Rodrigues
We booked a fully dedicated truck and the agreement was 4 days to receive it. (Melbourne to Queensland)The guys are great and fast to do the pickup and organise my moving. But we are still waiting for. The delivery. When we finally got to talk to them, they said that now my things are going to be delivered only three days later. Can imagine? There is four of us plus a dog in a empty house, with no cleaned clothes, no appliances nothing. Very disappointed and angry with charm removals. Worst experience ever.
---
maree weigall
Critical: Professionalism
---
Roxy Davies
We have had the absolute worst experience with this company. I do not recommend.
---
Moving house starts here
View pricing, read reviews and book professional interstate and local removalists online.
35,000+ customers
4.8 rating
Instant pricing