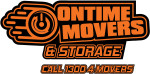 Ontime Movers And Storage
5.00 · 84 reviews
Muval verified for quality & service
Whether you are looking to move a few small items across town, upgrading to a new home locally or relocating to your dream beach home at the Gold Coast – Ontime Movers is the moving company that can facilitate the perfect move.
Ontime Movers provides a large range of services covering all aspects of relocation. Here are our most common service enquires:
- Door to Door Relocation. No trains, double handling, 2 week waiting periods, Just a direct drive between one home to another!
- Full Packing and Unpacking service, let our experienced team do all the work! This is quite often requested and is the safest method of protecting your my precious items!
- Partial Pack/Fragile items, many people prefer to pack clothes, linen, books etc. This service is recommended for those who would like help packing kitchen, glassware, ornaments etc.
- Piano/Pool Table/Spa Relocations, Our team has many years of experience moving large scale delicate items. We have all the equipment required to move these items safely, in a timely fashion.
- Business/Office/Corporate Relocations, We have moved a vast variety of businesses around Canberra, from Geocon to small offices, our team has the equipment to get the job done! Our crew recently relocated the only Fusion Reactor in Australia!
- Interstate Moves, We move many clients around Australia, mostly on the East coast, however if required, we can facilitate your move to any location!
- Storage, Our depot utilises Brand new water tight shipping containers for short and long term storage. This is convenient for settlement delays, as it saves double handling into a storage unit. We also provide temporary storage or even long term storage at a very competitive rate!
Our quality speaks for itself. Our team have a vast array of certificates ranging from manual handling, Quarantine and even Secure Air Cargo Certifications which allows us to facilitate almost any form of transportation.
Moving house starts here
View pricing, read reviews and book professional interstate and local removalists online.
35,000+ customers
4.8 rating
Instant pricing