Guide: Bond cleans & End of Lease Clean
Whether you are renting or selling you are typically obligated to complete a high standard of end of lease / bond clean before you vacate. Here's our tips on finding services to do this or taking it on yourself.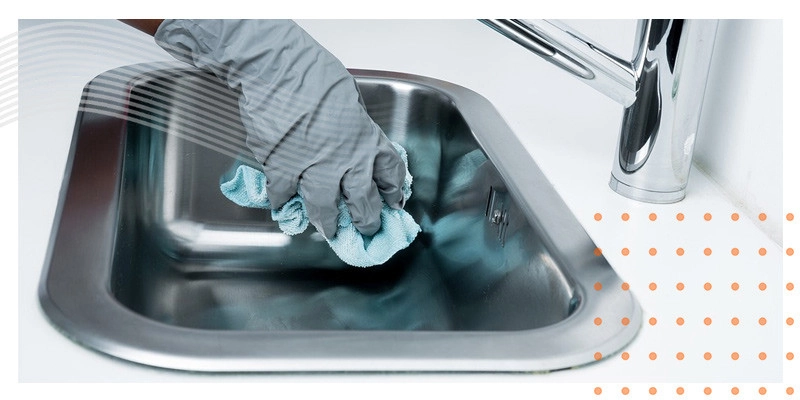 THE CLEANEST OF CLEANS
You know that it's the last hurdle to jump when all the packing and dismantling has been done and the move is imminent. It's not only a common courtesy and an ethical responsibility to leave a residency hygienically clean, but you may need to get your bond back or it may be a condition of sale.
Whatever your situation, each property can be unique in its nooks and crannies, spaces and structures, fittings and features. So, it is really important to make sure that you are either extremely prepared and educated in the specialities of the property, or you get professional help so you don't end up with any nasty accidents and you have a liability if there are problems with the clean. After all, renters want their bonds back and the next person doesn't want to find any unexpected surprises left from your legacy.
WHAT DOES CLEAN MEAN?
A moving out clean should be treated as a mammoth scrub down. It's not about maintenance, it's about getting deep down into the grime and removing in-ground muck. Attention to detail is of the utmost importance, such us: mould in the grout of tiles; scrubbing all the walls, windows and doors; cleaning light shades and blinds/curtains of dust and dirty marks; deep cleaning appliances such as the oven and rangehood; cleaning in and under EVERYTHING; and so on. It will take all the elbow grease you have got!
You know it, it's not just inside – but you have to get the outside of the house clean too, and … the yard!
With so much to do, many movers find convenience and save time and energy by getting specialist moving or end-of-lease cleaners to make sure the job is done right and everything that should be cleaned is ready for inspection. There are many companies to choose from so you can compare services, the cleaning products used and prices – they are professionals who do this stuff all the time, so they instinctively will know where to look and what to do while you get to the important moving stuff. Like making sure you have electricity at the new pad.
If you are expecting to get your bond back there are certain expectations, likewise, if you are leaving a property after selling it you need to take certain precautions to make sure the house is clean to ensure hygienic safety for the new owners.
THE 'BOND CLEAN'
or 'END OF LEASE' CLEAN
Most estate agents have a list of expectations of what you need to do to leave the rental property as you left it and according to the condition report. Beyond the acceptable levels of 'wear and tear', the exiting tenant needs to hit a benchmark or they are penalised by not getting their original bond deposit returned in full – in most cases the agent will deduct the amount it costs to hire a trusted cleaner of their choice to RE-clean the premises.
If you aren't quite sure what you need to do to achieve this benchmark, you can check with your tenancy agreement via your agent. Just be mindful that the rules can be different state to state.
You'll find many cleaning companies will offer a bond back guarantee or something similar.

In Sydney - we found a number of companies offering free quotes for end of lease cleaning costs.
THE 'SETTLEMENT CLEAN'
It is a legal obligation, as well as a moral and ethical one, to make sure that the house is in the same condition of cleanliness when the house was purchased or viewed for purchase. This includes repairing anything that has broken since the contract of sale was signed. As the buyer has a contractual right to have a pre-purchase building inspection prior to the final negotiation, you want to make sure there isn't anything outstanding that can be used to haggle you down on the sale value, or a delay in the settlement.
It's also just the nice thing to do to leave the premises in the highest liveable standard for the new owners.
THE COST OF THE CLEAN
If you are one of those people who just seem to leave a trail of detergent and bubbles wherever they step, you may not find it a chore to complete a competent and inspection worthy clean on your own. You may be an old hat at the end of lease scrub. Like so many of us though, cleaning is not something that we enjoy or relish, and the thought of making sure every tiny detail is attended to can be truly overwhelming and anxiety inducing. Particularly if you are really relying on the money you hope to get back from a bond for example, you need to weigh up how much is due to come back to you compared to outlaying the funds to pay someone to clean it.
Fortunately, there are many, many companies to choose from to get quotes. Some are more reputable than others and some are specialised in different areas of the industry. It never hurts to check their online reviews and testimonials before jumping in, you may find a local small business will give you a personalised service or you may find confidence in a larger company or franchise.
You will likely need to also consider that you may have to accommodate the cost of a carpet cleaner or any other specialised cleaner for unique home features like solar panels or a pool. Ultimately the cost will be a combination of the cleaning of the premises according to how many rooms, the size of the property and the time it takes to complete. Plus, any additional cleaning services.
The average cost of cleaning a property in Australia is often charged at an hourly rate of between $20 and $50, sometimes a flat fee is charged that can range from $200 for smaller properties, up to $1000 for larger more intricate property cleans.
'CLEAN MOVE' CHECKLIST
Below, you can find the beginnings of a 'clean move' checklist. This is just a very basic beginning; it may help you when you are researching services provided by professional cleaners. If you go it alone, make sure you take into account the unique characteristics of the property you are planning to vacate or move into.
Clean all cupboards and drawers inside and out in all rooms.

Wipe down all surfaces, sinks, tubs and benchtops.

Clean fixed appliances such as ovens, rangehoods, dishwashers and garbage disposals.

Have all the floor coverings cleaned. Each surface may need special treatment, for example: tiles can be mopped with bleach; wooden floor boards can be steam-cleaned and buffed; carpets can be deep cleaned with shampooing and deodorising; etc. Some specialised surfaces may need even more specialised cleans with particular cleaning products.

Clean fixtures such as light fittings, chandeliers, ceiling fans, door handles/locks, etc.

Remove mould and scum from wet areas such as bathroom tiles and laundry areas.

Polish tap-wear and toilets.

Clean mirrors.

Wash and clean the windows, inside and outside.

Clean and sweep garage/carports.

Sweep all hard outdoor surfaces.

Clear any cobwebs or nests from outdoor facias.

Mow the lawn and tidy the gardens.

Clean out the bins.
CLEAN UP & MOVE ON!
There is a certain thrill attached to moving into a nicely cleaned new place! You know that when you first get into that long-awaited shower at the end of moving day, that you are counting on it being habitable, hygienic and reasonably clean as left by the previous occupants. You know that the people who are now living where you used to live are feeling the exact same little clean new home feeling. It really is a simple matter of paying it forward!
Share this page on Facebook
Moving house starts here
View pricing, read reviews and book professional interstate and local removalists online.
35,000+ customers
4.8 rating
Instant pricing