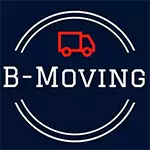 B-Moving
4.70 · 346 reviews
Muval verified for quality & service
Reviews summary
| | | |
| --- | --- | --- |
| | | 86 reviews |
| | | 5 reviews |
| | | 9 reviews |
Communication 8Service 24Quality 18Professional 40Care 21Happy 11Efficient 23
An affordable friendly and efficient Melbourne Moving Company, offering Removals, Deliveries, Transport, Manpower and Storage.
No job is too big or small. Whether you have 1 or 2 items or a full house to move B-Moving has your covered.
Committed to exceptional customer service and transparent communication throughout the relocation process B-Moving is the go to removal company in Melbourne. Premium service at competitive prices. B-Moving pride themselves in having the strongest, fittest, friendliest and most efficient removalists in Melbourne.
Local areas serviced
Removalists Melbourne
Anusha Kirupananthan
BMovers were very accommodating and they were on time. They did a very good job and moved everything much faster than I expected whilst being careful. Service: Local moving
---
Sam Jones
My partner and I recently used B - Moving for a house move and were very happy with their service. Not only were they professional and prompt with their communication, but their quote was also very competitive and fair. We were very impressed with the two removalists who undertook the move, they were friendly, time efficient and took great care with all our items. I highly recommend using B - Moving Removals, you won't be disappointed!
---
tommy ward
Fast and efficient move, made the process very easy and very friendly team.
---
Josh Bowden
B-Moving were a pleasure to work with on my recent move - the booking process was a breeze and the team who rocked up were friendly, efficient and did a great job throughout the whole process - would recommend
---
Astrid D
Great service, made my move so much easier. Friendly and happy service, great to deal with and easy to communicate with. These gentleman were great and so professional, super careful with their packing and wrapped everything so nothing got damaged and not forgetting they were on time too. A Huge Thank you to Byron, Aaron, Mehdy and Codie, you're all superstars!
---
richard groves
Great company to deal with, and i would definitely recommend them.
---
Altsjr
Very happy with my move you do pay for what you get…
---
Adrick
Fast, friendly and efficient. Will definitely use again. Thanks team!
---
Gao Goch
The Team at B-Moving were not only efficiency, they were also friendly. Max and Jacob being super careful with our belongings.
---
Angus Henderson
The B-Moving team were fantastic. They arrived on time, did all of the heavy lifting and moved me completely within hours. My load included antiques and heavy furniture which they moved without issue. I'd certainly get their help with moving again! Thanks guys.
---
Cin
Can't thank Cody and his crew enough for the quick, tidy and efficient move we had with B-Moving. These guys know exactly what to do and worked at a great speed. They had my 5 bedroom home packed, transported and unloaded in no time. Aaron was easy to communicate with. All round great business to deal with. Thanks Guys
---
Travis Dale
Positive: Professionalism, Quality, Responsiveness, Value
---
Jessica Yates
The B-Moving team were friendly and professional, and managed to navigate narrow, tricky staircases while looking after heavy items. Overall very happy with the service, thanks!
---
Rosamary Sciacca
Positive: Professionalism, Quality, Responsiveness, Value
---
Mick Higgins
Positive: Professionalism, Quality, Value
---
Lindy O'Brien
From start to finish these guys are amazing! Aaron booked everything and accommodated a major change without an issue, communication was fantastic and Codie & Trav were both efficient, moved our items with care and were incredibly respectful, kind and polite. Highly recommend B-Moving for a move and look after the boys! (I'm just disappointed we couldn't offer them a hot drink or a bite to eat but always look after people who look after you!)
---
Eric Savoie
B-moving delivered in spades. Very professional movers, hard working and a real pleasure to work with. Moving can be a pain but we had a lot of fun getting my furniture from A to B. Would highly recommend!
---
Susan McDonald
Very good experience with B-Moving. The movers were really helpful, were on time, careful with all items and professional
---
Harrison Carr
Such a great job done by the gents here.
---
Chansa Mulenga
The boys handled everything very well, was careful with every item. Cheers B moving
---
Tim Vann
Did a furniture move with B-Moving. The guys were highly professional with the move, and got it done in good time and at a competitive rate. I highly recommend B-Moving for any moving needs!
---
Levona Lavi
Great, friendly movers - made the whole day better! Highly recommended
---
Isabella Cecilia Harnisch
Positive: Professionalism, Quality, Responsiveness, Value
---
Odaa Cafe & restaurant
Professional, fast and reliable. I've dealt with so many removal companies in the past and by far this is the best company. Dealing with them was so quick and easy. They came on time and got the task done, beautifully. They were amazing and so helpful. You can count on them to get the job done. Thank you guys. Services: Oversized-item moving , Moving-related packing , Local moving
---
Vicki Tucker
The removers were so helpful taking down and setting up all my goodies, and may I also say they were so polite, would be more than happy to recommend there services to other people in need of removalists Thank you B-Moving Removals 👏
---
Dylan
The best
---
niloofar karimian
Positive: Professionalism, Quality, Responsiveness, Value
---
Tim Dyson
---
Lou Olsson
Aaron was very helpful with organising a two-part move for me. The two other men who did the move were fast, professional, careful, cheery and did a brilliant job. Great stuff :)
---
Robert Andronaco
Positive: Professionalism, Quality, Responsiveness
---
Graham Langley
Helped me when I had under two weeks to move and into an apartment. Had been getting crazy priced quotes with other places, they came in less via muval. Had to do some of the work myself as it was 36 degrees and the guys were older but they did a really good job and got the job done in just over 3 hours instead of the 5.5 hours estimated.
---
Ben Zimny
I booked with very short notice and was very impressed. The movers were communicative, on time, and very effective. All of my belongings were packed, moved and unpacked within the hour! I will definitely be using B-Moving for my next relocation.
---
Samantha Nelson
B-Moving moved our 3 bedroom house with ease! I found them to be professional, courteous and treated my stuff like their own. They were quick but caring and made what is normally a stressful time much easier.
---
Paula Pellegrini
Positive: Professionalism, Quality, Responsiveness, Value
---
Anna B
Positive: Professionalism, Quality, Responsiveness, Value
---
Mira
Excellent service on our move in Bayside. Lovely movers and a fuss free experience.
---
Justin Ng
Great guys, easy-going and quick.
---
Eva Bitsikas
Extremely happy with my move, I'm definitely using B-Moving again!
---
Paris Clydesdale
Amazing service from B-Moving! On time and got the job done in record time. Highly recommend to anyone looking for removalist services! Services: Local moving , Moving-related packing
---
Melissa Annells
The boys were fantastic. Super quick, organised, and funny as heck. They were also great with my kid who wasn't taking the move very well. I highly recommend B-Moving. Service: Local moving
---
Alice O
Nice guys that offer great service are on time and efficient! Services: Local moving , Moving-related packing
---
Bryan Wise
Positive: Professionalism, Punctuality, Quality, Responsiveness, Value
---
Lill & Julian Hine
Just a small move this time but they did such a great job that I will be using them should I need to move house.
---
Wiyesh Mendis
Positive: Professionalism, Quality, Responsiveness
---
Leigh Coleman
Hat's off to these guys , they delivered on what they promised, regardless of the weather and last minute changes they just kept on working until the job was done , can't thank them enough and would recommend them to anyone
---
Prue Cauley
The move was extremely smooth and efficient and the guys were hardworking and very friendly. It was honestly a really good experience, and I would definitely recommend B-Moving to friends and family.
---
solomon fisher
Hi Matt & Cody , just wanted to say excellent job and well done for the great service from B-MOVING. You helped us move into our home in the gruesome weather on Saturday .Super friendly and awesome guys. Highly recommend B-MOVING . Will definitely use their service again. Much Appreciated. Cheers ! Service: Local moving
---
David Nullmeyers
Had a great experience with the B-moving team. They were efficient, well prepared, careful in their work and friendly. Would certainly use on our next move and recommend.
---
Donna Parker
I was really happy with B Movers. I read the reviews and thought they sounded good they actually exceeded my expectations. They were kind, compassionate and time efficient. Can't ask for more. Thanks to my crew from B Movers.
---
Teagan Jane
Today Peter and Gem moved our stuff from Wyndham Vale, to Point Cook. They were so efficient and such nice guys as well, that it made what could've been a nightmare an absolute breeze. They went above and beyond, and I couldn't recommend these two more. Such hard workers, no complaints from either of them all day. Even after our move got postponed a week due to Covid, Bryon organised everything asap and we were moved without an issue. We cannot thank B-Moving enough. Teagan and Chris xx
---
Aroha
I had two friendly removalists help me over the weekend. I had to relocate from a 2 bedroom unit to a much larger home. They were very efficient and handled my items with care. Highly recommend their service. Thank you 😊
---
Kate P Freeman
---
flavio da costa
Positive: Professionalism, Quality, Responsiveness, Value
---
Julie May
Hard working young men that carefully moved my heavy furniture to a new premises, up a flight of stairs and into an apartment. They worked quickly and took care, as well as being reasonably priced. Nothing was a problem for them. I highly recommend them.
---
Damian Prism
The team at B Moving were most professional. Did a great job, were on time & responsive. I would highly recommend them & will be using them for any future home & office moves.
---
Jordan Zeme
The boys were so efficient and made the whole move hassle free. Highly recommend!
---
Stephane Heritier
Great experience with B-moving. My relocation went very smoothly, thanks to their professionalism. I can only recommend B-moving to other clients. Services: Vehicle transport , Local moving
---
Carolyn Scutt
Very happy With the move, both guys were professional careful with every item and very efficient. Highly recommend!
---
Peter Masters
While it took a little time to organise the booking (I think Aaron was away), Byron picked up my enquiry and organised a fuss free move. I really appreciated the confirmation call the day before. The guys were great and the move was easy. Today is the second time I've moved with B-Moving and would move again. Only ever had good experience.
---
Lisa Manks
Pat and the boys from B Moving moved the contents of my 5 bedroom home to my new house. Nothing was damaged, they took care with every piece of furniture and did it in a very reasonable time. I would definitely recommend them and use their services again.
---
Alex Storer
Excellent service here from the guys at B-Moving. Really fast and efficient workers which made for the smoothest moving experience of my life. Thanks fellas.
---
Jesse Bryan
My partner and I used B Moving today to shift into a 2 bedroom apartment (the one moving out being 2 flights of stairs only), I'm usually one to do this kind of stuff myself, but after having surgery this week, the team at B Moving made it incredibly easy and hassle free for me, and were even happy to assist in dismantling furniture I struggled with. As well as that they are very efficient with their time and get the job done! I highly recommend, and will definitely use them again in the future! Thanks Guys!
---
Bhuvan Ravi Shankar
I recently used B Moving to relocate my belongings from Melbourne city to Mornington Peninsulla. Immaculate service, prompt and very efficient. Very professional, extremely skilled team who managed our move so well. All our belongings were safe and not a scratch or damage at all, highly recommend them. Jacob and Louis were such a great team, please make sure to ask for them! Look no further than B-Moving 🙌🏽
---
kellie russo
Service: Local moving Positive: Professionalism , Punctuality
---
elie hajj
Positive: Professionalism, Quality
---
Tes Benton
Very quick and efficient. Even dismantled and reassembled my bed for me. Nothing damaged and no rough handling. Would use them again
---
Chris Johnston
Fantastic service... Efficient with care taken and done without a fuss and smile. Thanks for a clean and swift move!
---
Rob Adelman
Great moving company, moved from my apartment to a house (with difficult stairs) with no issues! Super friendly, cost-effective but more importantly efficient! Highly recommend
---
tate chaloner
Great movers, were friendly and careful while saving us hundreds off estimates from other places by being fast. Would definitely use them again.
---
Ellie Ronowski
Cannot thank B-Moving enough. They helped me move (a big 4 bedroom house move) in a professional, time and cost efficient way. Their experience with manoeuvring their trucks into tricky spaces was amazing and it was clear their competency in moving furniture and household goods was outstanding. Communication was really great - and made me feel like I was well and truly informed at all times during the move. Would highly recommend their service to anyone who needs a hand moving!
---
Georgia Gosbell
Positive: Professionalism, Quality, Responsiveness, Value
---
Brett Young
They were awesome. Nothing was too much trouble. They were professional, friendly, managed some large heavy furniture down stairs and it all arrived at the destination without any damage. I would recommend them in a heartbeat.
---
Amalthea Tattoo
Service: Local moving Positive: Professionalism , Punctuality , Quality , Responsiveness , Value
---
Sree Raghu Vamshi Koilkandadai
Really impressed with the quality of service! The boys (Brandon and Cody) did a fantastic job and made it really easy for us to move places! Would definitely use B-Moving again!
---
Hugo Brettingham-Moore
B-moving where fantastic with our recent move. The guys where efficient and careful and we'll definitely use them again.
---
Sharyn Newman
I am so happy to have found B Moving, from the first call to Aaron, he assured me that the job would be done without a hitch, and he was correct. The guys arrived on time, very polite and respectful. Moved all the furniture carefully and thoughtfully packed into the van. The recipient who was to receive the furniture also said they were excellent at her home. So, I highly recommend B Movers, I will be recommending them to my friends and colleagues and will be using them again. Thank you Aaron and team for an excellent experience.
---
Elliott Heywood
Had a mishap which resulted our booked van with a different company not showing up. Got a call from Byron within the hour of requesting a quote and was told he could fit us in the next day! Paul and Russ were great and when a couple of the items wouldn't fit up the stairs they offered some possible solutions. We ended up leaving it to ourselves for another day but they tried. We're not moving again anytime soon, but will definitely reach out to B-Moving first.
---
Ashley Betts
Positive: Professionalism, Quality, Responsiveness, Value
---
Jacqueline Beech
We were really happy with the service for our house move. Really efficient and really lovely team. Would happily recommend Service: Local moving
---
Denton Schragger
Great service and great communication. They took great care in ensuring that my items wouldn't be damaged and also making sure nothing left any scratches on walls (hard to do at mine due to the small space and tight corners). Would definitely recommend these guys to whoever needs to move as they are friendly and reliable. Thanks for the help guys.
---
Bridget Coyne
I was so impressed by this company! Great communication and the guys that did the move were fantastic. Would 100% use again, thank you!
---
C Grigg
Strong and friendly, like I wish my husband was some times! Aaron and the team are always solid. Recommend
---
Kanokwan Phichai
Professional!!!
---
Christina Page
Medi (the cat whisperer) and Cody did an awesome job moving me - nothing I asked was too much trouble. They were hardworking, quick, professional and friendly. Their pricing was value for money based on my previous experiences. I would definitely use them again and recommend them to others. Thank you
---
Barbara Oh
B-Movers were on time, friendly and knowledgeable, and did a really good job on my move, including navigating several flights of stairs and complex access. All items including several very large framed pieces of art arrived undamaged. The price and communication were both good.
---
Lauren Brown
Super friendly, took pride in their work and so helpful.
---
Mikk Godfree
Byron and his team helped me out when we had settlement sprung on us last minute. The guys smashed it out in one truck load and were careful and helpful placing items at the other end. Would use B-Moving again and would recommend. Thanks
---
Freya Stafford
Positive: Responsiveness, Value
---
Peter Withiel
Positive: Professionalism, Quality, Responsiveness, Value
---
Rakyan Adhikara
Great service! They arrived pretty late, but great service nonetheless!
---
Conor Mitchell
Positive: Professionalism, Quality, Responsiveness, Value
---
Vikas Piprade
Move Date :- 22nd Jan 2022 We booked and Byron agreed to send 6Ton truck as we have lot of stuff to move. Without informing us he sent 4.5 Ton truck. On calling him he refuse to sent 6 T truck as it's not available and said "You want to screw this job ?". On time ,when every stuff of home is packed , I had no choice but to book two 4.5 Ton trucks. In all , with two 4.5 Ton trucks, it cost me $1200 for Mckinnon to Werribee move. It was bitter and expensive experience with B-Moving.
---
Sandra Mitchell
Unreliable!! Unprofessional!! Would not recommend using this company They cancelled my booking at the 11th hour and basically told me to find another company to do my move. It was very stressful and Aaron did not seem to care at all… he never followed or offered to do the move on another day. DO NOT USE THIS COMPANY!!
---
Rod Sykes
do yourself a favour and do not this company had removal booked for 7 got a call confirming this the day prior called them at 7.30 next day to find out where they were Aaron stated they had to pick up hire truck and he forgot to call me the night prior he also forgot to call me that morning apparently their time is more important than mine when truck arrived it was obvious it was too small i called him to tell him that and was called a liar by him after loading up my own ute with beds and a couch we finally got moving the guys that did the removals were fine but the management was very poor
---
Owen Stephens
When booking B-Moving, I provided an itemised list of furniture to be moved, but was not told that this would take two trips in the trucks which the company operates. I called to ask the company what the cost of a second trip would likely cost based on the hourly rate and was told it would be $280, rather than the $560 it actually came to. The truck also didn't use toll-roads, leading to an extra 40-45 minutes travel time each way, which was not discussed prior to the booking. The movers themselves were fine, but the interaction with the booking organiser and company themselves were highly unprofessional.
---
Kate Eastlake
Do not use this company. After countless calls to Aaron to confirm my move prior, as it was planned after 4 public holidays, the response was, " yes, I promise I will be there, we are reliable". So at 7.15am when the truck didn't turn up, meant to be at 7am, I text Aaron and got no response, I called only to have an apathetic reply, of I will call to find out where my driver is. I didn't receive any follow call, so 15 mins later, I called again, apparently he could not locate the driver... I asked if there was a plan B, only to be told, "there is no Plan B". I got the run around all morning from Aaron, and excuse after excuse. I was the one ringing him constantly to find out things after he promised he would keep me in the loop. In the end, at around 2pm, a truck turned up, sub contractors, who hadn't even heard of Aaron or B Moving, they had done another job that morning and where wrecked. They needed to do 2 trips, even though the truck wasn't even full, as they apparently couldn't fit a basketball ring in, that they knew had to be loaded on the truck. My move was not a big one. Poor to no communication, unprofessional and unreliable. Save yourself the pain and use another company....not worth the one star!
---
Jo D'Cruz
2 hours late, had already had done a huge move before mine so the men were wrecked. One of the guys was good but the other not strong enough for large items. Many complaints that my things were very heavy!! Truck sent was too small for a 4 bed + study house, which would have resulted in 2 loads (paying hourly rate) if I hadn't got my step dads trailer for them to load. They were careless and rough resulting in many marks on walls, doors and items of furniture damaged. They have also stood 2 friends of mine up on the day of their move - cancelling at the last minute or not turning up. I think when it used to be a smaller company and the people running the company were the movers they were reliable. The two removalists on the day also complained about the amount of jobs per day they were expected to do. Really disappointing move. Don't think it even saved me any $$ in the long run and may have lost me part of bond due to damage to front door. Will not recommend or use again.
---
Brittney Davidson
Terrible organisation for a company. Unfortunately we wont be recommending this company to anyone as they done nothing but stuff my family around. Using removal companies during a move is meant to make the move some what easier, but unfortunately this just caused unnecessary head aches from the beginning. Booked a couple months prior.. booked one large truck, they turn up in a small truck then charged for two small trucks even though it was quoted for one truck. Then on delivery they couldn't fit all our furniture into the truck and said they were going to bring it another day which it really should have been on the next day trip as priority. It came a couple days later with a call otherwise god knows when it would have arrived. Quite unprofessional it's a shame because one of the removal workers was great I didn't get his name but he was only very new.
---
Simon Sackville
I was recommended by a colleague to contact Aaron at B-Moving and that he would look after me. We scheduled the booking for Friday 7am. On Thursday Aaron asked if he could push me back to Friday "lunchtime", which I said was ok. Friday came around and I was ready to go by midday. Then 1pm Aaron messages me to let me know they're running behind. At 240pm I offered to change the date to the following day because I didn't want to pay so much money for removalists to sit in peak hour traffic. Aaron called me, accepted, offered to knock $50 off, and said they would be there after 11am on Saturday. At 1pm on Saturday I asked Aaron for an ETA. I got no response. At 3pm the removalists turned up with only 1 trolley and running on the info that it was a much smaller job. They didn't even know my new place was up 2 flights of stairs without a lift. I swear one was on the verge of a heart attack after his 20th time carrying furniture up without a stair stepper trolley. 4hr and 40min later they were done and charged me for 5 hours. The actual removalists who did the heavy lifting were great blokes, except they left a massive dent in my fridge door. However it's clear that management has no clue how to manage the logistics of multiple bookings in one day. I let Aaron know by text when the job was finished and that I wanted to talk about a part refund for the stuff around. He texted back that he would call me on Monday. It's now Friday evening and I haven't heard from him, so up goes the terrible Google review. Communication is so important to keep things running smoothly. I hope you get your act together for future clients.
---
Jason Micallef
They were ill-prepared, unprofessional and damaged my furniture. I spoke to the owner who said they would get back to me to arrange compensation/repairs but I never heard from him again despite follow-up emails.
---
Moving house starts here
View pricing, read reviews and book professional interstate and local removalists online.
35,000+ customers
4.8 rating
Instant pricing