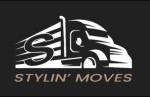 Stylin' Moves Transport
4.80 · 87 reviews
Muval verified for quality & service
**WE DON'T CARE**:
**HOW MANY STAIRS**
*Where You'll Never Pay*
*More*
*Because of Your*
*Stairs*
We are a specialist furniture mover, in the top tier of 5 star rated Removalist in Perth.
A good name through good will is our motto.
The volumes of positive reviews we have acquired are a testament to the passion we have for our chosen profession.
On the day you will be supplied, either, one of our 30m³ or 50m³ trucks manned by TWO men.
Our fleet of trucks have every available resource; from lifting harnesses for overweight objects, to lifting straps, which keep mattresses from ever being dragged along the ground. One Box Trolley and one Fridge Trolley, with industrial Shrink Wrap (free of charge) as an extra layer of protection used to cover your Fridge. Dolly's for maneuvering objects around tight hallways. Premium Grade Blankets ensuring all items safety whilst in transit. Piano Trolley and Ratchet Straps. Stonemasons trolleys for Marble/Concrete Tables.
And as a final compliment; floodlights, no matter what time, day or night we finish all jobs.
This list is only a brief run down. You can be secure in the knowledge, that in any given situation we have your back.
We never drag heel in an attempt to extract more money from our clients. In fact very much the opposite. We pride ourselves on completing jobs without incident and having a laugh while doing so. Quite honestly WE ROCK
No Depot to Depot**
** Within 100km radius of Perth CBD
We also offer:
Packing Services
Over the Balcony Uplifts
Crane Uplifts
Upon request we can arrange;
Crane Hire
Genie Lift Hire
Cleaners
Pest Control
Carpet Cleaners
Moving house starts here
View pricing, read reviews and book professional interstate and local removalists online.
35,000+ customers
4.8 rating
Instant pricing